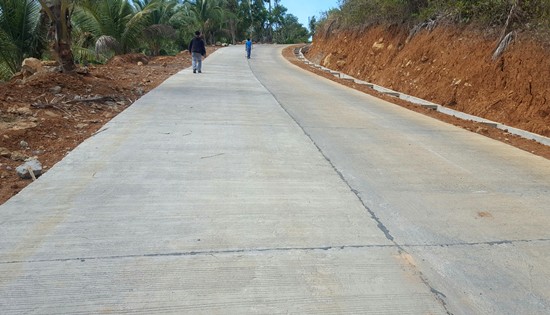 Road leading to tourist destination, Bagongbong Falls at Brgy. Caucab, Almeria, Biliran. As of April 30, 2019, the project attains 95% accomplishment. The completion of this project under 2018 fund which starts from the proper road of Brgy. Caucab going to Bagongbong falls will reduce travel time from 30-40 minutes hike to just 10-15 minutes through vehicle ride. With the accessibility of the tourist site, it will encourage more local and foreign tourists to visit the place.
DPWH-Biliran DEO 2018 projects soon to be completed
By DPWH Biliran
May 24, 2019
NAVAL, Biliran – The Department of Public Works and Highways (DPWH) Biliran District Engineering Office (DEO) is steadily continuing its progress for the completion of the projects for the district's 2018 Infrastructure Program.
During the early months of 2019, the office has been fast tracking the progress of the remaining 2018 implemented projects. District Engineer David Adongay Jr., conducted regular coordination meetings together with Assistant District Engineer Alfredo Bollido, technical personnel, section chiefs and concerned contractors.
"We have conducted intensive meetings addressing the progress of the remaining projects of 2018 and completion of these projects is one of our priorities prior to the start of construction of the projects for 2019," Adongay said.
According to Adongay, four projects above P50M implemented by the Biliran DEO has attained significant improvement as of April 2019 compared to the previous month. One of the projects which is the Construction of Drainage Canal along Biliran Circumferential Road (BCR) has attained 100% actual accomplishment while three projects which are the Road Widening along BCR, Road Opening and Concreting of Access Road going to Germohenes Falls in Biliran town and Construction of Bypass road in Almeria town has achieved an actual accomplishment of 78%, 93%, and 30% respectively.
Meanwhile, seven project below P50M has achieved more than 50% of its actual accomplishment. This includes the Rehabilitation of Damaged Paved Roads along Maripipi Circumferential Road, Widening of Looc Bridge in Almeria town, Access Road Leading to Mainit Hot Spring in Caibiran town, Construction / Improvement of Access Road Leading to Ulan-Ulan Falls and Bagongbong Falls, both in Almeria town and Construction of Multi-Purpose Building in Sto. Rosario and Renovation of Naval Municipal Building in Naval town.
Through the joint effort of DE Adongay and the personnel of Biliran DEO, the remaining projects will continue to be fast tracked up to date. On-going projects for 2018 is estimated to be completed on June 2019. As of April 30, 2019, the districts attained an overall accomplishment of 92.25%.