Army, police join hands serving depressed communities for development
By JAZMIN BONIFACIO
July 14, 2014
CARIGARA, Leyte – Soldiers and PNP are familiar sights today in rural areas and in conflict-affected communities, especially in Leyte and Samar. They cross rivers, climb mountains, reaching far-flung barangays with difficult terrain and accessibility, is undertaken to teach the farmers – the basic education, health, proper nutrition, values education, farming techniques, and income-generating projects, to help uplift them from the bondage of poverty and ignorance. And this, apart from their duties to help maintain peace and order.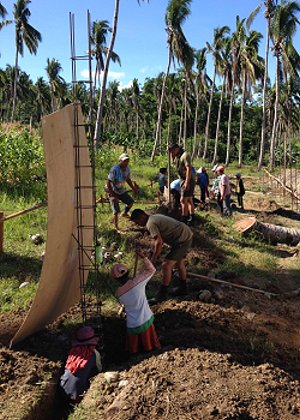 In line with the Peace and Development Program of the Philippine Army, troops of the `Charlie' company of the 19th Infantry battalion Phil Army and teams from Philippine National Police were warmly received by the barangay officials and residents of Brgy. Canlampay, Paglaum, Caghalo, San Isidro and Hiluctugan in Carigara, Leyte last July 2, 2014.
Barangay Chairman Narciso Llanza of Brgy. Hiluctugan said "I guess they are not here to bring war but to change the perception of my people what soldiers really are."
And Brgy chairwoman Aurora Quebec of Brgy Caghalo, Carigara, Leyte said, "we should be thankful that this time, the Army and Police is now in Brgy Caghalo as our partner in implementing peace and order in our barangay." She lauded as well the troops for their discipline and for showing genuine peace and development efforts to the people.
While Asterio Uribe, 57 yrs old, a farmer of Brgy San Isidro said "we feel safe and we thank the soldiers and the police for their care, compassion and understanding to us residents here in the village, it cannot be matched and we are proud to have them here in our barangay."
Meanwhile, in a separate interview with 1Lt. Jaime B. Tuguic Jr., company commander of the 19th IB, Charlie Company, said that deployed troops focused not only on people's safety, for territorial defense and securing the area, but also to unite and work hand in hand with the stakeholders, local executives and heads of agencies in order to solve the insurgency problem.
The Bayanihan Team of Charlie Company of the 19th IB together with the PNP jointly had to identify social issues and the team are known for their capabilities in bringing livelihood projects in communities in coordination with the local government agencies.
"Our goal is to cultivate synergy from stakeholders' network for the benefit of the communities" Lt. Tuguic said.
Their efforts helped reduce illiteracy rate in far flung barangays and reduced poverty. It empowers the rural people with knowledge, skills and values that will help them be a better person.
The truth according to Lt. Tuguic is that there are a lot of noise out there drowning out quite voices, and many people have stopped listening to the cries of their neighbors. Lots of folks have put their hands over their ears to drown out the sufferings. Some institutions have distanced themselves from the disturbing cries. But one thing beautiful for now is folks in poverty are no longer just a missions project but become a genuine friends and family with whom we laugh, cry, dream and struggle.