8ID "Stormtroopers" held Mountain Bike Challenge in Catbalogan City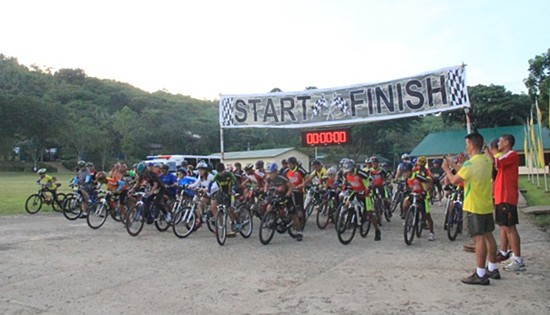 By DPAO, 8ID PA
July 13, 2014
CATBALOGAN CITY, Samar – The 8th Infantry (Stormtroopers) Division recently held a Mountain Bike Challenge in Catbalogan City as a prelude in celebration of its 26th Founding Anniversary on Aug 1, 2014.
The mountain bike challenge has 12.1 kilometers circuit and runs along the rugged terrain along the vicinity of Headquarters 8ID and Catbalogan City.
The mountain bike challenge has 58 mountain biker participants composed of 40 bikers from the Army led by Maj. Gen Jet B. Velarmino, Commander 8ID and 18 civilians. The race started at 5:00 a.m. The first finisher clocked-in 26.7 minutes.
The following were the top ten participants: Mark Johncine Abay - 1st, Benjamin D. Solarte - 2nd, Henry T. Castillo - 3rd, Raymar M. Cruz - 4th, Major Angelo D. Malaran - 5th, Pfc Ardel P. Calvintos - 6th, Sergeant Aris M. Gacula - 7th, Corporal Reyno B. Marines - 8th, Private First Class Gerome D. Lebiste - 9th and Pernito A. Zeta Jr. - 10th. The top ten finishers were awarded with trophies by Maj. Gen Velarmino after the race.
Other sporting challenge slated to be conducted at Headquarters 8ID are: Badminton Competition - July 20, 2014; Shooting competition dubbed as "Band of Brothers Shooting Events" - July 26, 2014 and Lawn Tennis Fellowship - July 27, 2014.