65 EV cops undergo random drug testing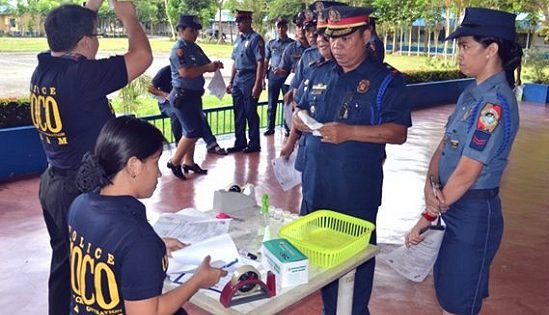 By RPCRD, Police Regional Office 8
May 30, 2013
CAMP KANGLEON, Palo, Leyte – The war against illegal drugs in Eastern Visayas started right in the own backyard of the region's primary law enforcement agency as 65 policemen assigned in Police Regional Office 8 (PRO8) were subjected to random drug testing on Wednesday.
"Policemen are expected to strictly adhere to the policy of non-use of dangerous drug. Drug dependents within our ranks should be weeded out as law enforcers should set as good example to the public," said Police Chief Superintendent Elmer Ragadio Soria, PRO8 director.
Soria added that the random drug testing will ensure that his men are not using illegal drugs as he will not hesitate to dismiss from the police service those who will be found positive for drug use.
Personnel from the Regional Crime Laboratory Office 8 (RCLO8) administered the surprise test since police officers only knew about it early in the morning when they reported for duty.
The drug testing for PRO8 personnel is prescribed in Letter of Instruction 17/2012 "Kontra Droga Charlie-Waray" issued on May 3, 2012 as an internal cleansing strategy in line with the National Police Commission (Napolcom) Memorandum Circular No. 99-008 which requires the administration of drug test on PNP uniformed personnel.
Those found positive for illegal drug use shall be separated from the service after notice and summary hearing without prejudice to the filing of appropriate criminal charges against the offender.
Further, any PNP member who without any justifiable reason, refuses or fails to submit a drug test when officially required shall be liable for misconduct and after notice and summary hearing will be penalized accordingly.
Passing the drug test is also one of the general requirements for appointment to the PNP and when policemen apply for promotion, mandatory schooling and deployment for United Nations peacekeeping missions.
Relatedly, Soria ordered the deployment of anti-illegal drug operatives near school premises in anticipation of the opening of classes next week.
"We will ensure that the school environment would be free of pushers and users who may influence students and introduce them to illegal drugs." Soria said.