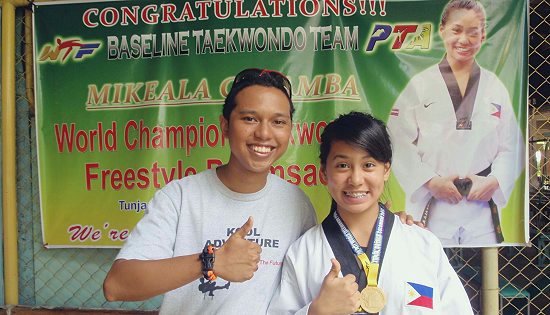 Mikaela Calamba poses with Landolf Villanueva, a Youth Development Programs facilitator of RAFI's Kool Adventure Camp, after she was interviewed at her training center.
KAC alumna is Athlete of the Year
By Ramon Aboitiz Foundation Inc.
May 29, 2013
CEBU CITY – Fifteen-year-old Mikaela Calamba, alumna of Ramon Aboitiz Foundation Inc.'s (RAFI) Kool Adventure Camp (KAC), was named Athlete of the Year during the 31st Sportswriters Association of Cebu-San Miguel Brewery Inc. Cebu Sports Awards.
"When I heard my name being called to receive the award, I could not believe it at first. I was thinking it was another Mikaela. But when the crowd cheered for me, I felt blessed that my sacrifices paid off," Calamba recalled.
Walking upstage to receive her award brought back an experience – her Pamper Pole experience during her training with KAC last year.
Calamba referred to one of the high elements in Challenge Ropes Course (CRC). Pamper Pole is about twenty-five to thirty-five feet high where a person stands on the platform and dives for a target rope that is suspended from a cable.
CRC consists of an aesthetically designed series of ropes, cables and wood poles combine in such a way as to stimulate challenges that might be found in a natural setting. Furthermore, CRC is an experiential adventure program which offers groups and individuals the opportunity to participate in a series of activities involving mental, physical and emotional risk taking.
Before named Athlete of the Year, Calamba won a gold medal over older competitors from Vietnam, India, and USA in the individual freestyle event in the World Taekwondo Poomsae Championship last December in Colombia.
"I felt fulfilled that I have achieved my Pamper Pole goal – to be a gold medalist in an international taekwondo competition," she said.
"Superstone", Calamba's camp name, added that KAC has enriched her mentally, spiritually, physically, and socially.
"I'm Superstone because of its being strong and unbreakable," described Calamba.
She continued, "I learned to face the challenges and realized that anything is possible. Through hard work, determination, and commitment, I will be able to achieve something."
Calamba did not expect she will be doing taekwondo.
"I just wanted a productive summer so I took up voice and dance lessons but I got bored so I went out until I was influenced by my brother to enrol for taekwondo," she recalled.
Landolf Villanueva, Mikaela's facilitator during the camp, said that he immediately congratulated her after knowing her feat.
"When I saw Mikaela in the newspaper, I spread the good news right away to all KAC staff," Villanueva said.
Calamba also shared that she had given up some family affairs and other extracurricular activities just to train hard.
"When I knew that I will be sent to Colombia for the competition, I know I have to do my best because it will lead me to success," Calamba remarked, citing her two-month training in Manila aside from regular training in Cebu.
"Training hard and dedication will really lead you to achieving what you want. With my experience in KAC, I became optimistic, more committed to what I am doing, and I learned a lot of things, which I have applied in sports. I know I have done something new every practice," she shared.
When asked about her next Pamper Pole goal, Calamba said she wants to win more taekwondo titles and be an honor student.
"You need to trust yourself. Trust others also that they may help build your success. If you lose trust, you will create your own downfall, which is really hard in sports," she stressed.
She also encouraged young people to join in a KAC program since it is once-in-a-lifetime experience that provides a wide variety of valuable life lessons.
Calamba is currently training for the Asian Junior Championships to be held in Indonesia this June.
KAC has been offering adventure education programs for leadership and team development for youth and professionals for the last decade. It is currently building the Philippines' first fully dedicated adventure education center, which is set to open this year.