The Hingatungan Lupong Tagapamayapa (HILUTA)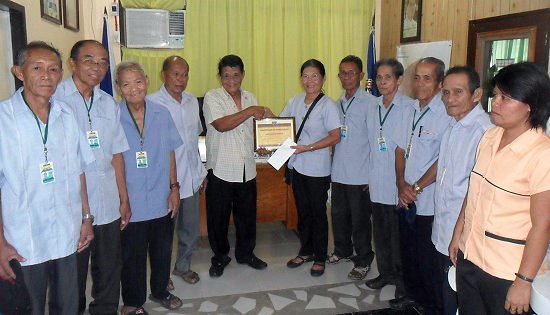 By LOREN A. ANICIETE, DILG Southern Leyte
March 12, 2013
SILAGO, Southern Leyte – "Hiluta ang panagbangi sa barangay pinaagi sa mga pulong nga malumo. Ang pagpakasala kalibutanon apan ang pagpasaylo langitnon." (Straighten out conflict in the barangay with soft words. To err is human, to forgive divine.)
This has been the guiding principle of the so-called Council of Elders or the Hingatungan Lupong Tagapamayapa (HILUTA), an all-senior citizen group of lupon members having their strong commitment and dedication to serve and help all the Hingatungganons resolve their conflicts amicably. Indeed, wisdom comes with old age.
According to the lupon elders, it has been their traditional settlement technique to conduct house visits, pre-hearing counselling, and the use of person in authority to influence conflicting parties to settle amicably. To them, their actions relative to KP are anchored on the main tenets and time-honored traditions of pakikisama (community-spirit), utang na loob (debt of gratitude) and kinship.
Through the institutionalization of the strategy called "Kasulbaran sa Panagbangi sa Barangay - Tinabangay mga Igsuon Approach (KPB-TIA)" more innovations and creative activities have been developed through the Lupong Tagapamayapa.
Continued advocacies in the promotion of KP have also been maintained such as conduct of "pulong-pulong sa purok" (where each lupon member is assigned in his/her designated purok to conduct public awareness), allocating time in every barangay assembly meetings for the "Lupon Time" (where Lupon members advocate and promote KP) and of course mentoring other Lupon members of other barangays and even other municipalities.
Moreover, with this kind of strategy, the partnership of the Hingatungan Lupong Tagapamayapa (HILUTA) with the Municipal Government of Silago, Provincial Government of Southern Leyte, National Government Agencies (NGAs), Non-government organizations (NGOs), People's Organizations (POs), Religious sector, academe, private sector and other CSOs has also been strengthened.
To date, the Lupong Tagapamayapa of Barangay Hingatungan, Silago has garnered three (3) top national honors in the Lupong Tagapamayapa Incentives Award (LTIA), i.e., national winner in the years 2001, 2007, and 2012.
The Hingatungan Lupon was also a national runner-up in 2000, 2006, 2008, and 2011. HiLuTa's winning streak had started during the nurturing years of former MLGOO Vicente Maraon then continued during the tenure of MLGOO Maria Fiona Duran-Merquita and now under OIC-MLGOO Jhonel Ańavesa.
A consistent provincial and regional winner in the LTIA 4th-6th class municipality category, HILUTA lives on as Southern Leyte's popular and enduring best practice.