PRO8 captures 3 brothers tagged as Calbayog City's most wanted
By RPCRD, Police Regional Office 8
March 11, 2013
CAMP SEC. KANGLEON, Palo, Leyte – A CAFGU Active Auxiliary and his two brothers who have been wanted by law for murder and frustrated murder charges were the latest addition to the list of wanted criminals captured in the intensified manhunt operations by the Police Regional Office 8.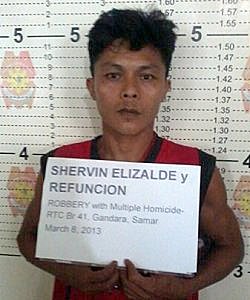 "This is a part of our ongoing operation against wanted criminals in line with the PNP's Manhunt: Charlie," said PRO8 director Chief Superintendent Elmer Ragadio Soria.
Soria added that the accounting of wanted persons is an integral part of the security preparations for the forthcoming national and local elections to ensure the conduct of secure and fair electoral exercise in Eastern Visayas.
The top police official informed that at about 9:20 A.M. last Thursday, Tracker Team from Calbayog City Police Station under Police Superintendent Elmer B. Cinco conducted manhunt operations at vicinity of Purok 6, Brgy Capoocan in Calbayog City resulting in the arrest of three brothers tagged as the three most wanted persons in Calbayog City.
The regional director identified the suspects as Renato Marces alias Rene, 45, married, CAA member of 52nd Infantry Battalion, Philippine Army and his brothers Federico alias Pede, 50, married, carpenter and Dionesio alias Julie, 48, married, fisherman, all residents of Purok 2, Brgy Pilar, Oquendo District, Calbayog City and listed as Number One, Two and Three most wanted persons in Calbayog City respectively.
The Marces brothers were arrested by virtue of an arrest warrant for Murder with Frustrated Murder in Criminal Case Number 6511 issued by Hon. Romeo G Tagra, Presiding Judge of Regional Trial Court Branch 32 in Calbayog City.
No bail was recommended by Judge Tagra for the suspects' temporary liberty and they are now detained at Calbayog City Police Station lock-up cell while awaiting trial for their cases.
Meanwhile, the number 7 in the list of most wanted person of Matuguinao town in Samar was captured by joint elements of the Regional Special Operations Group 8 (RSOG8) and Special Operations Task Group - Samar (SOTG-Samar) in early Friday morning during a manhunt operation at the outskirts of Brgy. Nalihugan in Gandara, Samar.
Shervin Elizalde y Refuncion, 32, single, a native of Matuguinao, Samar is one of the 6 suspects in the robbery and gruesome murder of brothers Jacinto and Nilo Micol along the trail towards Brgy Maduroto in Matuguinao, Samar that transpired in the afternoon of September 3, 2011.
The joint police team led by Police Senior Inspector Shyril Tan and Police Inspector Constantino Jabonete, Jr. was armed with an Alias Warrant of Arrest against the suspect for the crime of Robbery with Multiple Murder issued on November 28, 2012 by Judge Feliciano Aguilar of Regional Trial Court Branch 41 in Gandara, Samar with no recommended bail bond.
Elizalde is currently detained at Samar Sub-Provincial Jail in Calbayog City per commitment order issued by Judge Feliciano P. Aguilar on March 8.
Soria added that continuing police operations would be mounted to account for more criminal offenders wanted by the law.