28 Ex-NPAs receive provincial assistance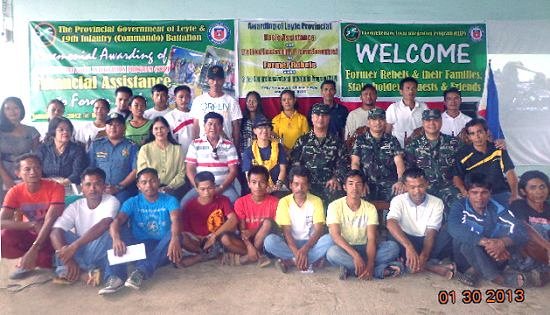 By 19th Infantry Battalion, 8ID PA
January 31, 2013
VILLABA, Leyte – The provincial government of Leyte, through the Comprehensive Local Integration Program (CLIP) had once again dispensed reintegration funds to former members of the New People's Army.
This was the highlight of the Ceremonial Awarding of Financial Assistance to 28 Former Rebels held at Brgy. Cagnocot, Villaba, Leyte on Wednesday morning, January 30, 2013.
Each former rebel received P10,000.00 worth of pre-surfacing assistance while another P25,000.00 were also given to five of them (former rebels) who surrendered with firearms.
Lt. Col. Joel Alejandro Nacnac, commanding officer of the 19th Infantry Battalion based in Brgy. Aguiting, Kananga, Leyte confirmed that the recipients of the provincial assistance were former members of the Front-Committee Leyte (FC-L) which the military battled for several years.
In his message, Col. Rafael Valencia, area commander of the military in Leyte urged the recipients to set as examples and encourage their former comrades to return to the folds of the law and avail the programs in store for them.
Col. Valencia furthered that the assistance received by the former rebels is just the start of the new life and brighter future that lies ahead of them and their respective families.
Meanwhile, Gov. Ma. Mimietta Bagulaya expressed his gratitude to military, police and other government agencies who worked hand in hand in the implementation of the Comprehensive Local Integration Program.
Bagulaya also commends Provincial Social Welfare and Development Officer, Mrs. Clotilde Malatbalat and third district board member Hon. Rolando Piamonte who were equally instrumental to the success of the event.
Bagulaya who was guest of honor and speaker of the ceremony was impressed with the courage of the former rebels who shall once again surface in their respective community.
"The battle that we must fight and unite for is poverty", Gov. Bagulaya stressed.