PRO8 awards cops during 22nd PNP Foundation Day
By RPCRD, Police Regional Office 8
January 28, 2013
CAMP KANGLEON, Palo, Leyte – The Police Regional Office 8 (PRO8) marked the 22nd Foundation Day of the Philippine National Police (PNP) on Monday morning in a simple celebration highlighted by recognition of its men whose efforts have been instrumental in fulfilling the organization's peacekeeping mission.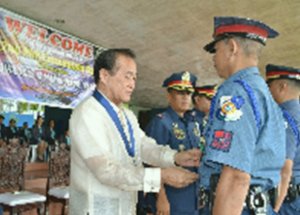 Retired Police Director Lucas M Managuelod pinning the medal to deserving PRO8 personnel during the 22nd PNP Foundation Day celebration at the PRO8 Grandstand on Monday morning.
"We must continue to carry our duties with honor and competence by showing good example of genuine service or 'Serbisyong Makatotohanan' to regain the trust and respect of the people to the PNP organization," said Police Chief Superintendent Elmer Ragadio Soria, PRO8 Regional Director.
Soria further encouraged the awardees and his men to always perform with excellence and treat the police job with dignity and professionalism.
Retired Police Director Lucas M Managuelod, a former director of the PNP's Criminal Investigation and Detection Group (CIDG) and currently the Vice Chairman of the Public Safety Savings and Loan Association, INC. (PSSLAI) was the Guest of Honor and Speaker and handed out the awards with Soria during the Traditional Flag Raising Ceremony and celebration at PRO8 Grandstand.
A Medalya ng Kagalingan or PNP Merit Medal was given to POI Noel Royandoyan for his gallantry in action during the manhunt operation at Brgy. Peñaplata, Gandara, Samar which resulted in the neutralization of Julito Aragon, a leader of the Moloboco private armed group and the number one most wanted person in Samar accused for two murder cases.
Meanwhile, a Medalya ng Papuri or PNP Commendation Medal was awarded to Police Inspector Lloyd Lagrimas for leading his men in the arrests of Juanito and Leo Baluya, both accused for murder, and included in the top ten most wanted list of Laoang, Northern Samar.
A similar award was given to Police Inspector Allan Cerro for his performance of duty resulting in the arrest of rape suspect Francisco Balabat last January 14, the number four most wanted man in Javier, Leyte.
SPO3 Nelson Lapiceros was also given the same award for the arrest of murder suspect Dionesio Sedon, Jr. in a manhunt operation on January 2 at Brgy. Tongonan, Ormoc City. The suspect is ranked number 9 most wanted person in Catbalogan City.
Medalya ng Paglilingkod or the PNP Long Service Medals with 2 silver stars were also given to Police Inspector Bernardito Verallo and SPO4 Teofilo Butlig for rendering 30 years of faithful and honorable service with the PNP.
"These outstanding achievements contributed to the stable peace and order situation in Eastern Visayas and resulted in positive delivery of public safety services to our people," Soria added.
A wreath-laying ceremony in honor of the PNP members killed during police operations at the PRO8 Heroes monument and a Eucharistic mass were also part of the celebration.
The 148,000-strong PNP was created under Republic Act 6975 or "An Act Establishing the Philippine National Police under a reorganized Department of the Interior and Local Government and Other Purposes" that abolished the Philippine Constabulary and the Integrated National Police (PC/INP) and activated a police force on January 29, 1991 which is national in scope and civilian in character.