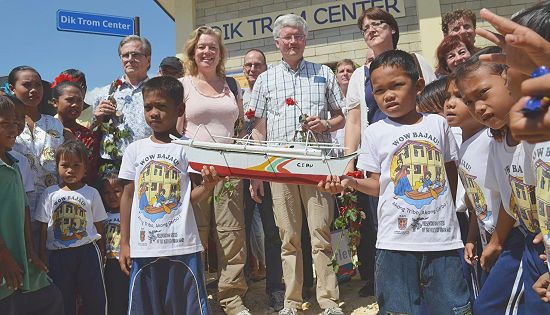 In front of the Dik Trom Center, Haarlemmermeer Mayor Theo Waterings and his councilors receive a warm welcome from the Bajaus, who gave them a miniature of a boat as a token.
Bajaus get new homes
By MIER VILLEGAS / RAFI intern
January 26, 2013
CEBU CITY – Late November last year, Ramon Aboitiz Foundation Inc. (RAFI), through its Bajau Integrated Area Development Project (BIAD-P), together with Vereniging Haarlemermeer Cebu (VHC) officially turned over two quad houses and one multipurpose building to the Bajau community in Sitio Puntod, Alaska Mambaling, Cebu City.
"As a tribe, we are really grateful for the multipurpose center (MPC)," Felicito Asamsa, chieftain of the Bajaus in Mambaling, said.
The multipurpose building was named the Dik Trom Center after a historical symbol in Haarlemmermeer.
"Among balay kaniadto, lawanit. Karon ganahan mi kay bugnaw ug lig-on. (Our house before was made of lawanit. We like it now because it is cool inside and the house is strong.)", Alfida Chavez, one of the quad house owners, shared.
Theo Waterings, Mayor of Haarlemmermeer also gave a token, an image of Dik Trom, to the tribe and asked the chieftain to place it in their new MPC.
The housing project targets to build 35 quad houses until 2014 for the 140 Bajau families.
The houses are designed by the students of the College of Fine Arts and Architecture (CAFA) of the University of San Carlos (USC) through the research made by the Department of Anthropology, Sociology, and History of USC, to ensure that the housing is culturally accepted and further promotes sense of ownership among Bajaus.
"RAFI through BIAD-P continues to work with the Bajau Community", said Dominica Chua, RAFI chief operating officer.
Aside from Chua, Anthony Dignadice, executive director of RAFI Education Unit; Jocelyn Gerra, executive director of RAFI Culture & Heritage; and Cebu City Mayor Michael Rama graced the turnover ceremony.
The event closed with the Bajau kids performing a song and giving out roses to representatives from RAFI and the Foundation's partners from VHC.
BIAD-P is under the Integrated Development focus area of RAFI, helping communities address issues of poverty. RAFI's other focus areas include Micro-finance & Entrepreneurship, Culture & Heritage, Leadership & Citizenship, and Education.