PSSLAI donation to boost PRO8 capability, mobility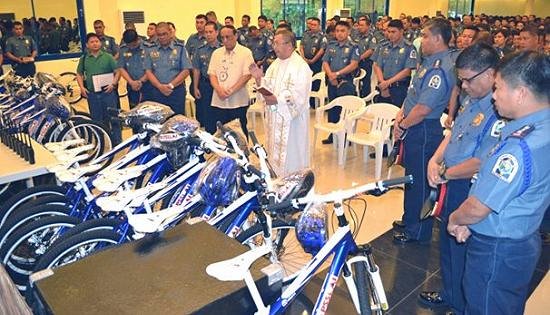 By RPCRD, Police Regional Office 8
September 24, 2012
CAMP SEC. RUPERTO K. KANGLEON, Palo, Leyte – Efforts by the Police Regional Office 8 (PRO8) to further minimize the number of crimes committed in the streets of downtown Tacloban City and neighboring towns have been boosted with the turnover today of 20 units mountain bikes and 10 units handheld radios for use in its anti-crime operations.
PCSupt Elmer Ragadio Soria, PRO8 Regional Director, disclosed that the newly-donated equipments were meant to advance police capability against crimes being committed on streets and enhanced police visibility especially with the forthcoming celebration of the Leyte Gulf Landing on October 20.
"Using bicycles is an effective crime-fighting tool because of its maneuverability on crowded sidewalks and its ability to navigate narrow driveways over cars and similar vehicles. On the other hand, handheld radio provides operatives with an instant communication resulting in a quicker response time", the Regional Director disclosed.
He said that the mountain bikes, a donation by the Public Safety Savings and Loan Association Inc. or (PSSLAI), will be utilized to patrol city streets, highways, nearby schools, financial and commercial centers in Tacloban City and the Mac Arthur Landing Memorial National Park in Palo, Leyte.
"Aside from city streets, the policemen who will be assigned to use these bikes will also be deployed to guard nearby schools and highways to help prevent crimes from taking place," he added.
In line with the Tourist-Oriented Police for Community Order and Protection (TOP COP) program, Soria also recognizes the uniqueness of police bike patrol for the protection and safety of tourists as well as securing tourist destinations in the region, moreso with the forthcoming Leyte Gulf Landing celebration which is expected to boost tourist arrival in Eastern Visayas.
"We expect an increased tourists arrival in the region next month so this is a part of our stepped up effort to ensure the protection of local and foreign travelers and to help sell the DOT slogan "It's more fun in the Philippines.", the police official averred.
The formal turn-over of the 20 units of mountain bikes and 10 units Kenwood VHF Handheld Radios was held during the Monday Flag Raising Ceremony at the PRO8 Matapat Hall with PSSLAI President and Chief Executive Officer Retired Police Director Ernesto V. Belen. It was then followed by the blessing of said equipment by the Regional Chaplain PCInsp Rev. Fr. Apolinario Abing Jr.
The PSSLAI is a non-stock, non-profit savings and loan association for the PNP that began its operations on July 1, 2003, and whose main objective is to provide PNP uniformed and non-uniformed personnel investment opportunities and immediate access to funds and help them cope with rising needs of daily living. The donation is part of the association's corporate social responsibility.