8ID troops seize NPA explosive factory in Samar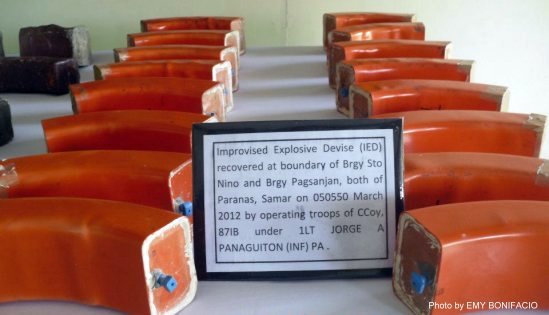 By DPAO, 8ID PA
March 6, 2012
CAMP LUKBAN, Catbalogan City – Government troops seized an NPA explosive factory in the hinterlands of the Municipality of Paranas, Samar in the early morning of March 5.
While the soldiers performed community work in the barangays of Paranas, some residents informed the soldiers of an existing explosive production facility by the NPA in an area at the boundary of Barangays Santo Niño and Pagsanjan. According to the residents, their safety is threatened by the illegal activity not only because it is illegal but also because the explosives the NPA produce is used to destroy innocent lives and properties.
Guided by concerned residents in the locality, the soldiers reached the vicinity of the suspected camp at about 5AM of March 5.
The NPA manning in the camp were caught off-guard with the arrival of the soldiers prompting them to engage in a brief firefight as they escaped. In the course of the armed engagement, Sergeant Freddie C Gusoso was hit at the thigh. The soldiers eventually overran the camp and seized the following war materiel:
- 44 pieces improvised landmines;
- One unit machine for landmine production;
- 20 pieces blasting caps with detonating cords;
- Assorted explosive production paraphernalia;
- One B40 type rocket launcher;
- One improvised round for B40 type rocket launcher;
- One M16 Rifle with SN:189748
Sergeant Gusoso was safely evacuated to RTR Hospital in Tacloban City for medical treatment.
The soldiers are now investigating the recovered pieces of evidence from the site with the help of the local PNP and the community.
With the volume and quality of explosives recovered and the geographic location of Samar Island, MajGen. Mario Chan, the Commander of 8ID believes that the seized NPA explosive factory has produced landmines for NPA terrorists in the Bicol Region and Northern Mindanao.