Attaining elusive peace in Samar Island thru P50M focused projects under P-Noy's PAMANA program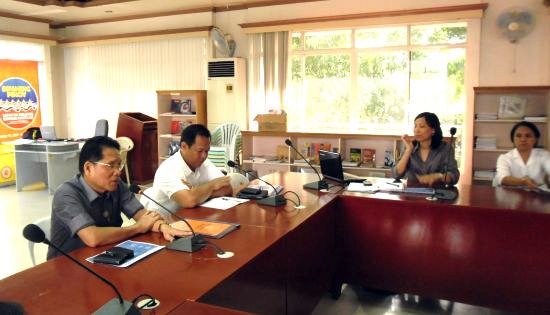 The PAMANA meeting between DILG-8 and OPAPP with RD Noval, ARD Agabe and OPAPP Director Aileen Jose in photo.
By Philippine Information Agency (PIA 8)
March 6, 2012
TACLOBAN CITY – The National Government has earmarked about P50 million for projects that would benefit the conflict-afflicted areas in Samar Island, in a bid to address the root causes of insurgency.
Department of Interior and Local Government Region 8 Director Pedro A. Noval, Jr., recently disclosed that with its three provinces considered among most vulnerable to the CPP/NPA, Samar island is one of the seven zones in the country to be covered by the "Payapa at Masaganang Pamayanan" program or PAMANA of the Aquino Administration which is being implemented by the Office of the Presidential Adviser on the Peace Process (OPAPP) and the Department of the Interior and Local Government (DILG).
"PAMANA operates in seven different geographical areas," Director Noval said. These are the Cordillera Area; the Quezon, Mindoro, Bicol Area; Negros Area; Samar Island Area; ZamBaSulTa; Central Mindanao and ARMM; and Compostela Valley, Carraga Corridor.
Each PAMANA area will receive development programs according to the needs of the people residing in that region. With these areas, PAMANA emphasizes its efforts to address what a specific community needs to be developing and working on.
Director Noval said that together with ARD Arnel Agabe, the DILG provincial directors and the planning officers of the three provinces in the Island of Samar, he met last February 28 with OPAPP Visayas-Luzon Unit Director Aileen Jose in order to discuss the "Mainstreaming Peace and Development in Local Governance Program (MPDLG)" component of PAMANA program.
It was learned that PAMANA started in Northern Samar and Samar in 2011 but it has now been expanded to include Eastern Samar in 2012.
Provincial-level planning and road-mapping workshops separately done for Samar and Northern Samar underscored the importance of importance of road networks that would connect the three provinces of Samar Island not just for economic growth but also in improving the security situation in the island. These vital road networks have been endorsed by the RDC to DPWH, and the peace and development agenda of PAMANA further lobbied for this infrastructure development.
PAMANA is the national government's peace and development program framework that seeks to build peaceful and resilient communities, by improving their lives by ensuring that the people benefit from better delivery of basic services.
Under its guiding principles, government will implement a converged peace-building program focusing on the development of conflict-affected areas to address its root causes.
Director Noval said that there are three (3) ongoing projects with support from the 2011 PAMANA fund. These projects include the construction of a section of the San Jose-Silvino Lobos road in Northern Samar; a 50-meter span bridge in Silvino Lobos, and rehabilitation of the Gandara-Matuguinao road.
Moreover, there are peace and development funds being implemented through the DSWD Kalahi-CIDSS processes at San Jose de Buan, Samar and Las Navas, Northern Samar, Director Noval added.
The projects agreed upon by the provinces' respective development councils as well as peace and order councils, with participation of civil society organizations would be submitted to DILG in the form of Project Proposals for evaluation.
Projects shall be governed through the provincial project implementing teams set up for the purpose. Recipient provinces may also opt to sign a memorandum of agreement with the local army engineering battalions to implement the same, Director Noval said.
Meanwhile, DILG-8 Assistant Director Arnel M. Agabe detailed the steps undertaken by DILG to ensure that funds are spent for their intended purpose. The office would set up a Regional Project Monitoring Team; likewise those LGUs which have been granted the Seal of Good Housekeeping would be given priority. The PAMANA program has an overall budget of 900 Million pesos nationwide. (with DILG-8)