Local residents flock to PP12 activities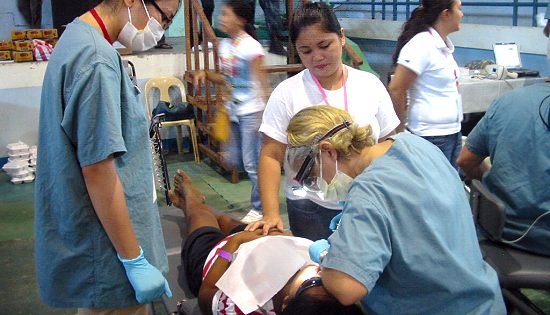 By PP12 Media Affairs
June 22, 2012
CALBAYOG CITY – Everyday, since the formal launching of the Pacific Partnership 2012 (PP12) Humanitarian Mission and Disaster Readiness Enhancement at the Socio-Cultural Center of the Northwest Samar State University (NWSSU) in Calbayog City on June 19, 2012, local folks have been flocking various sites of Medical Missions and other PP12 activities.
PP12 activities include medical and dental missions, veterinary missions, construction projects, band shows, disaster preparedness symposium, and various subject matter expert exchanges on health care and other disaster related topics.
The US Ambassador to the Philippines, Ambassador Harry K Thomas, attended the formal launching of PP12 to show the US' appreciation and gratitude to the Philippines for hosting the PP12 in Samar Island. The PP12 is the largest Humanitarian Mission in the region aimed to facilitate the delivery of basic services and enhance the capacity of partner nations to have a synchronized and well-coordinated response when actual disaster strikes.
The 984-foot USNS Mercy Hospital Ship, anchored off the shores of Calbayog City, will only serve as a platform for surgery operations. Meaning, no surgical operations will be performed outside the US Naval Hospital Ship. All patients recommended to undergo surgery will be ferried over from the Calbayog City Pier to the ship and will stay on board the ship until full recuperation from surgery.
LtGen Jessie D Dellosa, Chief of Staff of the Armed Forces of the Philippines (AFP), and General Shigeru Iwasaki, Chief of Staff of the Japanese Self Defense Forces (JASDF) made their official visits to Calbayog City in connection with the on-going Pacific Partnership 2012 humanitarian missions on June 21 2012. The visit of the Japanese leader is considered another milestone in AFP–JSDF relations that has been strengthened through the years.
General Dellosa and General Iwasaki met at Calbayog Pier as they were scheduled to have their tour of the Japanese landing ship tank Oosumi and the USNS Mercy. Local residents can avail of scheduled ship tours at the USNS Mercy through AFP-USN Public Affairs officers in charge of this activity.
This year's mission will surely strengthen the partnership of allied countries, various NGOs and cause oriented organizations, and will significantly enhance the capability of the local government units to respond to disaster, especially in a multi-national and multi-organizational environment.