Attend to duty or face disciplinary actions, Robredo warns local government officials
By MYLES JOSEPH E. COLASITO
March 8, 2011
TACLOBAN CITY – In his strongest words to date on erring public officials, Interior and Local Government Secretary Jesse M. Robredo on Monday cautioned local government officials on absenteeism and dereliction of duty.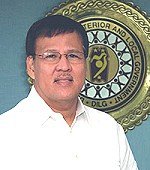 "A local government official could be suspended or removed from office for dishonesty, oppression, misconduct in office, gross negligence or dereliction of duty, or unauthorized absence for 15 consecutive working days," he said, reiterating Section 60 of the Local Government Code.
Robredo gave the stern waning in the wake of reports of "chronic absenteeism and negligence of local government officials to the prejudice of public service."
"Some local government officials are either frequently absent or holding office elsewhere, other than their official places of assignment," he said.
The warning was directed to all governors, mayors, vice governors, vice mayors, local legislators, and barangay officials nationwide.
"In the case of sanggunian members, disorderly behavior and absences for four consecutive sessions without justifiable cause, subject sanggunian member may be censured, reprimanded, excluded from the session, or suspended for not more than 60 days, or expelled," explained Robredo.
"Pending the investigation of a complaint on absenteeism, negligence or dereliction of duty, preventive suspension may be imposed by the following officials: the President, if the respondent is an elective official of a province, a highly urbanized or an independent component city; the governor, if the respondent is an elective official of a component city or municipality; or the mayor, if the respondent is an elective official of the barangay."
The DILG secretary enjoined all local government officials to hold office at the established seat of government – the provincial capitol, city hall or municipal hall.
He said local government officials should render full time service and devote time and attention to the performance of their official duties and should refrain from practicing professions, or engaging in any occupation other than the exercise of their functions.
"They should advance the primacy of public interest." (DILG Office of Public Affairs)