Eastern Visayas coco industry plan completed, elates An Waray
By CHITO DELA TORRE
September 4, 2010
TACLOBAN CITY – AN WARAY Party-List first representative Florencio "Bem" Noel has assured the passage of the Philippine Coconut Industry Development Act in the current Fifthteenth Congress but underscored the pressing need for all coconut industry stakeholders in Eastern Visayas to translate to action the Regional Coconut Industry Development Plan (RCIDP) that was completed during the September 2-3 Third Regional Coco Summit at Hotel Alejandro here. Representative Noel declared: "Now, we have a plan. The solutions – the technologies – are available. The next important thing is not only to 'walk the talk', but more importantly is, as they would say, to 'work the talk'."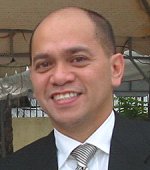 Congressman Bem Noel
The youthful AN WARAY congressman who is serving his third term as party-list representative, was the summit's closing program speaker at yesterday's end of the convergence technology sharing and dialogue of coconut farmers, officials of Philippine Coconut Authority, Department of Agriculture, Department of Agrarian Reform, Department of Science and Technology, and other important industry players, such as the GTZ, Kaisampalad Inc., and Department of Industry.
For Congressman Noel, even as they had discussed for two days "how pivotal the role of technology is" in the development of the entire coconut industry, "we must not forget that there are solutions that can be achieved only by working together".
"Our coconut farmers cannot do it alone, nor can traders or processors do it by themselves. Not even PCA, AN WARAY, GTZ or any of our partners can do by their own efforts."
Noting that the Eastern Visayas region's common journey towards revitalizing its local coconut industry is now on its third year, Rep. Noel took note of the fact that while the task of development the industry's potentials did not turn out to be as easy as first thought out to be, many of the current summit participants, including the industry's partners, have "continued to patiently and relentlessly do their share in crafting lasting solutions to the decade-old problems that confront the coconut industry".
He said that on September 2, he was told that among the 17 regions in the country, only Eastern Visayas and the Davao region have an annual gathering of the different stakeholders, but "only the coconut industry players of Eastern Visayas have reached the level of drafting the Regional Coconut Industry Development plan – a clear blueprint of what we want to achieve and what we will do to make it happen".
"Without a plan in mind, even our best efforts can lead us nowhere. But with this roadmap at hand, then I am pretty sure that together we can meet our goals. Thanks to you, we have this coconut development plan, which I would consider to be the most significant output of our yearly Coconut Summits. Congratulations to all of you!"
He said it is important to underscore that whatever gains achieved in the summit is not simply because there are industry enablers like PCA, GTZ, DA, DAR, Kaisampalad, DTI and DOST by whose efforts, gathering like this happen. "Whatever progress the annual Coconut Summit has attained is not even simply because there is AN WARAY Party-List in Eastern Visayas to sponsor it. Our best efforts and good intentions alone would not amount to the success that we have altogether achieved."
He pointed out: "The truth of the matter is that whatever we have accomplished together – including the growing awareness and stronger advocacy for the betterment of the coconut industry – is because the local coconut industry in Eastern Visayas has players like you – farmers who would want to break away from mediocrity and aspire for higher productivity; traders who do not only content themselves with simply doing business but actually help empower our rural communities; and, millers and processors who pay it forward and are always ready to give back to building of better and more progressive communities as a form of social responsibility. The success of the coconut industry is primarily your achievement."
Rep. Noel was joined at the executive table yesterday by An Waray second party-list representative Neil Benedict Montejo who gave the welcome remarks at the summit's opening on Sept. 2.
An Waray staff and personnel provided the secretariat to the summit that was also able to open the eyes of the participants to the vast opportunities of increasing the coco farmers' income via technologies that were introduced, presented and demonstrated during the two days forum.