Tanauan rider reigns in Palm Beach 1st Int'l Skimboarding fete in Hongkong
By Philippine Information Agency (PIA 8)
September 2, 2010
TACLOBAN CITY – Leyte First District Board Member Roque Tiu expressed his elation on the recent developments in the skimboarding water sports in Tanauan, Leyte which only strengthens Tanauan's stand as the skimboarding capital of the country.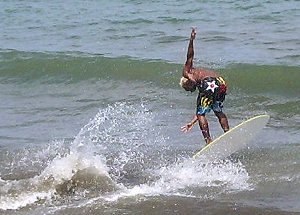 Board Member Tiu said that one skimboarder from Tanauan bagged the championship trophy in an international skimboarding competition in Hongkong while another one brought home the championship trophy in a competition in Zambales.
Mr. Leo Espada, champion skimboarder of Tanauan, Leyte, outplayed riders from other countries to win the championship trophy in the Palm Beach 1st International Skimboarding Competition held on August 29, 2010 at Palm Beach, Cheung Sha, Lantau Island in Hongkong.
Leo, Board Member Tiu said, was sponsored by Aloha Skimboards which is a perennial sponsor in the Tanauan National and International Competitions. Leo's local travel was sponsored by the local government of Tanauan under the new leadership of Mayor Agapito Pagayanan Jr.
The skimboarding competition was held from 11:00 o'clock in the morning to 8:00 o'clock in the evening of August 29.
The first runner up trophy went to Richard Paril, a Filipino who is now based in Hongkong and who has joined the Tanauan, Leyte International Skimboarding Competition.
While Leo Espada was competing in Hongkong, another Tanauan skimboarder was competing in the 7th Zambales Attack skimboarding competition and also won for Tanauan, Leyte the championship trophy.
Brando "Si-aw" Espada, also a champion skimboarder of Tanauan, was declared the champion of the 7th Zambales Attack held on August 27-29 at Iba, Zambales. Dariel Espada of Tanauan, Leyte won the first runner up trophy while Rioben Vivero, also of Tanauan won as third runner up.
Board Member Tiu expressed his delight that a rider from Borongan, Eastern Samar, Roderick Bazar of Borongan, won as the 2nd runner up in the Zambales competition.
The skimboarders of Tanauan, Leyte were sponsored by the Local Government Unit, Board Member Tiu said, as he called on the other local government units to also encourage their respective youth to engage in the skimboarding water sports.