'Letter of apology' writer hails from Samar
By NINFA B. QUIRANTE
September 1, 2010
CATBALOGAN, Samar – Reigno Jose Dilao wrote his 'Letter of Apoloy' on the vesper night of the Catbalogan town fiesta, while all households were teeming with guests, dining, wining and dancing.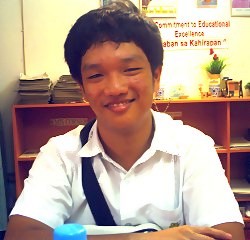 Reigno Jose Dilao
Some guests though were glued to their TV sets, monitoring updates on the 'hostage crisis' unfolding at the Quirino Grandstand in Luneta, Manila.
The "hostage crisis" involves a dismissed policeman Rolando Mendoza to hostage a bus full of Hongkong tourists, demanded a review of his case, but due to some circumstances, the negotiations turned sour and brought his life and some five other tourists to an end in all gore.
What drove this young lad to write?
"I was in the internet, as won't every teen-ager and among the message exchanges was the 'hostage crisis," Reign told this writer.
As the night wore on and the hostage crisis left some casualties, Reign or Daboy to family and friends started to write his letter.
For Daboy, it was just one of those things, blogging, pouring out his emotions to a one and thousand concerns, after an hour of seriously considering his 'hurt emotions' by the effects the crisis may bring to the tourism industry in his beloved country, he posted his 'letter of apology' to tumbler.
He then forgot about it as he went his way assisting his parents entertain their guests, after all it was the Feast Day of San Bartolome, Catbalogan's patron saint.
The letter is printed here:
August 23, 2010
"A letter from a teenage Filipino to the WHOLE WORLD"
As you are reading this letter, I bet that you have seen/heard about what happened earlier in our country.
Tourists were hostages of a policeman here, Rolando Mendoza. After a few hours of the horrible crime, some of the victims were dead including the hostage-taker.
I wrote this letter not just to apologize but also to let everyone know that we Filipinos are not all like Mendoza. We are loving and good-hearted people.
For so many years, our country has been standing tall and surpassing every dilemma; be it small or big. Years ago (back when I wasn't born yet), you have watched us fight for what we think is right. We fought for the democracy of our nation…The EDSA revolution. But that's just one out of many.
Second. We Filipinos have been serving other countries for our families and we treat you as our own as well. With all due respect, I thank you all for giving us the trust through the years. For helping us to become what we are now.
The Philippines is more than just a group of islands. We are a nation of strong and remarkable people. A country of beauty and love known to be hospitable and well-valued. I humbly apologize for what happened tonight. No one in this world would want something like that to happen for life should be valued.
I politely ask the attention of the world. Please do not judge and mistreat us just because of what happened tonight. I have been searching the net and found terrible things. Hong Kong advices to avoid travels here, China and HK bans Filipinos and that Philippines is the worst place to go.
I can't blame you for what you have decided but I hope that you could understand. Our country is now in a sea of problems. And I know for sure that we helped you in a way or another. Let peace and understanding reign this time.
I know that this letter will just be trash but I wish that you would understand. On behalf of the Philippine population…WE ARE SORRY.
As a song puts it…
And I believe that in my life I will see an end to hopelessness, giving-up and suffering. And we all stand together this one time then no one will get left behind. Stand up for life. STAND UP FOR LOVE.
Sincerely yours,
Reigno Jose Dilao
Catbalogan City, Samar
(End of Letter)
Little did Daboy know, that the whole world rave about his letter.
The following day, the fiesta, his Mom, Socorro was all agog entertaining visitors and looked for him for help, Daboy was upstairs talking to someone.
"He sounded serious and even signalled me to stop," Mom Socorro who works at Land Bank of the Philippines - Catbalogan branch told PIA-Samar.
As Daboy put his phone down, he told the unbelieving mom his 'story'. "Medyo overwhelmed ako Ma'am," the proud Mama told PIA over the phone.
Dad Ilde who also works at LBP-Catbalogan also felt proud about what his son did.
"You would say, Ma'am that my countenance may not beam the pride, but deep inside I feel so proud," he was almost in tears.
Principal Tony Caveiro of Samar National School said he could not remember the number of reporters looking for him, but when he learned why, he could not help but feel the pride for this young boy whom everybody thinks is just an ordinary and typical high school senior.
His teachers from the school said that Daboy is a good student and writes good essays, but they all agree with Ms. Loretta Basa, the Filipino department head – that this was the best, after all, he is the school paper associate editor.
After all, the letter came when no one in his country would ever think of such a feat moreso in his town in Catbalogan as all were busy with the fiesta and all its attendant festivities.
Daboy, is an ordinary student, who even claims that as a leader he lacks the influence to mobilize his peers to action, made waves not only in Asia but in the cyberspace where his letter was posted many times and got some five thousand views (as of this writing).
So many interviews has left this young man preoccupied ever since the letter broke into cyberspace, there is Pia Hontiveros of ANC, QTV, Radio Veritas and others and this bubbly 15 year-old lad accommodates them all.
The incidence is slowly sinking in and he himself could not believe it happened.
Before trudging back to his classes, after the interview, Daboy shared his plan to enroll in communications arts or mass communication and hones his writing some more.
The boy hailed by some as a hero has only one fervent wish: That Hongkong and the world truly forgive, after all, he said in his letter "Let peace and understanding reign this time". (PIA-Samar)