PNP Samar apprehends Gandara mayor by virtue of warrant of arrest issued by Allen RTC
By Philippine Information Agency (PIA 8)
August 19, 2010
TACLOBAN CITY – The Samar Provincial Police under the leadership of PSSupt. Pancho Adelberto Hubilla, arrested at about 3:30 o'clock in the afternoon of August 18, Gandara Mayor Antonieto Cabueños in a checkpoint infront of the Sta. Margarita Police Station at Barangay Cautod, Sta. Margarita, Samar, a report coming from the Police Regional Office 8 said.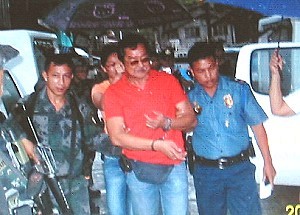 Mayor Cabueños (in handcuff) being escorted by the police to the Gandara Police Station for proper documentation. (PNP Samar photo)
He was apprehended by the elements of Sta. Margarita Police under PSInsp Angelo Pueblos, by virtue of a warrant of arrest issued by the Regional Trial Court Judge Manuel F. Torrevillas of Regional Trial Court Branch 23, Allen, Northern Samar, for criminal case number A-2564 in violation of the Omnibus Election Code.
Last February 2, 2010 at around 2:45 in the afternoon, Mayor Cabueños was arrested by the Police at the checkpoint in Lavesarez, Northern with three unauthorized armed escorts identified as PO3 Jonathan Rama, PO3 Edgar Delector and PO2 Perfecto Merilles of Gandara Police Station who are now under the custody of the Police Regional Office 8.
Section 32 of Republic Act No. 7166 provides that "during the election period, no person shall bear, carry or transport firearms or other deadly weapons in public places, including any building, street, park, private vehicle or public conveyance, even if licensed to possess or carry the same, unless authorized in writing by the Commission. The issuance of firearms licenses shall be suspended during the election period.
"Only regular members of the Philippine National Police, the Armed Forces of the Philippines and other law enforcement agencies of the Government who are duly deputized in writing by the Commission for election duty may be authorized to carry and possess firearms during the election period: Provided, That, when in the possession of firearms, the deputized law enforcement officer must be: (a) in full uniform showing clearly and legibly his name, rank and serial number, which shall remain visible at all times, and (b) in the actual performance of his election duty in the specific area designated by the Commission."
Comelec Resolution No. 8714 provides the rules and regulations on the bearing, carrying or transporting of firearms or other deadly weapons; and employment, availment or engagement of the services of security personnel or body guards during the election period for the May 10, 2010 National or Local Elections.
Mayor Cabueños has been released on orders of Judge Reynaldo Clemens of the Regional Trial Court Branch 31 of Calbayog City, at around 8:30 in the evening of August 18, after posting bail in the amount of P80,000.