Samar governor to pursue concreting of Paranas-San Jose de Buan road
By NINFA B. QUIRANTE
August 16, 2010
CATBALOGAN CITY – Samar Governor Sharee Ann Tan promised to fund the 38.5 San Jose de Buan-Paranas road.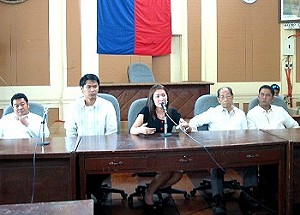 During her first press conference on Wednesday (August 11) Tan reacted to questions regarding her plans about the worst condition of provincial roads in Samar specifically the Pagsanghan-Gandara road. The youthful governor promised the Samarnons that she will pursue concreting these roads to usher economic activities and also to address insurgency.
However, the governor said that it will take some P141 M to truly rehabilitate and concretize the 38.5 road stretch.
With the budget still being scrutinized by the Sangguniang Panlalawigan (SP) majority bloc, Tan said that every year she will allot some P10 M from the province's 20% development fund.
The project, assured Tan will be done slowly as the fund needed is big but the project will be pushed steadily.
"The road network will also lead to Northern Samar to spur economic growth in the area," Tan told the media.
"This way, we will somehow solve, insurgency and agricultural products will easily be transported," she added.
It will be recalled that during a visit of then President Gloria Macapagal-Arroyo, the Mayor Mila Rebato sought the help of the President to help them repair the 'hellish' road.
In that instance, Sharee Ann Tan who was still then a member of congress promised to allocate some funds for an immediate repair, but Buananons claim the repair was unfinished.
As to the present situation, now as Samar governor, Tan stressed that negotiations are going on with the majority bloc so that they can meet halfway in the approval of the budget, so that her administration can push for the developmental projects she has eyed upon as the new governor.
Presently, Tan said that the provincial government is operating on a re-enacted budget. That is why she and the Vice-Governor is pursuing negotiations for the SP members to approve the new budget.
She assured the Samarnons, listening to the proceedings of the presscon that she will not force the majority block but will deal with them using 'diplomasya' in the words Vice-Governor Stephen Tan. (PIA-Samar)