Gov Icot says RDC East Visayas must prioritize IT, tourism, energy
By Philippine Information Agency (PIA 8)
August 15, 2010
TACLOBAN CITY – If chosen as the Chairman of the Regional Development Council of Eastern Visayas, Leyte Governor Carlos Jericho Petilla said that he will propose for the prioritization of Information Technology, tourism and energy in the Region's development plan.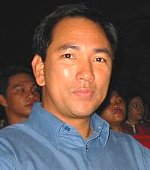 Leyte Governor Icot Petilla
"I use to have a two-point agenda. Number one is IT, converting Eastern Visayas as an IT destination because we are already there, we already have an edge. And then, tourism.
Governor Petilla said that he added another one which has got to do with energy. He refused to elaborate, however as this is still in the negotiating tables.
"I added another which has some to do with energy. I don't want to reveal it at this point. This is something big. I don't even know if this is within my capabilities because it is huge… I think it is… it entails a lot of work…but it has something to do with energy," Governor Petilla said.
Governor Petilla however, intimated that he has a meeting with Energy Secretary Rene Almendras in Manila on August 11 and on August 12 with consultants of syndicating-institutions. He clarified that syndicating institutions means those who source fund for big projects.
"I have asked Board Member Roque Tiu to come with me because he is a lawyer… this is an ambitious undertaking, but I think this is very good for us," Governor Petilla added.
"The province now hosts a call center company and small BPOs and I want to expand its reach to other parts of the region," Petilla said.
Governor Petilla added that one of his thrusts is the development of tourism industry in the region since Eastern Visayas is part of the tourism corridor as declared by the previous administration.
Just like IT, tourism creates jobs and that's an added point if we focus its development here in the region," Petilla stressed.
Governor Petilla clarified that while focusing on IT, Tourism and Energy, the RDC which he hopes to lead will also give priority on agriculture.
"I'm not saying that I'm not going to touch on agriculture. In fact, I have been consistent in my programs in the province because we need to sustain food sufficiency and security. I understand that Eastern Visayas is mainly an agricultural region, so it is a must that we also develop this sector," Governor Petilla said.