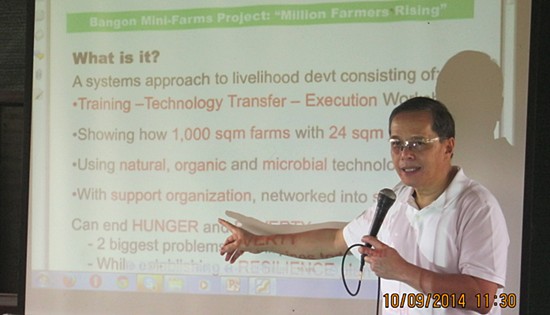 Dir. Domingo Diaz as he presented updates on the Bangon Mini-Farms Project during the Board of Trustees (BOT) meeting at Brgy. Aguiting, Kananga, Leyte on October 9, 2014.
Bangon to grow vegetables for bigger market this month
By 19th Infantry Battalion, 8ID PA
October 9, 2014
KANANGA, Leyte – Director Domingo Diaz, member of the Board of Directors of Land Bank of the Philippines (LBP), said Bangon will be planting vegetables for Gaisano supermarket by third week of October.
This was what Diaz stressed during the Board of Trustees meeting of the Bangon Mini-Farms Alpha Sector Association, Inc. (BMFASAI), held at the headquarters of the 19th Infantry Battalion in Brgy. Aguiting, Kananga, Leyte on Thursday, October 9.
The meeting was attended by a total of 25 individuals which comprised of cluster heads, LBP and military personnel who had been advocating the program since January this year.
"Once satisfied with the quality of our vegetables during our first test delivery on December, Bangon will be regularly supplying Gaisano supermarket on a weekly basis", Diaz said.
Diaz who is also a member of the Bangon Board of Trustees is confident that their produce will be patronized by would-be markets, after seeing the quality of vegetables displayed in leading supermarkets in Tacloban and Ormoc City.
While plans to supply institutional markets is about to jumpstart, Mr. Gil Carandang, the Father of Philippine Organic Farming and a Bangon Trustee, is enjoining all of its farmer-partners to also venture on growing vegetables for local markets.
Carandang encourages members to sell their vegetables in designated Bangon Chain of Farmer's Markets such as one located at the headquarters of the Army's 802nd Infantry Brigade in Camp Downes, Ormoc City as other institutional markets are still being developed.
The Bangon Mini-Farms Alpha Sector Association Inc. has at least 10 clusters with a total of 428 farmer-partners in selected parts of Leyte province.
With this recent development, Bangon will be crafting a master plan which shall aim to reach its objective to end hunger and poverty, one farmer-family at a time by November next year.
Groups reveal gov't plan to dispose Canada waste in PHL
Press Release
October 9, 2014
MANILA – In a damning exposé of the government's lack of political will, environmental and public health groups held a press conference today to uncover the plan of government agencies to dispose of the illegally dumped Canadian toxic wastes in the Philippines.
The groups revealed that several government agencies led by the Department of Foreign Affairs, Department of Environment and Natural Resources, and Bureau of Customs are keen on disposing the illegally dumped Canadian toxic waste in the country instead of fighting to have it sent back to Canada for violating international law.
"I will not tolerate this matter sitting down. As a legislator, I filed for a Congressional Inquiry in aid of legislation the unlawful importation of the 50 container vans filled with garbage. Clearly, this (dumping of wastes in our country) is a reflection of our dignity as a nation," said Rep. Leah Paquiz of AngNars Party-list.
Earlier this year, the Bureau of Customs (BOC) seized 50 container vans containing various waste materials and hazardous wastes imported from Canada, with the consignee Chronic Plastics, Inc. declaring the shipment as 'assorted scrap plastic materials for recycling'. Last month, 16 container vans have been sent to Subic Port to ease the congested Port of Manila.
"The unauthorized movement of the illegal shipments to Subic is proof that plans are afoot to have the waste shipments disposed in country. The letter from the DENR reinforces and confirms this duplicitous intent on the part of our government authorities. We find it outrageous that the primary government agency mandated to protect the environment is the main instigator of the proposal to have these illegal waste shipments disposed of in our shores. Why should Filipino taxpayers bear the burden associated with this illegal shipment?" said Von Hernandez, President of EcoWaste Coalition and Executive Director of Greenpeace Southeast Asia.
"This government proposal sends a signal to unscrupulous and illegal waste traders to ship their unwanted junk to the Philippines. There can be no compromises here, this garbage shipment must be sent back to Canada, its country of origin. The Philippine government must do everything it can to prevent these incidents from happening ever again in the future, and it can start doing that by ratifying the Basel Ban Amendment." Hernandez added.
The groups decry that allowing the toxic waste shipment to be disposed of in Philippine territory will set a wrong precedent for other countries to follow suit. They fear that the country is being primed to be the world's toxic waste dumping site in the guise of "green jobs" for recycling.
"Illegal toxic waste trade is an international crime. It is no different from dealing in illegal drugs, endangered species, and other forms of trade that the international community has deemed noxious," explained Atty. Richard Gutierrez, Executive Director of BAN Toxics.
"Why our government is even contemplating on accepting these illegal wastes when international law is behind us is exasperating," Gutierrez added.
The importation violates a number of local laws such as the DENR Administrative Order 28 (Interim Guidelines for the Importation of Recyclable Materials Containing Hazardous Substances) and Republic Act 9003 or the Ecological Solid Waste Management Act of 2000.
It also violates the Basel Convention, which prohibits illegal toxic waste trade and mandates such trade to be considered a criminal act. The Convention also requires the exporting country, in this case Canada, to return the illegally seized shipment and to pay the costs for the return.
"Pick up your garbage Canada, and show us the decency that we so rightfully deserve as a nation. My motherland is not a garbage bin of Canada," Paquiz said.
In an effort to gain public attention on the issue, the coalition filed an online petition on change.org that drew 23,600 signers, more than half of which are Canadians. The group is encouraging more people to sign the online petition to appeal and urge the Canadian embassy in the Philippines to facilitate the pick up and return of the garbage back to the Canadian soil.
Joining AngNars, BAN Toxics, Greenpeace Southeast Asia, and Ecowaste Coalition are Mother Earth Foundation, Global Alliance for Incinerator Alternatives, Green Convergence, and the Ateneo School of Government.
Cebuanos reject GE 'Golden' rice anew, calls support for Ecological Agriculture
By GREENPEACE
October 8, 2014
CEBU CITY – At the People's Forum on Ecological Agriculture held today in Cebu City, more than 400 leaders representing various farming group, women and youth organizations, consumer and health advocates have declared strong opposition against genetically modified 'Golden' rice and called on the Department of Agriculture to protect their crops from possible contamination with genetically modified organisms (GMO).
The renewed call was supported by Cebu Vice Governor Agnes Magpale and 3rd District Board Member Gigi Sanchez along with other local government and municipalities of the province. Vice Gov. Magpale in her message recalled that most of the concerns surrounding GMOs relates to their potential for negative effects on the human health. "Over a decade ago, there was an attempt to apply GMOs to crops for mass production, but this was rejected due to its destructive effects," she said.
Vice Governor Magpale pointed out that the second highest budgetary priority of Cebu province is to agriculture and food production. The thrust of the present capitol administration is to ensure food security and to ensure that what we grow, market, buy, cook, feed, serve and eat are food that are not chemically laden and are non-GMOs.
Urging everyone to fight GMOs, Magpale said, "let us join hands and declare war against GMOs for a safe and healthy agricultural food production for Cebuanos."
In 2013, Greenpeace has found GMO contamination in white corn sold in various markets in Sultan Kudarat. Cebuanos who are white corn eaters are wary that GMO contamination has reached Cebu and endangers their traditional heirloom variety called Tiniguib.
Environmental releases of GMOs, whether through field trials or commercial propagation, leads to contamination which undermines the choice of farmers not to plant and consumers not to eat GMOs.
White corn eaters especially diabetics prefer Tiniguib because of its low glycemic index. Farmers on the other hand favor this variety for its longer shelf life enabling farmers to keep and continue replanting them without the need to buy seeds again for planting which is often the case for GMOs and hybrids. With Tiniguib, farmers' food, nutrition and source of income are assured.
"Farming has been my main source of income, but I practice organic and diversified farming. This ensures that the variety of crops I produce will be safe and healthy to be eaten by people, including my own family," said Mario Manaban, a farmer from Carcar City. "There have been offers for me to plant GMO seeds, saying it will boost my production and provide higher yield from my farm. But I rejected the offer because there are just so many uncertainties and risks linked to these GMOs."
Aside from genetically modified corn, another GM crop about to be planted and tested in the Philippines is 'Golden' rice, touted to help solve Vitamin A deficiency and address world hunger.
GM proponents have also marketed GMOs as economically viable to local farmers. Greenpeace and other groups disprove this, saying how many farmers worldwide have been trapped into an endless cycle of dependency and debt from these powerful agro-chemical corporations. Recently, the ongoing Farmer Scientists Training Program (FSTP), known for using only Philippine varieties of white corn cultivated for food, explained how the domestically-grown open pollinated variety (OPV) of white corn is now massively propagated by farmers for its high yield, with the seeds only costing between P20-25 per kilo, compared to the genetically modified Bt corn seeds which cost P100-150 per kilo.
"Government should support and promote Ecological Agriculture to farmers, instead of offering seeds and technologies from agrochemical companies," stressed Praxides Embalzado of #GMO Free Cebu.
Unlike genetically modified organisms, Ecological Agriculture taps into ecological systems and natural processes to produce food sustainably, making use of natural and organic fertilizers; diversified farming methods like intercropping; and the use of cultural, traditional and natural methods to control pests. Working in harmony with nature, ecological agriculture boosts Filipino farmers' livelihood and provides people with health and nutrition benefits.
"Ecological Agriculture is the only way to ensure food and nutrition security among Filipinos," said Daniel Ocampo, Ecological Agriculture Campaigner for Greenpeace. "Even the recent UN Study has shown that only small-scale organic agriculture will feed the world in the future, not these risky GMOs" he added.
McDonald's and RMHC celebrate 40 years of supporting children and families
McDonald's and its customers across the globe support charity with donation of change and join social media conversation with hashtag #forRMHC
By MARKETWIRE
October 7, 2014
OAK BROOK, IL – Even before Caleb Kinnaird was born, it was likely that he would need a heart transplant. But at 20 months old, the transplant became a reality, and the Kinnairds were faced with getting their youngest son the care he needed at a hospital an hour away from home. The opportunity to stay at a local Ronald McDonald House gave the Kinnairds the gift of time together when they needed it most. Staying at a Ronald McDonald House meant they could be there for all the painful, scary and upsetting moments for Caleb -- and celebrate all the small strides as well. Nearly one year later, Caleb is happy and healthy, and the Kinnaird family will never forget the loving home away from home the Ronald McDonald house provided.
This October, McDonald's and Ronald McDonald House Charities® (RMHC®) are celebrating 40 years of dedication to children's happiness and well-being with a renewed call for donations to directly benefit families, like the Kinnairds, who need it most. A social media campaign beginning Oct. 8 will also encourage consumers to show their support by using #forRMHC to share RMHC-related stories and photos and increase awareness around the mission of the Charity. As red and white stripes are the visual cue for RMHC, consumers are asked to share a photo wearing stripes using #forRMHC.
As the largest corporate donor to RMHC, McDonald's restaurants will be hosting a variety of different initiatives all around the world to further support and celebrate the 40th anniversary of the opening of the first Ronald McDonald House, all starting on or around Oct. 15th. For example, the United States will host the 'RMHC Day of Change' where customers are encouraged to collect and donate their change in RMHC Donation Boxes located on the front counters and drive thrus of participating McDonald's restaurants.
"Some people may think a handful of spare change is insignificant, but every penny counts when we're making an impact on the lives of children and families going through challenging times," said J.C. Gonzalez-Mendez, president and CEO, RMHC. "In fact, last year alone McDonald's customers generously gave more than $50 million through the RMHC Donation Box programs worldwide, which could have helped to provide a 'home away from home' to more than 8,000 families each night. And this year, if each McDonald's customer dropped a penny into an RMHC Donation Box each time they visited, the Charity could raise more than $250 million to support RMHC children and families globally."
McDonald's partnership with RMHC began in 1974 with one child, Kim Hill, who battled leukemia. The Hill family's struggle to remain close to their daughter while receiving treatment inspired one doctor, one professional football team, one community and McDonald's, to create and build the first Ronald McDonald House, located in Philadelphia, PA, USA.
Ronald McDonald House Charities (RMHC), with the support of the McDonald's system and other corporate and individual donors, offers programs and provides services to approximately 9 million children and their families in nearly 62 countries and regions around the world each year. Each day, 20,000 families benefit from RMHC family-centered programs, such as the Ronald McDonald House and Ronald McDonald Family Room, which collectively saves them more than $649 million in meal and lodging costs annually.
Each donation to the Charity helps fund the creation and support of programs that provide stability and vital resources to families when they need it most. All RMHC-operated and supported programs provide access to quality health care and give children and families the time they need together to heal and cope better.
Purisima chance to be honest has passed, must be charged
By Bukluran ng Manggagawang Pilipino
October 6, 2014
QUEZON CITY – A militant labor group assailed national police chief Allan Purisima and called his "open house" invitation to the members of the press as an attempt to cover-up his non-declaration and dishonesty in his Statement of Assets Liabilities and Net worth (SALN).
"The mere fact that his Nueva Ecija estate and poultry farm were not declared in his SALN is already in direct violation of Republic Act 6713. There is no more use for the people to view the contents of his house, Gie Relova of Bukluran ng Manggagawang Pilipino (BMP) insisted.
"The admission of his non-declaration of properties and construction of the White House in Camp Crame only came after people from Aparri to Jolo knew about it watching Ted Failon's show. His succeeding and defensive statements even before the Senate and attempts to project "simplicity" of lifestyle must be considered moot and academic," Relova added.
The BMP leader suggested that the controversial general to "do the honorable. Lying to a single public document is tantamount to lying to the entire nation".
The labor group reiterated its call for all public officials to "disclose all" and no longer wait for lifestyle check be implemented or charges be filed before them or even an expose by the media. The call to "disclose all" was made during the height of the impeachment case against former Chief Justice Renato Corona.
"It is their sworn duty to the tax-paying public to be above-board everyday till the day they retire from public office then it is also logical for them to be forthright in their annual declarations," he added.
The militant leader also took a swipe at the agencies like the Office of the Ombudsman. He claimed that the agency is "again sitting in its fat ass" for taking so much time before taking the appropriate administrative measures and civil charges filed.
"Why has Purisima not been charged? Why are they allowing a graft case to be "eaten alive" by a Senate Committee and members of the press before they start acting upon their mandate?. Their inaction is inexcusable, he said."
Relova cited that even former Chief Justice Renato Corona was treated as an ordinary public servant then.
"The same heavy-handed treatment must be used against Purisima. No exception, even if President Aquino has vouched for him. Aquino is not the law, contrary to what he thinks he is, Relova asserted".
Teachers naman!
Cayetano bats for increase in teachers' salaries and benefits
By Office of the Senate Majority Leader
October 4, 2014
PASAY CITY – Better pay leads to quality education.
Recognizing the important role of educators in improving the quality of education in the country, Senate Majority Leader Alan Peter "Companero" S. Cayetano is pushing anew for the immediate passage of a measure that would provide at the very least P10,000 as additional support and compensation to public school teachers.
"Coming from a family of teachers, I very well understand the plight of our educators, especially those who belong to the public school system. They are the backbone of our country's future yet they do not receive the monetary benefits to commensurate their contributions to our society," Cayetano said, in celebration of World Teachers Day today, October 5.
Cayetano's grandmother, Juliana Cabrera Luna, was a public school teacher at Pateros Elementary School. His mother, Sandra, was a pre-school directress and teacher while his father, the late Senator Rene "Compañero" Cayetano, taught in Law in Lyceum of the Philippines and brother Congressman Lino taught in U.P. College of Mass Communication.
Senate Bill 94, which he authored, will primarily benefit public school teachers, locally-funded teachers, Philippine Science High School System teaching and non-teaching personnel, and non-teaching personnel of the Department of Education (DepEd), excluding those occupying positions from salary grade level 30 upwards.
Once approved, the bill will give teachers additional compensation of P9,000, support in the form of allowances and other remuneration from local school board funds, a P1,000 allowance for medical check-up per year, and a bonus to answer for the unpaid benefits granted by the Magna Carta for Public School Teachers.
"Teachers mold the Filipino youth into becoming responsible citizens. We are who we are, in part, because of our teachers. To my colleagues in the Senate, let us show our gratitude to our educators by approving Senate Bill 94," the senator said.
Cayetano also cited a World Bank study which described teachers as the single most important factor in the performance of students.
"Better pay for teachers is equal to better quality education. At hindi tayo mapapagod sa pagsulong sa kalidad na edukasyon para sa kabataang Pilipino." Cayetano said, scoring the government's inaction because of graft and corruption.
"Lately we are seeing action (good projects) but with massive corruption. Naniniwala tayo na maraming makikinabang kapag may aksyon na walang korupsyon," he emphasized.
President Aquino forms national organizing committee for Papal Visit
Press Release
October 3, 2014
MALACAÑANG, Manila – President Benigno S. Aquino III has directed the mobilization of government resources to ensure the smooth and orderly visit of His Holiness Pope Francis in the Philippines on January 15 to 19, 2015.
In Memorandum Circular No. 72, President Aquino ordered the creation of the Papal Visit 2015-National Organizing Committee (PV-NOC) for the state visit of the Roman Pontiff to coordinate all preparations for this occasion of great significance to the Filipino people.
"As instructed by President Aquino, all heads of the different government departments, local governments as well as the private sectors are encouraged to participate and coordinate all efforts to make sure that the visit of His Holiness in our country next year will be well organized and peaceful," Executive Secretary Paquito N. Ochoa Jr. said on Friday.
The PV-NOC will be chaired by the Executive Secretary and vice-chaired by the Secretary of the Department of Foreign Affairs (DFA). Its members will include the Secretaries of the Departments of National Defense (DND), the Interior and Local Government (DILG), Public Works and Highways (DPWH), Health (DOH), Transportation and Communications (DOTC), Tourism (DOT), and the Presidential Communications Operations Office (PCOO); the Armed Forces Chief of Staff, National Police Chief, and Metropolitan Manila Development Authority (MMDA) Chairman.
The PV-NOC is tasked to take up all government participation and responses in connection with the visit of the Pope, and ensure efficient coordination among public and private sectors, particularly with the Central Committee of the Catholic Bishops Conference of the Philippines (CBCP); peace and order; and the traffic management plan for the transportation of persons and goods during the event.
The Central Committee of the CBCP is at the helm of managing and coordinating all religious and civil plans and activities of the Papal Visit.
MC No. 72 likewise called for the establishment of the two local Executive Committees – EXECOM-Manila and EXECOM-Leyte – in the areas of engagement of His Holiness Pope Francis. The EXECOMs will serve as the on-site full-time, day-to-day operations arms of the PV-NOC.
The EXECOM-Manila will be led by an Undersecretary in the Office of the Executive Secretary (OES). Its members will include the Undersecretaries of the DFA, DND, DILG, DPWH, DOH, DOTC, DOT, and PCOO; Chief of the Presidential Protocol Office; representatives from the OP, the Armed Forces of the Philippines (AFP), the Philippine National Police (PNP), and MMDA; Manila International Airport Authority (MIAA) General Manager; Presidential Security Group (PSG) Commander; and head of the Radio-Television Malacañang.
The EXECOM-Leyte, on the other hand, will be led by an Undersecretary in the OES with members including the Regional Director of the PNP, Commander of the AFP Central Command, Regional Directors of the DOTC and DPWH, PSG Security Task Action Group Commander-Leyte, and a representative from the Radio-Television Malacañang.
MC No. 72 shall take effect immediately and until the conclusion of the Papal Visit in January 2015.