Yolanda-hit villages declared as first 'Zero Open Defecation' barangays in Leyte
By Save the Children
September 27, 2014
WESTERN LEYTE, Philippines – Seven Yolanda-hit barangays across 3 municipalities around Ormoc have been declared as first in the entire Leyte province to eradicate defecation in public – a practice known to cause contamination of water sources and diarrheal diseases.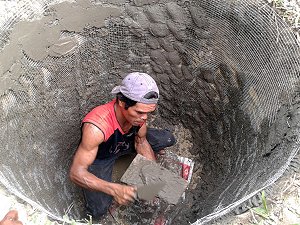 The declaration came after an authorized government body, including hygiene specialists and international organizations, certified the remote barangays of Bulak, Masaba, and San Dionesio in Matag-ob town; Payao in Villaba town; and San Ignacio, Santa Domingo and Libertad in Kananga town as the first Zero Open Defecation (ZOD) barangays in the province of Leyte. To achieve ZOD status, each household in a barangay should have access to toilet and water supply. The recognition was a big feat given that 70% of people in these communities did not have access to toilets immediately after the super typhoon.
Western Leyte has areas with some of the highest rates of open defecation in the country even before 'Yolanda'. In the immediate aftermath, the Water, Sanitation and Hygiene (WASH) cluster estimated that around 65% of areas in the region did not have access to toilets.
Save the Children has been providing remote and vulnerable areas, including the ZOD-certified barangays, with construction materials and trainings to build and repair toilets as part of its comprehensive 'Yolanda' response. To date, Save the Children has provided construction materials for over 6,525 toilets in 32 barangays and plans to help build 3,475 more across 47 barangays in 2014.
"Save the Children knows that the practice of open defecation poses great health risks to the disaster-affected communities, especially children. By providing communities with toilets and clean water supply, especially those in remote and vulnerable areas, we can help protect children and adults from infectious diseases." said Tom Howells, Save the Children's Field Manager in Western Leyte Office.
According to WHO, diarrheal disease is the second leading cause of death in children under five years old, and is responsible for killing around 760,000 children every year. WHO added that the disease can last several days, and eventually dehydrates the body. The disease is common particularly among children and elderly.
Save the Children recognizes, however, that building toilets and repairing water lines alone may not fully address water and sanitation problems in Western Leyte. In response, the organization launched a province-wide campaign to educate people on the health risks of poor hygiene and sanitation. At the household level, Save the Children consulted with and fully involved communities and local officials in the design and construction of toilets and water facilities.
"It is not enough that we provide communities with construction materials. The communities that achieved zero open defecation were successful because they now see the importance of proper hygiene and sanitation. Without proper consultation with and full involvement of the community and the local government, these projects may not succeed in the long-term", says Reggie Aquino, Save the Children's Program Development and Quality Manager in Western Leyte Office.
Save the Children continues to work closely with the local government, the Department of Health and humanitarian organizations in restoring water supply systems to provide clean water; engaging schools in hygiene promotion sessions and training communities in reconstructing their toilets. Save the Children's comprehensive response in the region includes providing communities with cash transfers, community grants for food, security and livelihoods and shelter assistance. The children's organization is also undertaking repairs of schools, district health stations, provision of medicines and establishment of Child Friendly Spaces.
PRO8: Crime up by 20 percent
By RPCRD, Police Regional Office 8
September 24, 2014
CAMP RUPERTO K KANGLEON, Palo, Leyte – Crime incidents increased by 20 percent after Super Typhoon Yolanda (Haiyan) ravaged Eastern Visayas specifically Tacloban.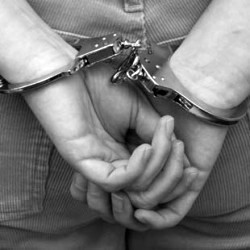 PCSupt. Henry P. Losañes, Regional Director said, at that time all systems were down. There was no power, no water, nothing. People were desperate. They were looting.
Hence, with this report there was a rise in the number of crimes committed in EV for year 2013. This means that from January to December 2013, a marked increase in number of crimes committed both in index and non-index crimes was at 15,316 compared to year 2012 which was at 4,420 or 22% increased.
Another reason was the fact that the crime reports as mandated by PNP National Headquarters to include those that were committed at the barangay level. This is said to be purposely done to have a better picture of our communities in the whole Region 8.
To note, Index Crimes involved crimes against persons such as murder, homicide, physical injury, rape and against property to include robbery, theft, carnapping/carjacking and cattle rustling. Non-index crimes, on the other hand, are violations of special laws such as illegal logging or local ordinances.
Data show that there was a fluctuating movement on the average monthly crime rate from year 2009 to year 2014. The Average Monthly Crime Rate for year 2009 was at 57.63 per 4,222,000 population, then it decreased the following year to 10.35 at 4,480,000 people, but jumped to 16.08 in 2011 at 3,915,000 population; then lowered again at 9.00 in 2012 at 4,091,000 people; then increased at 30.86 in 2013 at 4,140,000 and at 50.94 in 2014 at 4,137,000.
Based on the statistics of non index crimes from year 2009 to 2014 there was an increased of crime incidents from 2,282 to 2,786 respectively. While for incidents categorized as index crimes it decreases as shown below:
Total Index Crime Against Persons. Murder: 2009 - 622; 2010 - 429; 2011 - 394; 2012 - 427; 2013 - 483; 2014 - 319.
Physical Injury: 2009 - 7,045; 2010 - 107; 2011 - 1644; 2012 - 914; 2013 - 4114; 2014 - 4093.
Against Property. Robbery: 2009 - 1243; 2010 - 496; 2011 - 476; 2012 - 332; 2013 - 644; 2014 - 531.
Non-Index Crimes. Violation of Special Laws: 2009 - 2282; 2010 - 795; 2011 - 1444; 2012 - 1157; 2013 - 2120; 2014 - 2786.
Meanwhile, PCSupt. Losañes emphasizes that there are many ways of curbing, if not totally eliminating crime. And that is to continuously increase police presence and visibility especially in crime hot spots.
Further, with the cooperation of local government units and civil society, crime can also be eliminated through the implementation of community prevention by way of developing neighborhood watch programs. So with this, the Total Crime Cleared for year 2014 was 4,186 and the Total Crime Solved was 3,821. Compared to 2013 which was at 5,170 and 3,157 respectively, he added.
The public is encouraged to join hand together with the law enforcement agencies in maintaining peace and order by being vigilant. Likewise, the community is enjoined to provide any information that will lead to the identification and eventual arrest of criminals through the following: Dial 117 or text 2920; RTOC 09173114794/09478907155 and Isumbong Mo Kay Tsip 09178475757 or follow us on twitter @PcrdPro8.
Chiz questions big budget to monitor BUB projects
By Office of Senator Chiz Escudero
September 24, 2014
PASAY CITY – While hailing the bottom-up budget (BUB) as an excellent template in enlarging the share of local government units in the national budget, Senator Chiz Escudero, however, said it should be rid of expensive riders that can be utilized to cover more towns or projects.
Escudero, who chairs of the Senate Committee on Finance, said that P840 million has been proposed in the 2015 national budget for the "monitoring and evaluation" of BuB projects.
The amount, Escudero explained, is on top of the P20.9 billion for a menu of projects ranging from classrooms to clinics, which were identified by local governments through a process involving citizens' consultation, and brings real allocation for the BUB to P21.7 billion.
"Kung monitoring lang, ang P840 million ay masyado yatang malaki. Katumbas na ng budget ng 30 district hospitals. It's an expensive rider," Escudero pointed out.
"I think, at the very least, we should reduce the monitoring budget. Then we add whatever amount slashed to the budget of the BuB proper. That way we can cover more towns or increase the funding for those already in," he added.
According to Escudero, Aquino administration's BuB project, which was introduced in 2013, can be implemented without creating a monitoring industry.
Piloted last year, BuB has been officially renamed Grassroots Participatory Budgeting Process (GPBP) in the 2015 proposed spending plan. Under the program, funding for projects chosen by local government units (LGUs) is incorporated in the budgets of 11 participating national agencies. There is also a separate budget for monitoring.
In today's budget hearing of the Department of the Interior and Local Government (DILG), Escudero asked department officials on the particulars of its total BuB fund amounting to P5.7 billion.
DILG Sec. Mar Roxas said their BuB is spent on monitoring and evaluation and other activities pertaining to projects in all 1,600 LGUs across the country. Escudero asked the secretary to submit to the committee the detailed breakdown.
Among the participating agencies with GPBP allocations are
Department of Tourism (DoT), P348 million; Department of Social Welfare and Development (DSWD), P2.717 billion; Department of Trade and Industry (DTI), P641 million; Department of Agriculture (DA), P4.28 billion; Department of Environment and Natural Resources (DENR), P323. 5 million. 
Department of Education (DepEd), P1.49 billion; Department of Energy (DoE), P84.6 million; Department of Health (DoH), P1.47 billion; Department of Labor and Employment (DoLE), P444.2 million; and Technical Education and Skills Development Authority (TESDA), P296 million.
To monitor and evaluate the projects which will be implemented in partnership with LGUs, "monitoring and evaluation" expenses are proposed for the following:
DILG, P451 million; DepEd, P44.8 million; DA, P113.3 million; DOE, P2.5 million; DoH, P44.1 million; DoLE, P13.3 million; TESDA, P8.9 million; DoT, P10.4 million; DSWD, P81.5 million; and DTI,18.4 million.
To illustrate how funding for "monitoring and evaluation" of projects under BuB could be spent to finance other programs, Escudero said the P44.8 million set aside for DepEd could buy 64,000 classroom chairs, while the P81 million proposed for DSWD could cover the expenses of the agency's Balik Probinsya Program for some 5,000 families.
"If you look at the DOH budget, there is no distinctly identified budget for monitoring one disease. There's no funding to track dengue, for example. Kulang ang 'health sentinel' funding support, but sa BuB merong P44 million," he said.
Cutting GPBP's monitoring budget by half will free up P400 million and "if we later disperse this to 800 poor towns at P500,000 each, it can do a lot of good at the grassroots," Escudero said.
San Miguel Corporation receives USD 50 M in financing from Export Development Canada
By MARKETWIRE
September 24, 2014
OTTAWA, Ontario – Export Development Canada (EDC) today announced a previously signed USD 50 M financing transaction for Philippines-based San Miguel Corporation (SMC), a well-diversified conglomerate with leading market positions in the food, beverage, and packaging industry in the Philippines and Southeast Asia. In recent years, SMC has also become a market leader in fuel, oil, and energy in the Philippines.
As a mature global financier, EDC brings stability and reliability of capital to international customers like SMC. With annual business volumes nearing CAD 100 B, EDC has the capital and experience necessary to undertake transactions of any size in support of deals involving Canadian supply or services.
"At EDC we are flexible in terms of the financing solutions we can provide to international companies," said Rajesh Sharma, EDC's Regional Manager for Southeast Asia who is based in Singapore. "We are always willing to tailor deals to meet the specific needs of customers, whether that means working alongside existing financial partners or acting as the sole financier. In addition to reliable capital, EDC brings valuable market intelligence and supply-chain matchmaking ability to the table."
SMC's total revenues of nearly USD 17 B in 2013 accounted for approximately 6.5 per cent of the Philippines' overall GDP. Last year, the company confirmed medium and long term investment plans for an estimated USD 35 B within its current business portfolio, making them the largest investor in the Philippines. SMC was also recently awarded one of seven Philippine government contracts under the Public-Private Partnerships program. The contract, valued at USD 541 M, is for the NAIA Expressway project. There are several more infrastructure projects in SMC's pipeline as well.
SMC will use EDC's financing to fuel this growth, but the loan will also serve to strengthen the business relationship between EDC and the Philippine conglomerate. As part of this relationship, EDC will be able to help connect SMC with Canadian suppliers in the oil, energy, infrastructure, mining, and telecommunications sectors – all areas where SMC's procurement needs match up well with Canadian expertise.
"We actively work with global partners in our fast expanding businesses. Our relationship with EDC is a fairly new one and we hope they will be able to connect us with Canadian expertise and partners as we expand our operations in the region" said Sergio Edeza, SMC's Senior Vice President and Head of Treasury."
If your company is looking for financing and is interested in doing business with Canada, EDC can personally serve your company from Singapore, Mexico City, Monterrey, Rio de Janeiro, Sao Paulo, Santiago, Lima, Bogota, Dusseldorf, Istanbul, Dubai, Shanghai, Beijing, Mumbai, and New Delhi.


One hundred sixty civilian runners and 375 military personnel participated in the 6.3 kilometers fun run event while at 40 bikers joined the 7 kilometers fun bike category during the 8ID's "Padyak at Takbo Para sa Kapayapaan" on September 21, 2014.
8ID honors Peace Month with "Padyak at Takbo Para sa Kapayapaan"
By DPAO, 8ID PA
September 24, 2014
CATBALOGAN CITY – The 8th Infantry (Stormtroopers) Division, Philippine Army based at Camp Lukban, Catbalogan City, Samar held a fun run and bike back and forth from its headquarters to Catbalogan City as part of the series of activities commemorating the nationwide observance of the 11th National Peace Consciousness Month with the theme "Nagkakaisang Bayan Para sa Kapayapaan" on September 21, 2014.
One hundred sixty civilian runners and 375 military personnel participated in the 6.3 kilometers fun run event while 40 bikers joined the 7 kilometers fun bike category. Highlighting the fun run was the participation of 118 runners from the City Government of Catbalogan headed by Hon. Mayor Stephany Uy-Tan. Other partakers were from the Philippine National Police, Philippine Information Agency, KABALIKAT Communications Group, running enthusiasts from the Samar Runners' Club and Catbalogan Runners Society, Samar Mountain Bikers Association, military dependents and other participants who took time to support this activity.
A briefing on the route followed by a warm-up exercise was conducted prior to the start of the activity. Gun start was at exactly 5:30 AM in front of the 8ID Grandstand at Camp Lukban, Catbalogan, Samar, where the finish line awaits the runners.
Maj General Jet B. Velarmino, Commander of the 8ID in his remarks said, "It can be gleaned that under Presidential Proclamation No 675 dated 20 July 2004, the month of September of each year is declared as National Peace Consciousness Month. This activity that we undertook today is not only to promote healthy lifestyle and camaraderie, but to remind us all that we should always work hand-in-hand with each other in promoting a culture of peace among Filipinos anchored on nonviolence, respect for fundamental rights and freedoms, tolerance, understanding and solidarity."
Chiz to include funding for senior citizens' mandatory PhilHealth coverage in 2015 budget
By Office of Senator Chiz Escudero
September 23, 2014
PASAY CITY – Senator Chiz Escudero is allocating specific fund for the mandatory PhilHealth coverage of all senior citizens under the 2015 spending package, after the Senate passed a bill seeking automatic health insurance coverage of elderly persons.
Escudero, chairman of the Senate finance committee, voted Monday in favor of Senate Bill No. 712 which provides for the mandatory PhilHealth coverage to all senior citizens, and whether the House of Representatives would approve the bill or not, the lawmaker said he would include funding for this in next year's budget.
"Without prejudice to our counterparts in Congress, PhilHealth's 2015 budget will feature an amount to cover the premiums of all senior citizens. We will not wait for the approval of the counterpart measure of this bill in the House; it could take a longer while before this gets funded so we might as well appropriate funds now," Escudero explained.
SBN 712's author Sen. Ralph Recto said PhilHealth has some P116 billion in reserves and has fiscal room to absorb the coverage of senior citizens' health insurance.
According to Escudero, the same has been done for all barangay officials in the country for 2015 to include them under the National Health Insurance Program (NHIP) through PhilHealth benefits.
Escudero added that he put a special provision in the PhilHealth budget to include an amount intended to cover the premium of barangay officials who are not yet enrolled in the government health insurance program.
Stronger ASEAN action needed as region braces for more extreme weather
Press Release
September 22, 2014
MANILA – Southeast Asia's worst weather calamities in the last decade cost the region tens of thousands of lives and more than USD 4 billion annually, an NGO group revealed today.
According to the coalition ASEAN For a Fair, Ambitious and Binding Global Climate Deal (A-FAB), composed of Oxfam, Greenpeace Southeast Asia and EROPA, the expected worsening of such trends due to climate change demands an ASEAN response that is much stronger than what the regional bloc is currently offering.
The call came during the launch of the policy brief "Weathering Extremes: The need for a stronger ASEAN response." The brief details the effects of climate-related disasters and what actions the ASEAN need to take to curb these impacts.
The launch took place a day before the United Nations Climate Summit in New York where more than 120 heads of states are expected to give bold commitments on climate change response. A-FAB wants ASEAN leaders to speak as one voice for the region to demand a fair, ambitious and binding global climate deal, and for financing for adaptation as well as loss and damage.
Dr. Tun Lwin, CEO of Myanmar Climate Change Watch and author of the paper, said climate change is no longer an issue of individual countries, but an issue of the entire region.
"Extreme weather events are increasing in the region, and we all suffer from its impacts. I think this should be a call for us to work together, especially in terms of adaptation and mitigation," he said.
The paper goes further to illustrate the impacts of extreme weather to agriculture, the region's main source of livelihood.
"In Myanmar for example, disrupted monsoon patterns have affected agricultural production. Monsoon seasons have become shorter, thus reducing crop yields," Dr. Tun added.
What is happening in Myanmar and throughout Southeast Asia underscores the importance of ASEAN action on climate change, according to Riza Bernabe, Policy and Research Coordinator of Oxfam's East Asia GROW campaign.
"With agriculture threatened by climate change, livelihoods of millions of poor families are at risk. There will be significant effects on food security. We should not wait until it is too late to act," she said.
Zelda Soriano, Greenpeace Southeast Asia Political Advisor, said the ASEAN should consider policy support for renewable energy to mitigate the region's contribution to global warming.
"Governments should phase out subsidies on fossil fuels, and instead work towards transitioning to low-carbon renewable energy. We cannot continue with a business-as-usual scenario if we want to ensure our safety and that of future generations," she said.
The ASEAN for a Fair, Ambitious and Binding Global Climate Deal (A-FAB) is an organization that calls for a more active and transparent participation of the Association of South East Asian Nations (ASEAN) at the United Nations Framework Convention on Climate Change (UNFCCC).
Church leaders call for resumption of GPH-NDFP formal talks on UN day of peace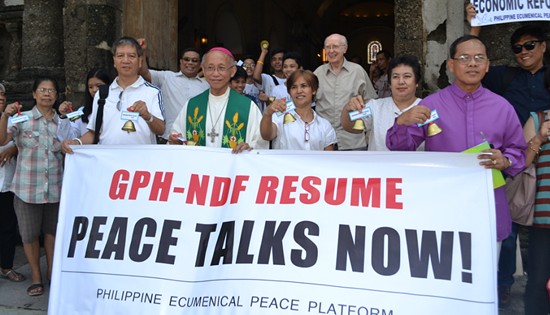 By Philippine Ecumenical Peace Platform
September 21, 2014
MANILA - On September 21, the Philippine Ecumenical Peace Platform (PEPP), the largest ecumenical network of church leaders in the country, marked the United Nations Day of Peace by sponsoring a mass at the Malate Catholic Church in Manila. The mass was lead by PEPP co-chair Archbishop Antonio J. Ledesma, S.J., of the Archdiocese of Cagayan de Oro.
Archbishop Ledesma stated that "on this historic day, when the United Nations declared the right to peace, and as we recall the long war that has raged in our country, we call on the Government of the Philippines (GPH) and the National Democratic Front of the Philippines (NDFP) to return to the negotiating table to address the substantive issues that remain as the root cause of armed conflict in our country".
He also stated that for us Filipinos, September 21 has added significance as "it marks the anniversary of the imposition of martial law which caused many suffering". He said that there "was unpeace during martial law and the challenge of peace building still continues as an element of our national life".
The statement of the Archbishop shows that the roots of dissent are in the deeper social realities of injustice. Peace cannot prosper without justice that restores right relationship.
After the mass, members of the PEPP unfurled a streamer in front of the church calling for the resumption of the formal peace talks and rang bells with the same message while the church's bells were tolling. They also reiterated the call to both parties to respect the historical agreements that have already been achieved in the peace process such as the Comprehensive Agreement for Respect for Human Rights and International Humanitarian Law (CARHRIHL).
Thirty years ago, the United Nations issued the "declaration on the right to peace" which affirmed peace as a sacred right of all people and a primary prerequisite for the material wellbeing, development and the progress of countries. The United Nations declared that the "preservation of the right of people to peace and the promotion of its implementation constitute a fundamental obligation of each state."
Cayetano: 'Iskolar ng Bayan' bill to give 80k students access to free college education
By Office of the Senate Majority Leader
September 21, 2014
PASAY CITY – Senate Majority Leader Alan Peter "Companero" S. Cayetano is optimistic that close to 80,000 graduating public high school students will be able to avail free and quality college education next school year once the landmark measure Iskolar ng Bayan bill is enacted into law.
Cayetano, principal author of the bill, issued the statement after the bicameral conference panel passed the measure on Thursday.
"The enactment of the Iskolar ng Bayan bill into law will change the lives of almost 80,000 children dreaming of a better future for their families. It is a way of letting 80,000 families feel the benefits of a growing economy. This is the very essence of inclusive growth," he said.
"This will give deserving students opportunities to land better paying jobs and subsequently provide better futures for their families."
Once the bicam report is ratified, the proposed law will be sent to Malacaňang for President Aquino's signature. Cayetano expressed confidence the President will affix his signature to this landmark measure.
"I thank members of the bicam panel as well as House and Senate leaders who made the measure a priority bill. This is a testament to the ability of members of Congress to disregard politics in order to work for the greater good," Cayetano said.
It was one of the priority bills identified by House Speaker Feliciano Belmonte Jr. and Majority Leader Neptali Gonzales II.
"We also thank Senator Pia Cayetano and Pasig City Representative Roman Romulo for shepherding the bill in their respective committees in the Senate and House of Representatives, and in the plenary. Our utmost gratitude for their efforts to help improve the welfare of our youth," Cayetano added.
Under the proposal, the government shall mandate all state universities and colleges (SUCs) to give automatic admission and scholarship grants to the top ten public high school students of their respective graduating classes.
"More than a landmark measure for the 16th Congress, the enactment of the Iskolar ng Bayan bill is a commitment to the Filipino youth that they have a government working for their future. Kahit malayo pa ang graduation, ito na siguro ang pinakamagandang regalo na mabibigay natin sa ating mga kabataan at kanilang mga magulang na naghihirap sa pagtatrabaho para mapag-aral ang kanilang mga anak," Cayetano said.
Cayetano earlier emphasized that the measure becomes particularly important now that the pork barrel has been abolished by Congress, leaving some 400,000 scholars on their own to fend for their schooling.