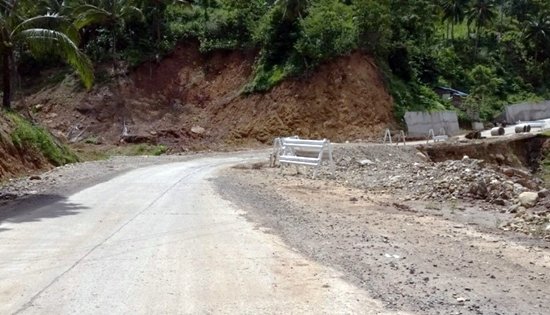 The site for the construction of new permanent bridge at Sitio Macalpe, Brgy. Cabibihan, Biliran, Biliran.
New bridge to be constructed at Macalpe, Caibiran, Biliran
Press Release
March 14, 2019
NAVAL, Biliran – A new permanent bridge will be constructed at Sitio Macalpe, Brgy. Cabibihan in Caibiran town to replace the cut-off road washed out during the onslaught of Tropical Storm (TS) Urduja in December, 2017.
The Department of Public Works and Highways (DPWH) Biliran District Engineering Office is prioritizing the implementation of this project under FY 2019 DPWH Infrastructure Program with an appropriation amount of P50M.
David P. Adongay Jr., District Engineer said that there is a need to construct a new permanent bridge on the said section because a large volume of water crosses the roadway especially during rainy season.
"Rehabilitating the existing road and reinstallation of pipe culverts cannot serve the purpose of allowing the passage of large volume of water and is no longer a cost-effective and efficient course of action," said Adongay.
Adongay added that the realization of this project will earn the government savings in the rehabilitation of additional damaged pavement in the future.
The construction of the new bridge involves the construction of a 4-lane bridge with a width of 13.4 meters and with a total length of 20.0 meters or a total area of 291.43 square meters.
Presently, DPWH-Biliran DEO maintains a total of 35 national bridges within its jurisdiction with a total length of 1,250-linear meter of both asphalt and concrete surface. The completion of the new Macalpe Bridge would be an addition to this total length of bridges.
When completed, this project will provide a structure that can accommodate big volume of rainwater, minimize vehicular accident as well as provide convenience in transporting agricultural and aquatic products to market centers. This bridge is essential in going to the only Provincial Hospital and Port of the Province and some tourist sites within the island. It will serve more or less 3,000 travellers along Naval-Caibiran Cross Country Road (NCCR).