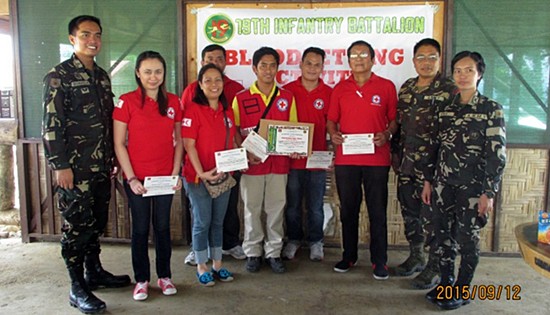 Lt. Col. Reymondo Delgado (2nd from right) with the staff of Philippine Red Cross-Ormoc City Chapter headed by Nepthel Remulta (5th from left) after the bloodletting activity at 19IB Camp in Kananga, Leyte.
19IB, Red Cross conducts bloodletting
By 19th Infantry Battalion, 8ID PA
September 13, 2015
KANANGA, Leyte – In celebration of the National Peace Consciousness Month this September, 19th Infantry Battalion conducted a bloodletting activity at its headquarters in partnership with the Philippine Red Cross - Ormoc City Chapter on Saturday, September 12, 2015.
The activity started with a short program around 9:00 o'clock in morning where Nepthel Remulta, PRC medical technologist briefed around 70 would-be donors on the importance of blood donation.
Almost fifty per cent of the would-be donors are soldiers of 19IB, while the rest comprised of personnel from Ormoc City Police Office (OCPO), Coast Guard District Eastern Visayas (CGDEV), Kananga Municipal Police Station, Finest Guardians International Contingent Incorporated, peoples organizations and even farmers from nearby barangays of Kananga and Ormoc City.
As the activity ends around 12:00 midday, 22,950 cc whole blood was collected. It turned out that 51 individuals were successfully extracted with blood at 450 cc each. Others failed in the pre-screening and interview due to illness such as cough, colds and menstruation to some female donors.
According to Remulta, Ormoc City has an average blood requirement of 450 bags monthly. This is because one patient, especially those undergoing surgical operations would usually need more than two bags at a time.
19IB had been conducting bloodletting activities with Philippine Red Cross - Ormoc City Chapter for over six years.
"In behalf of the Philippine Red Cross, we thanked the 19th Infantry Battalion for spearheading the bloodletting event and for spreading public awareness on its importance", Remulta said.
On his part, Lt. Col. Reymondo Delgado, Acting Commanding Officer of 19IB lauded the Philippine Red Cross for its incessant advocacy on saving lives through giving blood. He also thanked all individuals and organizations who supported the peace initiative of the battalion.