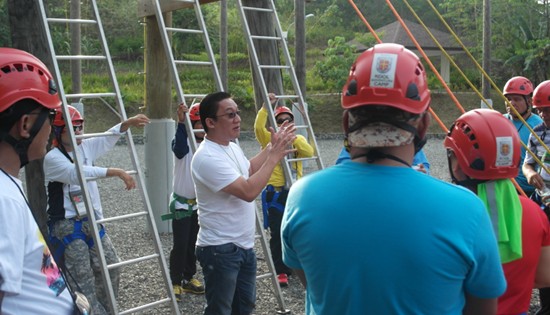 Mandaue City Mayor Jonas Cortes gives a pep talk to motivate the barangay captains before they take on the challenges during their synergy program.
Barangay leaders train for a better Mandaue City
By Ramon Aboitiz Foundation Inc.
June 1, 2015
CEBU CITY — To help improve services to their constituents, Mayor Jonas Cortes led 25 Mandaue City barangay captains in a three-day synergy program organized by Ramon Aboitiz Foundation Inc. (RAFI) at the Kool Adventure Camp (KAC) Adventure Education Center in Cansomoroy, Balamban, Cebu.
"Kool Adventure Camp is the propeller of the transformation of the people of Mandaue. The program was able to change our old perception and mindset. We are now equipped on how to handle the different challenges in our barangays," said Association of Barangay Councils President Ernie Manatad.
"I am amazed of the transformation of the barangay leaders. This is the best training we have attended. This will help me correct my old maps in executing my function as a barangay official. I want to apply the learnings I got from KAC and change myself to be more open to other ideas. This program is really aligned to the goals of I AM Mandaue," he added.
"I AM Mandaue" is the official seal and slogan of Mandaue City. It refers to the responsibility and contribution of every residents for the city's progress.
"If we want a strong Mandaue, we have to build a strong barangay", said Cortes.
KAC has been offering adventure education programs for leadership and team development for youth and professionals for the last decade. It is a program under RAFI's Leadership and Citizenship focus area.For more information on KAC and its services, contact 260-9000 local 1001 and look for Althea May Santillan, or visit www.kac.rafi.org.ph or www.facebook.com/kooladventurecamp.