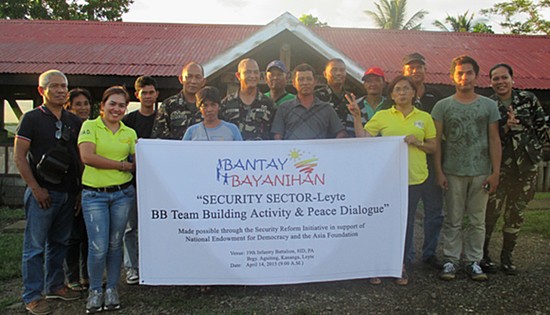 The participants of the Leyte Bantay Bayanihan Forum held at the 19th Infantry Battalion camp in Brgy. Aguiting, Kananga, Leyte on April 14, 2015.
Leyte-Bantay Bayanihan holds forum at Army camp in Leyte
By 19th Infantry Battalion, 8ID PA
April 16, 2015
KANANGA, Leyte – A civil society-led initiative that aims to create an oversight body over the armed forces, including defense and security policies, holds its quarterly meeting here on Tuesday, April 14, 2015.
The Leyte-Bantay Bayanihan, which was successfully launched at the Visayas State University (VSU) in Baybay City, June 23 last year, facilitated its forum inside 19th Infantry Battalion's camp for the first time.
The forum, dubbed as the "Security Sector-Leyte BB Team Building Activity and Dialogue" was conducted to pursue partnership with the security sector, particularly the AFP and to evaluate its implementation of the Internal Peace and Security Plan (IPSP) "Bayanihan".
During the forum, Lt. Col. Nedy Espulgar and Lt. Col. Allan Jose Taguba, battalion commanders of 19IB and 78IB, respectively, presented the "bayanihan" accomplishment of their units for the first quarter of calendar year 2015.
It was learned that nine out of 37 municipalities in the province of Leyte were already declared insurgency-free. The said towns are Matag-ob, Merida, Palompon, Matalom, Bato, Inopacan, Dulag, Tabon-tabon, and Tabango. Efforts are already being made to declare other towns as well as cities as insurgency-free.
In his message, Col. Dinoh Dolina, commander of the 802nd Infantry Brigade stated that the military is now giving more emphasis on resolving the root causes of insurgency. This can be manifested in the military's various peace and development initiatives, especially in far flung barangays which are barely reached by the services of the local government.
"As catalyzers, we tried to fill the gaps between the communities and the government", he stressed. Col. Dolina likewise vowed to fully support the Leyte-Bantay Bayanihan and its initiatives.
The forum also includes conflict resolution workshops which Col. Dolina himself and his two battalion commanders has ably participated in.
Other participants of the activity were Ms. Imelda Bonifacio, area manager of the Office of the Presidential Adviser on the Peace Process (OPAPP), and representatives from Civil Society Organizations and media networks from Ormoc and Tacloban City.
In her presentation, Ms. Gina Ragudo, the LBB convenor discussed that the core objective of Bantay Bayanihan is to reform the security sector institutions so that they are transparent, respectful of the Rule of Law, Human Rights and International Humanitarian Law, and accountable to democratic civilian authority.
She furthered that "Security Sector Reform" is an important component of peace building, democratization and development".