Farms association in Leyte intensify production for bigger market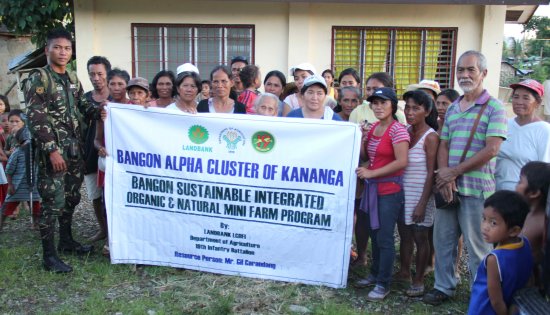 By JAZMIN BONIFACIO
July 23, 2014
KANANGA, Leyte – The Bangon Mini-Farms Association in Leyte is intensifying field test over their 19 varieties of vegetable plantation and slowly tapping in to big markets nationwide within the year.
It was learned that Department of Agriculture, Land Bank of the Philippines and the 19th Infantry Battalion Phil Army, a key facilitator of the project of Bangon Mini Farm concept in Super Typhoon Yolanda affected areas in Leyte will soon schedule a weeklong field unit audit to assess the productivity of all the 19 vegetables required by the would be market in Ormoc City and markets chains in Cebu.
Field audits shall cover Ormoc City, Kananga, Capoocan, Carigara, San Isidro, Calubian and Jaro all of Leyte province and will be assisted by the 19th Infantry Battalion based in Kananga, Leyte.
Bangon Alpha rouse their membership from 100 to 426 farmer-partners seven months after Super Typhoon Yolanda. This increase in number was caused when original members of Bangon conducted their own trainings to bring others to the program, similar to what the 19th Infantry Battalion did to its Farmers Associations in the municipalities of Kananga, Calubian, San Isidro and Jaro and in Ormoc City.
And, recently, Bangon's Ormoc City cluster opened its farmer's market in Brgy Camp Downes. The market sells organic vegetable products and is open Friday to Sunday every week.
According to Capt. Christopher Badong, Civil Military Operations officer of the 19th Infantry Battalion Philippine Army, the farmers are hoping more access to institutions and big markets that will lead them to bottom line growth. And with the market of their agricultural products they will have to expand their markets to viable, sustainable businesses.
"The idea is, rather than trying to bus people to farmers' markets we decided to take their agri products to where the neighborhoods are," Badong stressed.
Badong said that they continue to collaborate with other agencies to come up with different strategies to help farmers market their produce.
And this can be attributed, to various interventions being done by the government through the Department of Agriculture and its attached agencies coupled with the strong support of the farmers and stakeholders on various agricultural programs.
Meanwhile, Lt. Col. Nedy Espulgar, commanding officer of 19th IB, said the program is indeed beneficial to indigent farmers whose income is within the poverty threshold.
Filipinos are never destined to be poor, according to Lt. Col. Espulgar.
"We all deserve to live a life out of poverty for there are many ways of succeeding in life especially that our country is blessed with vast natural resources that we can capitalize on," Espulgar added.
He stressed that in the context of small farmers, many of them work very hard but still do not enjoy the quality of life that they deserve.
"Our advocacy wants to see this scenario change for the better and we hope to encourage future and present farmers to think like entrepreneurs and uplift their standard of living and hoping as well that the program will attract more people, especially the rebels who chose to fight in bloody battles rather than in ending poverty and hunger," said Lt. Col. Espulgar.