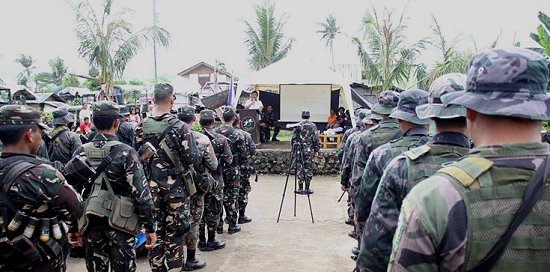 Ormoc City councilor Pedro Ebcas addressing the bayanihan teams during the Send-off Ceremony held at Brgy. Boroc, Ormoc City on July 4, 2014.
Soldiers, cops formally send-off for bayanihan activities in Leyte
By 19th Infantry Battalion, 8ID PA
July 7, 2014
KANANGA, Leyte – Troops under Army's 19th Infantry Battalion and PNP's Regional Public Safety Battalion in Region VIII were dispatched for peace and development missions dubbed as bayanihan activities in hinterland villages of Ormoc City and Carigara, Leyte.
This after two batches of combined Army and PNP troops were officially send-off during ceremonies held on July 2 at Brgy. Tinaguban, Carigara, Leyte and on July 4 at Brgy. Boroc, Ormoc City.
The ceremonies were attended by local officials who welcomed and pledged their commitment to support the mission of the government forces.
Lt. Col. Nedy Espulgar, commanding officer of 19IB, said at least 60 PNP personnel were augmented to the unit for the mission which is expected to terminate in the next three months.
Espulgar further said that during the mission, military and PNP shall jointly perform bayanihan activities which include identification of social issues and subsequently link them to appropriate government agencies and offices. While in the area, troops are likewise mandated to assist in the delivery of social services by domestic and foreign organizations.
"We will also look into opportunities of introducing Land Bank's program on natural, organic and sustainable farming system as this may help uplift and increase the income of indigent farmers in the area," Espulgar added.
The actions and activities of the bayanihan teams will be guided by the local officials and the LGU whom Espulgar jokingly call as the teams' acting commanders in their respective barangay.
After the ceremony, local officials and bayanihan teams shared a traditional military "boodle fight" which was ably prepared by the soldiers. After which, the local officials boarded on the military trucks and took the bayanihan teams who will be deployed in their respective villages.
For the said mission, bayanihan activities will be focused in nine barangays namely Canlampay, Paglaum, Caghalo, San Isidro and Hiluctugan in Carigara, Leyte; and Boroc, Patag, Hugpa and Quezon Jr. in Ormoc City.
"We do not discount the fact that this mission may stir-up the presence of the political and armed components of the NPA. In the next few days, they might start bombarding criticisms and "black propaganda" against government forces. But our efforts will not be towards them, it will be for the people in the community who needs our support", Espulgar concluded.