Bata Muna marches to COMELEC, dares next political leaders to improve status of Filipino children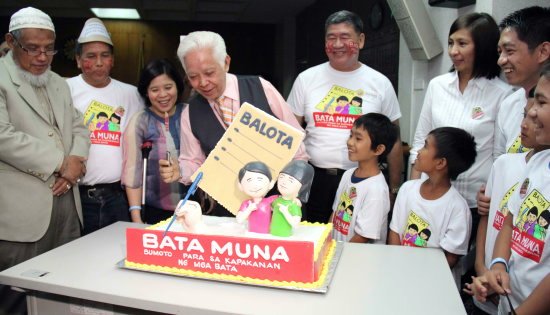 By SAVE THE CHILDREN
March 7, 2013
MANILA – More than a hundred children and child rights advocates from civil society organizations and government agencies trooped to the Commission on Elections (COMELEC) office in Intramuros, Manila today, March 7, and challenged aspiring political leaders to improve the status of the children in the country.
The campaign, "Bata Muna: Bomoto Para sa Kapakanan ng Kabataan" launched with a birthday party theme is forward looking as the group is hopeful to celebrate a new batch of political leaders who will improve the status of children in the country.
Initiated by Save the Children together with Samahan ng Mamamayan - Zone One Tondo Organization (ZOTO) and children's organizations leading the Children Talk to Talk (C2C) About the UN Convention on the Rights of Children Project, "Bata Muna" campaign is now joined by 22 other organizations around the country.
"We are expecting more organizations and individuals to join us," said Deborah Carmina Sarmiento, Policy Advocacy Manager of Save the Children. "Bata Muna now involves 25 organizations. These organizations are reaching and directly serving over a million children across the country," she added.
According to Save the Children, "Bata Muna" campaign wants political leaders who will stand up for children's rights, voters to demand for political accountability on children's rights, make children's issues visible during the campaign time and ultimately influence voters to consider children when voting.
Among other children's rights issues, the campaign calls for a stricter implementation of the law against child trafficking under the recently enacted Expanded Anti-Trafficking in Persons Act of 2012. Figures from the Department of Social Welfare and Development (DSWD) reveal that from January 2003 to September 2012, 23% of the trafficked victims in the Philippines are children, of which 85% are girls.
Among the factors that contribute to child trafficking in the Philippines are poverty, low economic development in the communities of origin, lack of education and skills for better economic options, limited employment opportunities, inadequate awareness among families, and gender inequalities.
"Until now, children still fall into the traps of traffickers. The anti-trafficking law notwithstanding, its impact on the children still relies on its strict implementation," said Marilen Soliman, Regional Coordinator of Asia ACTs. Asia ACTs is a regional network of organizations working together to protect all children in Southeast Asia from exploitation and abuse.
Despite laws and policies that are already in place, the National Statistical Coordination Board (NSCB) states that children and women remain to be two of the poorest basic sectors of Philippine society with a poverty incidence of 34.8% and 25.1%, respectively.
Meanwhile, the Mindanao Action Group for Children's Rights and Protection (MAGCRP), a network of child-rights advocates working in collaboration with the Provincial Government of North Cotabato, calls on aspiring leaders to really look into the situation of children around the country.
In Mindanao for example, thousands of children are displaced because of armed conflict and emergencies, most recently Typhoon Pablo, which severely hit poor provinces of Davao Oriental and Compostela Valley. At least 40% of the six million affected by Typhoon Pablo are children.
Also, children in rural areas work in mining operations and commercial plantations while children in urban areas fall victims to trafficking, sexual abuse and prostitution. "Government's social services hardly reach children especially those who belong to Lumads and Moro families in far-flung areas. Registration of children in these communities is still a problem," said Chris Peñales of FPOP-SOCCKSKSARGEN Chapter, lead agency of MAGCRP.
"Tomorrow, March 8, the Philippines along with the rest of the world is going to commemorate International Women's Day. This is also a time to take notice of issues affecting young girls, such as sexual abuse, teenage pregnancy, trafficking and prostitution. This is one aspect of the many children's issues that candidates can include in their agenda," shared Sarmiento.
"Beyond our campaign to put forward children issues during the elections, the Bata Muna will continue campaigning to hold those who will be elected accountable. They must deliver programs and policies that will improve the situation of children in the country. Enough of campaign promises that remains to be just that – promises," ended Sarmiento.