Pre-construction conferences to heighten awareness on DPWH projects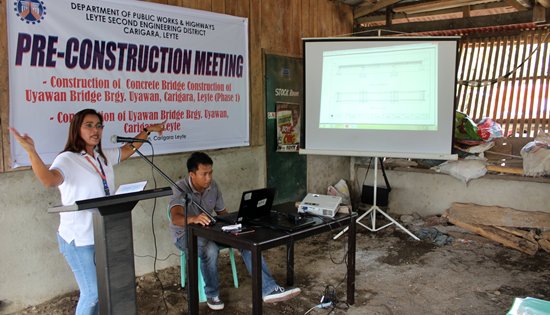 By DPWH 2nd LED
April 10, 2019
CARIGARA, Leyte – Intensifying the awareness of the residents on various infrastructure projects, the Department of Public Works and Highways (DPWH)-Leyte Second District Engineering Office conducts continuous pre-construction conferences within the second district of Leyte.
The pre-construction conference involves the introduction and discussion of the project design and overview.
"As we wait for the approval of 2019 budget, we are doing this activity to present our projects to the community," District Engineer Gerald Pacanan said.
Pacanan stated that the pre-construction activities such as conferences must be part of the implementation to get the public be aware and involved in the process.
"This would be an avenue to air concerns and issues of the residents in order to avoid future problems that may arise during the project implementation," he added.
Representatives from Local Government Units (LGU) and Barangay Officials where the project will be implemented, and other stakeholders are invited to get involved and raise their concerns and issues on the projects.
The district engineering office targets to conduct pre-construction conferences on all infrastructures under the General Appropriations Act for 2019, particularly the high-impact projects.
The district will implement a total of 54 projects amounting to P1.5 billion under the 2019 infrastructure program.
SFDEO sponsors NSHCA's Medical, Optical and Dental Mission in N. Samar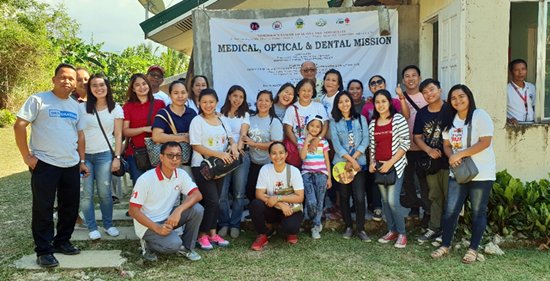 By CHENZI MAY D. UY
April 10, 2019
CALBAYOG CITY – The Northern Samar Health Care Advocates (NSHCA) have once again conducted their annual medical, optical and dental mission last March 23, 2019 (7:30AM-3:00PM), in behalf of marginalized people in Northern Samar.
The NSHCA is a partnership of church, government and socio-civic organizations for health care advocacy. For this year, they have chosen the St. Anthony of Padua Parish in San Jose, N. Samar as its partner-beneficiary.
As this year's main sponsor, DPWH Samar First Engineering Office raised funds to cover the medicines and dental supplies needed.
This was made possible through the voluntary contributions of District Engineer Alvin A. Ignacio, OIC-Assistant DE Denis C. Cagomoc, section chiefs, unit heads, and other DPWH employees.
The activity was spearheaded by the Diocese of Catarman, through the Diocesan Social Action Center - Caritas Catarman Foundations, Inc (DSAC-CCFI).
Beyond infrastructure and public works, SFDEO supports community programs and extension services wherever possible.
Army encounter CNTs anew in Pinabacdao, Samar
By DPAO, 8ID PA
April 9, 2019
CAMP LUKBAN, Catbalogan City – Troops from 46th Infantry (Peacemaker) Battalion, 8th Infantry (Stormtroopers) Division, Philippine Army encountered CPP-NPA Terrorists (CNTs) at Brgy. Canlobo, Pinabacdao, Samar on April 08, 2019 at 3:15 p.m.
Based on the initial report from Lt. Colonel Noel A Cagasan, Commanding Officer 46th Infantry Battalion, his troops were conducting security operations to check the presence of CNTs in the outskirts of the aforesaid barangay.
While approaching a forested portion in the area, the troops encountered undetermined number of CNTs believed to be the fleeing rebels encountered by the troops of 87th Infantry Battalion on April 7, 2019 at Brgy. Manlilinab, Basey Samar. Firefight ensued for about five minutes.
The troops recovered live ammunitions and empty shells for M16 rifles and one (1) sack of potato. No casualty reported on the government side.
Maj. Gen. Raul M. Farnacio, Commander, Joint Task Force "STORM" ordered a pursuit operation against the running CNTs/rebels, "Nasusundan na natin sila, di natin sila titigilan para sa kapakanan ng mga kababayan natin". MGen Farnacio said.
"I am calling the families, relatives and friends of our misguided brothers to persuade their family members turned NPAs, to return to the mainstream society, to go back to their respective families and feel the warm embrace and comfort of their loving sons and daughters. Encourage them to avail the Enhanced Comprehensive Local Integration Program (E-CLIP) of the government," Farnacio added.
Army encounter CNTs in Basey, Samar
By DPAO, 8ID PA
April 9, 2019
CAMP LUKBAN, Catbalogan City – The operating troops from 87th Infantry (Hinirang) Battalion, 8th Infantry (Stormtroopers) Division, Philippine Army encountered CPP-NPA Terrorists (CNTs) at Brgy. Manlilinab, Basey Samar on April 07, 2019 at 3:00 p.m.
The troops were confirming information provided by a concerned citizen on the presence of an armed group conducting extortion at the said area when they chanced upon the CNTs.
The firefight ensued and lasted for about five minutes that resulted to the wounding of two government soldiers namely, Sgt Rolando M. Erilla (right arm) and Pfc Marvin F. Llena (groin area). Some of the CNTs were also wounded as indicated by blood stains along the way of their escape.
The wounded personnel 87IB were immediately given first aid by trained medical aidmen of the unit and were evacuated to the hospital using the municipal ambulance of Basey, Samar, for proper medical treatment.
Maj. Gen. Raul M. Farnacio, Commander, Joint Task Force "STORM", 8th ID, PA appreciated the efforts of the populace in providing the relevant information and expressed his gratitude to the Local Government Unit of Basey, Samar for the assistance extended during evacuation of the wounded soldiers.
Likewise, Maj. Gen. Farnacio ensures that the wounded soldiers were given necessary support and assistance to recuperate and continue to serve the Filipino people.
"This is a clear example that the communities have already recognized the security efforts of the government and the populace now rejects the Communist NPA Terrorists who are conducting propaganda and extortion in the far-flung villages", Farnacio added.
TUCP proposes in-city tenement housing for minimum-waged earners in dialogue with Pag-IBIG
By Trade Union Congress of the Philippines
April 4, 2019
QUEZON CITY – The workers group Trade Union Congress of the Philippines (TUCP) is going to propose an affordable in-city tenement housing for minimum-waged earners (MWEs) in its forthcoming dialogue with state housing fund PAG-IBIG officials' plan to increase in members' monthly contributions.
"We are not closing our doors to an increase in contributions in Pag-IBIG as we have yet to see the proposal from them. We shall wait for their presentations before we make the decision to support it or not," said TUCP President Raymond Mendoza.
Mendoza stressed that any increase should redound to lower home loan interest rates, higher maturity savings returns for members, increased efficiency in Pag-IBIG operations, greater accessibility to home loans particularly for minimum wage earners and low income workers.
"In the light of growing inadequate mass transport problems and worsening traffic congestion, we shall also demand that Pag-IBIG expand its services and benefits to members by initiating development of an affordable in-city tenement housing for lowly-paid workers and develop housing projects for workers in the regions and the countryside, in the export processing zones, Overseas Foreign Workers, and government employees," Mendoza said.
Mendoza said they are looking at utilizing idle government-owned lands in the National Capital Region to build tenement housing units similar to tenement housing in Taguig and Tondo, Manila to reduce workers' daily expenses in the face of their meager daily salary.
The in-city housing program for workers will help working people and their families cope with rising cost of living in metropolis and minimize a range of stress-related disorders and diseases caused by travelling and commuting in a problematic mass transport system environment, Mendoza explained.
"We also acknowledge that the dividends that they have been giving out to members have improved in the past several years which is good for the workers and their families because their contributions is considered forced savings and Pag-IBIG should sustain this," Mendoza said adding: "We also understand from their last Chairman's report that the number of home loan borrowers have increased substantially and it is important to ensure the sustainability of Pag-IBIG".
The current each member's contribution rate is at P100 employee share plus P100 employer counterpart, total of P200 per month. By law, the contribution rate is set at 2% of a member's salary, with a cap of P5,000 Maximum Fund Salary (MFS) of P5,000 per month. This was set way back in 1986. The present value of P200 then is now P12.75.
Contributions of members, including employer's counterpart contributions are returned to Pag-IBIG members upon reaching membership maturity of 20 years. The average total savings of a member for 20 years is approximately P80,000.00. There are members who voluntarily increase their contributions.
Members are also able to borrow 80% of their total savings with the Fund under Pag-IBIG's multi-purpose loan program.
Members are able to borrow from the Fund housing loans which they can use to purchase their own homes. The maximum housing loan a member can borrow is up to P6 Million depending on capacity to amortize the loan. They can use the loan to purchase a house and lot, construct a house, a condo unit, or house improvement.
Members are also entitled to Calamity Loans equivalent to 80% of their total savings with the Fund during times of natural disasters and declaration of state of calamities in their areas of residence.
Higher contribution rates will result to higher savings, higher MPL and Calamity loan entitlements and low housing loan interest rates.
BilComNet conducts training-workshop on basic journalism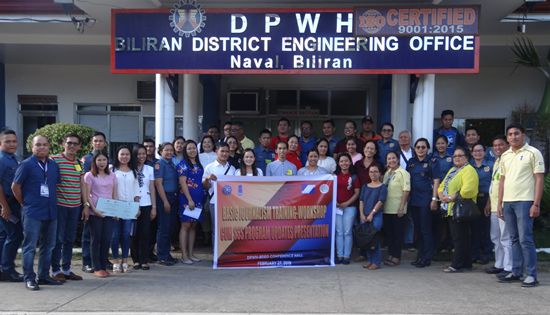 Press Release
April 2, 2019
NAVAL, Biliran – The Biliran Communicators Network (BilComNet) in coordination with the Philippine Information Agency (PIA) - Biliran Provincial Information Center conducts its first ever training-workshop on basic journalism on February 27, 2019 at the Department of Public Works and Highways (DPWH)- Biliran District Engineering Office (DEO).
About 50 BilComNet participants attended the said training eager to learn on basic journalism that will be useful in their information dissemination job.
BilComNet is composed of Information Officers (IOs) from government and private offices, media practitioners and Community Development Information Officers (CDIO) from 13 municipalities in the Province of Biliran.
According to Mr. Dionisio Oliva, BilComNet President, the purpose of the workshop is to improve one's technical capabilities.
"This workshop endeavors to give us a better tool on how we put across the message from our agencies to the people we serve," said Oliva.
"This is a good opportunity for all of us and take advantage of it and hopefully this will provide us the strength and insight personally as member of the BilComNet, professionally as information officers or the like in your agencies and with patriotism as we strive to do better in our jobs for the benefit of majority of us Biliranons," he added.
Ms. Ninfa Illuminada Quirante, PIA 8 Regional Editor and Ms. Alicia E. Nicart, PIA 8 Assistant Regional Head were invited as resource speakers for the workshop.
In the morning, Ms. Quirante gave lecture on news and feature writing and photo journalism. She briefly discussed on the elements of news, picture captioning, grammatical structure, news gathering and tips in writing a good news article.
"In writing a news article, first write all the facts, know your readers and answer all the questions which are unanswered then add facts," Quirante said.
"Make it accurate and simple," she added. After her lecture, a workshop on news writing was conducted.
Based from the submitted news articles from the participants, Quirante chooses the best "lead". The "lead" is the opening statement of the first paragraph of the news article.
Among the participants, Quirante rewarded Mr. Felix Carcellar, CDIO of Kawayan, Biliran for having the best lead. She also recognizes those participants who have submitted a good news articles. Before the morning session ends, Ms. Judith O. Precato, Junior Analyst of SSS Ormoc Branch presents their agency's programs and updates.
In the afternoon, Ms. Nicart conducted a lecture on media ethics and responsibilities. According to her, media ethics creates guidelines for journalists to follow and helps maintain a sense of equality. The lecture on media ethics draws lots of questions from the participants which make the discussion interesting.
The one-day training workshop ended with the distribution of certificates and pictorials of the participants with the resource speakers.
DPWH-Biliran DEO conducts quality control preparation for FY 2019 infra projects implementation
By NIKOLAI ANGELO MERACAP
April 2, 2019
NAVAL, Biliran – The Department of Public Works and Highways (DPWH) Biliran District Engineering Office (DEO) prepares to undertake full blast on its first quarter quality control implementation of FY 2019 regular and other infrastructures projects.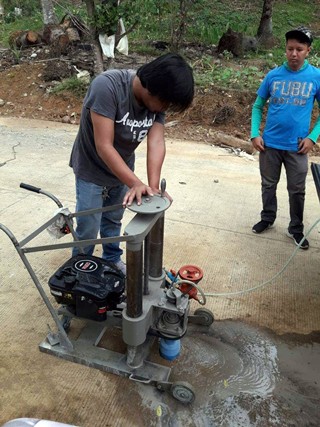 Employee of Quality Assurance Section of DPWH-Biliran District Engineering Office (DEO) drills Portland Concrete Cement Pavement (PCCP) for t-core test.
Various activities were in lined and handled by the Quality Assurance Section (QAS) personnel headed by Engr. Reynaldo P. Peñaflor, D.M. to ensure that quality will be the primary concern when it comes to the construction of projects. Contractors and assigned technical workforce were reminded of quality control as projects will commence as soon as the Fiscal Year (FY) 2019 General Appropriation Bill (GAB) will be approved.
Testing of the quality of construction materials played a vital role in attaining the designed strength and structural integrity of proposed infrastructure projects. Minimum number of quality tests for all construction materials were listed in the quality control program (QCP). This served as guide for the contractors to carry out quality control activities efficiently. Materials that failed to meet the minimum requirements were subjected for rejection thus, the contractors were advised to seek new source and provide another set of sample for quality testing.
Assigned materials engineers conducted series of field testing, quality control monitoring and inspections of accomplished item of work during construction. Field Density Tests (FDTs) were conducted on embankment, subgrade and base course preparation for farm to market and road widening projects.
Sampling of fresh concrete during pouring activities were followed by casting sets of concrete beam/cylinder as representative sample that were subjected to compressive and flexural strength determination. T-core test was also performed on Portland cement concrete pavement (PCCP) to determine its actual thickness compared to the designed thickness of a completed pavement on a lot basis.
At present, the assigned materials engineers and materials in-charge continue to perform consistent supervision of quality control activities and conducts timely testing of materials for on-going projects funded by Calendar Year (CY) 2018 General Appropriations Act (GAA).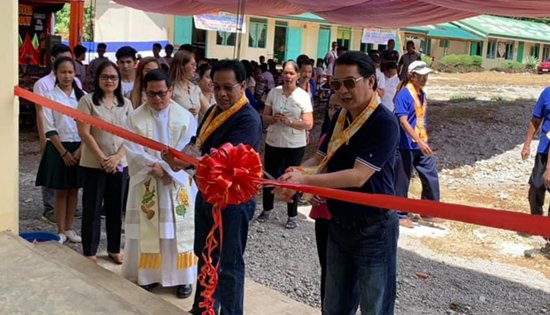 District Engineer David P. Adongay Jr. (left) and Congressman Rogelio J. Espina lead the ribbon cutting during the blessing and turn-over ceremony of the P24.7M 2-storey, 10-classroom school building at Western Biliran High School for the Arts and Culture (WeBHSAC) in Brgy. Tamarindo, Almeria, Biliran on March 28, 2019.
DPWH-Biliran DEO's P24.7M school building project turned-over to WeBHSAC
Press Release
April 2, 2019
NAVAL, Biliran – The Western Biliran High School for the Arts and Culture (WeBHSAC) in Brgy. Tamarindo, Almeria, Biliran receives a 2-storey, 10-classroom school building facility that will benefit over 400 students of the said school.
Department of Public Works and Highways (DPWH)-Biliran District Engineering Office (DEO) turned-over the said school building facility on March 28, 2019.
Congressman Rogelio J. Espina graced the turn-over and blessing ceremony together with DPWH Officials headed by District Engineer (DE) David P. Adongay Jr.
The event was also graced by Almeria Mayor Richard D. Jaguros, DepEd Biliran Schools Division Superintendent (SDS), Dr. Pedro T. Escobarte and School Governance Operations Division (SGOD) Chief Lucille C. Roa. Also present were the barangay officials, school teachers, students, PTCA Officers, members and parents.
In a short message delivered by DE Adongay, he emphasized that good school buildings and classrooms like in WeHBSAC motivate students and teachers to perform well in their studies and teachings.
The P24.7M worth of 2-storey, 10-classroom school building facility is equipped with toilets and electric fans.
"Having schools in good condition, like this 10 classroom is decisive for the students to achieve the expected academic results and improve their performance," said DE Adongay.
The DE added that schools and classrooms are as indispensable and important as roads and bridges.
"That is why our office is always in constant link with local leaders and schools for a better education of our children," he added.
With the rapid increasing of students every year, DE Adongay said that the need for school buildings also increases. Thus, the adequacy and inadequacy of school buildings affects the education of the students.
Adongay assures that there will be more good classrooms to be implemented by DPWH to make possible for children and youths to study especially those living in the remote areas.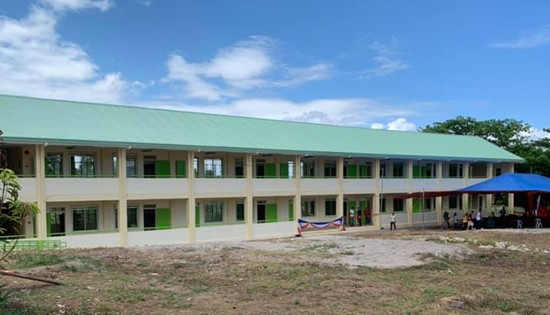 CNTs will remember their 50th Anniversary as "Golden Debacle"
By DPAO, 8ID PA
April 1, 2019
CAMP LUKBAN, Catbalogan City – The Communist Party of the Philippines-New People's Army Terrorists (CNTs) in Eastern Visayas celebrated their 50th Anniversary with back to back debacles: a failed attack and the surrender of one of their top rank leader.
On 28 March 2019, a day before their 50th Anniversary, a failed attack was launched by the CNTs against the Municipal Police Station (MPS) of Victoria, Northern Samar.
Thru close coordination between the Philippine National Police and Armed Forces of the Philippines and with the information from the community, the fifteen (15) police personnel were able to defend their station and repelled the attack of more or less eighty (80) CNTs. The Victoria Police Station personnel were reinforced by the elements of 543rd Engineering Construction Battalion and 43rd Infantry Battalion.
This deceitful attack resulted to three (3) CNTs killed, three (3) CNTs arrested, four (4) High Powered Firearms (1 M60 machine gun, 1 M14 rifle, 2 M16 rifles) and several ammunition recovered. In the desperation of these terrorists, a passing motorists on board a black Toyota Vios were also fired upon at the road blockade the CNTs had set-up, wounding four (4) innocent civilians who are senior citizens.
On the eve of 29 March 2019, which is supposedly the CNT's Golden Anniversary, one (1) of their top rank leaders, Mr. Liberado Tarong Bungato alias Rolando Tarong/Tiyong/Biyong, Executive Committee member, and Commanding Officer of an NPA Platoon voluntarily surrendered and handed-over his Caliber .45 pistol with ammunition to Brig. Gen. Lope C. Dagoy, Commander, 802nd Infantry (Peerless) Brigade, 8th Infantry Division. The CNT leader revelations led to the recovery of four (4) M16 rifles, one (1) Caliber .45 pistol, Improvised Explosive Devices (IEDs), assorted magazines, ammunition and subversive documents with high intelligence value.
In his statement, Maj. Gen. Raul M. Farnacio, Commander, Joint Task Force "STORM" said that "we, the men and women in uniform, strongly condemn the attack on the innocent civilians perpetrated by these Godless CNTs. This action proves that the CNTs are not pro-people since they are not concern for the well-being of the civilians who are non-combatants and it is a clear manifestation that CNTs do not abide to the Human Rights, International Humanitarian Law and the Rule of Law."
"Nasaan na ang mga kababayan at mga kabataang masisipag sumigaw sa kalye at maghain ng reklamo sa Human Rights kapag nadadamay ang ating mahal na mga inosenteng kababayan? Nasaan na sila, bakit ang tahimik nila? I challenge them to take-up their megaphones and microphones and shout out loud on the streets against these crystal clear Human Rights violations of the CNTs… Kung wala silang pinapanigan o kung talagang pro-people sila! To the CNTs, your armed struggle had brought enough suffering, death and misery sa ating bayan at sa ating mga kababayan, sa inyo at sa inyong mahal na pamilya. If you continue taking up arms against our government, dalawa lang pagpipilian ninyo, kulungan lang o sementeryo! Sa mga kapatid naman nating rebelled na tulad ni Kumander Biyong na pagod na sa armadong pakikibaka at gusto ng magbalik loob sa gobyerno at nasasabik ng makapiling ang kanyang mahal na pamilya, ang pintuan ng kapayapaan ay laging bukas para sa inyo. May nakalaan na Enhanced Comprehensive Local Integration Program (E-CLIP) mula sa gobyerno para sa inyo," Farnacio added.
Gen. Farnacio was also thankful to the local populace for the timely and accurate information in helping the government forces fight the CNTs. Likewise, the Commander, JTF "STORM" lauded the brave personnel of Victoria MPS for successfully defending their station with 543rd Engineering Construction Battalion, 43rd Infantry (We search) Battalion and other reinforcing PNP units same praises goes to the 802nd Brigade, specially to the troops who gave their best efforts that resulted to the surrender of Mr Liberado Tarong Bungato.
"Job well done!" Farnacio said to the government forces in Eastern Visayas in his closing statement.