2 NPA camps, war material cache discovered
By 1LT JEFFREX G. MOLINA, (INF) PA
April 7, 2009
OPONG, Catubig, Northern Samar – Two terrorist New People's Army (NPA) camps were discovered by the members of the Army's 63rd Infantry Battalion under 2Lt Richard Kadil at Brgy Mc Kinley, Catarman, Northern Samar.
Around 5:30 in the morning of March 29, former communist terrorist (CT) and SPURU member Raffy Dagohoy alias Nick led the troops to the first encampment where subversive documents, various bomb materials, clothings, medical and personal belongings and others owned by the said terrorist group were believed to be buried.
After walking for few hours, the group of 2Lt Kadil reached the first CT camp at Sitio Cabangahan of the aforesaid barangay. The said camp can accommodate at least 20 CTs. Nick immediately dug the ground where said buried materials were located. After making just a shallow hole, a gallon of ammonium sulfate, a detonating cord and duplex wire (all materials for making bomb), one buffer of M-16 rifle, one buffer spring of M-14 rile, improvised map, volume of subversive document and assorted personal belongings emplaced in three covered container were retrieved.
Following the discovery of the first camp, the troops then proceeded to the second encampment being identified by Nick. Around 8:50 a.m. same day, the second camp that can accommodate at least 20 CTs were reached by the same troops. The troops unearthed two clamour mines, assorted clothings, medical and personal belongings, voluminous subversive documents and an NPA flag.
With this, Lt. Col. Raul Cestona, commander of 63IB lauded his troops for a job very well done. He also thanked the effort given by Nick for without him, troops couldn't find the said material cache.
The 63IB is continuously intensifying their combat operation to put an end to the terrorists who causes the sufferings of the people.
Solons unappeased by cut in Napocor's Visayas rate hike
By Office of Congressman Eduardo R. Gullas
April 7, 2009
QUEZON CITY, Phiippines – Members of Congress have not been mollified by the decision of the Energy Regulatory Commission (ERC) to lessen by 27 percent the P1.1460 per kilowatt hour (kWh) provisional rate hike earlier imposed by the National Power Corp. (Napocor) in the Visayas.
"There's really no justifiable reason for Napocor to raise rates now. First, fuel prices are still down. Second, the peso has remained fairly stable versus the US dollar," Cebu Rep. Eduardo Gullas said.
"Food on the table and jobs are what we desperately need now, not oppressive increases in utility rates," Gullas said.
Gullas expressed grave concern that any upward adjustments in Napocor's rates "would overly burden households and industries at this extremely harsh time."
"Naturally, when Napocor jacks up its basic generation charge, all distributors, including electric cooperatives, will also automatically raise their rates," he pointed out.
"This will definitely add to the burden on all industries, including exporters that are already reeling from the collapse of their markets overseas," he added.
Gullas warned that many exporters in the Visayas, including makers of electronics, car parts, furniture, and fashion accessories, are already on the brink of financial ruin and dismissing workers.
"Many of these industries consume a lot of electricity, so they will surely be hit hard by any rate increases," he said.
Under pressure from members of Congress and local government officials, the ERC previously ordered Napocor to reduce its provisional rate increase in the Visayas grid by P0.3084, from P1.1460 to P0.8376 per kWh.
Gullas, however, said lawmakers from the Visayas are not satisfied.
"When Congress resumes session next week, we intend to categorically declare our resolute opposition to the rate increase, possibly in a manifesto. We will have it endorsed by all members of Congress from the Visayas, if not by a majority of us," Gullas said.
Napocor's Visayas rate hike is higher compared to the P0.46 per kWh increase for Luzon, and P0.71 per kWh for Mindanao.
As a result of the latest increment, Napocor's rate in the Visayas is now P3.7255 per kWh, whereas its unit charges for Luzon and Mindanao are P4.3648 and P2.8177 per kWh, respectively.
Under PGMA's NARS, govt deploys 575 nurses to 115 towns of Region 8
By Philippine Information Agency (PIA 8)
April 5, 2009
TACLOBAN CITY – A total of 575 nurses have been deployed to the 115 local government units all over Region 8 under President Gloria Macapagal-Arroyo's Nurse Assigned to Rural Service (NARS), the Department of Labor and Employment Region 8 informed.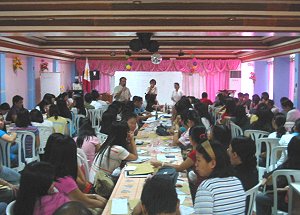 NARS participants attending a general orientation seminar in Catbalogan City 2 days before deployment
Director Forter Puguon said that the 575 nurses were selected from about 900 applicants who scrambled to gain slot in the government's emergency employment for nurses.
On April 1 and 2, a two-day orientation was simultaneously conducted at Palo, Leyte; Ormoc City; Naval, Biliran; Maasin City; Catbalogan, Samar; and Catarman, Northern Samar, to inform the nurses on the project, its objectives, expectations and other important concerns, Director Puguon said.
After the orientation, the nurses were deployed on April 3 to the 115 municipalities of Region 8 with high incidence of poverty; eight of which are in Biliran, 13 in Eastern Samar, 36 in Leyte, 22 in Northern Samar, 26 in Samar, and 10 in Southern Leyte.
The 575 nurses are expected to perform the three I's: Inform, Initiate and Immunize, as they render their six months service in the municipalities where they are assigned. For three months, they will be under the supervision of the Municipal Health Officer and the remaining three months, they will be under the chief nurse or chief of Hospital in a hospital setting, Director Puguon added.
Director Puguon said that the applicants who were not accommodated in the first batch (April to September), will be accommodated in the second batch of nurses who will serve starting October 2009 to March next year.
Director Puguon noted that there are several municipalities particularly in the provinces of Samar and Northern Samar, which did not have any applicants. This prompted the DOLE Region 8 to assign in these areas, nurses from neighboring provinces.
Among the municipalities without nurse applicants are Palapag, Las Navas, Catubig, Silvino Lobos, Victoria and Biri in Northern Samar province. The hinterland towns of Matuguinao and San Jose de Buan in the province of Samar, have only one applicant each, Director Puguon said.
Under NARS, each of the identified towns was expected to have five qualified nurses who will avail the program, which seeks to address the growing number of registered nurses in the country who have been unemployed since passing the nursing board examination and lack the experience to work abroad.
After six months, the national government will be hiring a new batch of 575 nurses for another six-month employment program. The program will be implemented only for a year. Nurses will receive about P8,000 per month while undergoing free training, Director Puguon added.
8th ID sends-off 107 new privates to the real 'battlefield'
By NINFA B. QUIRANTE (PIA Samar)
April 5, 2009
CATBALOGAN CITY, Samar – Despite the steady downpour of summer rains, 107 soaking soldiers marched bravely with their newly issued firearms at the 8th Infantry Division, Philippine Army grounds in the traditional send-off into the real 'battlefield' Friday morning.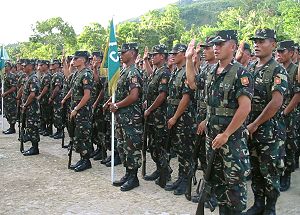 In a solemn ceremony complete with Eucharistic celebration, 8ID chaplain Fr. Rey Victor Vigo gave each the private a scapular from Our Lady of Mt. Carmel.
Fr. Vigo told the soldiers to strengthen their spiritual formation to face the challenges that go with the job.
For his message MGen. Arthur Tabaquero, Commanding General said that the soldiers need to pursue and take the ways of the seasoned soldiers, "as long as you give your best efforts in each endeavor and perform your individual tasks the best way you can."
He urged them to start their career with the right step and value their military service and dignify their actions in doing their duties.
The general though at the start bared that one soldier went AWOL because he did not apparently like his place of assignment. He emphasized that soldiers never choose their place of assignment.
Finally, he summarized his speech by giving his marching order. "Do not be quacking ducks, be a soaring eagle!"
Challenges for the 34th IB…
Expanded area of operation, new location, new commander
By NINFA B. QUIRANTE (PIA Samar)
April 5, 2009
CATBALOGAN CITY, Samar – MGeneral Arthur Tabaquero of the 8th Infantry Division, Philippine Army urged the new 34th Infantry Battalion (IB) soldiers to consider the challenges of having an expanded area of operation, a new location and a new commander.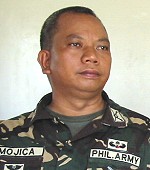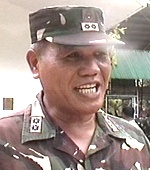 LtCol. Larry Mojica LtCol. Dionisio Miguel
In his speech, during the simple turn-over rites of command on Thursday at the new headquarters in San Jorge, MGen. Tabaquero talked about the new areas added to the AOR of 34th IB; their new location, being transferred from Calbiga town to Barangay Erenas in San Jorge and the new commander from Lt Col. Larry Mojica to Lt Col. Dionisio Miguel.
He added that success comes for those who have the ability to work with change.
Tabaquero extolled the leadership of Mojica whose stint as BatCom lasted for a year and five months. He also awarded Mojica a Military Merit Medal which Mojica claimed was his 29th.
Like other officers who have become attached to their men, he appeased the emotions of Mojica and his men by saying that the army official has to move on to answer another call of duty.
Although Mojica felt emotional in his speech, he said he is relieved with the new assignment, that of being the Chief of the Career Advisory Group of the Army Personnel Management Center at the Philippine Army Headquaters, Fort Bonifacio in Taguig City.
When asked what his biggest achievement was, Mojica admitted it was his being able to persuade his men to refrain from alcoholic beverages. He proudly told the media present that not once were his men under 34th IB charged with violation of human rights.
For his part as successor, LtCol Dionisio Miguel urged his men to live with the limited resources there is and to use their ingenuity and resourcefulness to address the problem.
He also urged the 'reliable' battalion to walk towards the marching order of President Gloria Macapagal-Arroyo that of dealing seriously with insurgency on or before 2010.
NARS render first day of service to Samareños
By NINFA B. QUIRANTE (PIA Samar)
April 2, 2009
CATBALOGAN CITY, Samar – Some 105 fresh nurses in the Nurses Assigned in Rural Service (NARS) rendered their first day of service by undergoing a two-day orientation.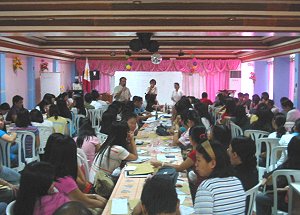 On Tuesday, Department of Labor and Employment (DOLE) staff headed by Ms. Fe Estrella and Department of Health (DOH) headed by Dr. Antonio Tirazona and Provincial Health Officer Dr. Rudolf Mabulay welcomed fresh faces that trooped to Fame Hotel, this city.
Dr. Minerva Molon, Asst. Regional Director of DOH 08 was also there to welcome the young and good looking male and female nurses.
While other municipalities and cities were filled with the 5-nurse quota, remote Matuginao and San Jose de Buan have only one each.
Nurse Joan Lopez from Palo, Leyte thought she would be assigned in Calbayog City where a sister works, it was later when she learned she was 'diverted' to Matuginao.
She said she did a little research on the town and although it seems unfamiliar, as a nurse, she said she is ready for the inevitable and despite discouragements from friends will still push through with her assignment. "Nurses should be flexible," she enthused.
She added that she will look at the brighter side of her experience in this inland town known for its bountiful natural beauty.
Another male nurse Allan Noel Alonzo, who hails from Catbalogan City said he is also prepared to go to another remote town of San Jose de Buan alone, as nobody aside from him sought assignment there.
He is a nursing graduate from Southwestern University in Cebu and said he is willing to be assigned in the town where his father, a PNP member was assigned too, in his younger days.
Two nurses, Daryl Cabardo and Shyrmagne Rynn Chavez educated in the University of San Carlos (USC) and Cebu Doctors University (CDU) respectively, yearned assignment in Zumarraga, an island town where their parents come from.
According to Dr. Molon, there were some 800 applicants for the 505 slots in the whole Eastern Visayas. She hailed the batch fortunate to be hired immediately. This batch from the region will still take their oath as new nurses come April 14, 2009.
The NARS project said Molon is part of PGMA's Economic Resiliency Plan to address the worsening global financial crunch.
The program said Molon is a partnership of the DOLE, DOH and Professional Regulations Commission (PRC), where DOLE pays the stipend of the nurses, DOH monitors and trains them while PRC grants them their licenses.
Earlier, during the orientation for Local Chief Executives (LCEs) and other stakeholders to the NARS program, three mayors, from Tarangnan Mayor Emmelly Olaje, Talalora Mayor Cornelio Bersales and Sta. Margarita Mayor Alfred Serrano vowed support through the grant of additional allowances for the new nurses to be assigned in their AOR.
First Mass showcases Filipino hospitality – Sen. Revilla
By BONG PEDALINO (PIA Southern Leyte)
April 2, 2009
LIMASAWA, Southern Leyte – The Filipino's warm welcome and hospitality towards foreigners was best demonstrated by our forebears, our ancestors in this historic island, where visitors were able to conduct what would become a central celebration of the Christian faith, the Eucharist or Holy Mass.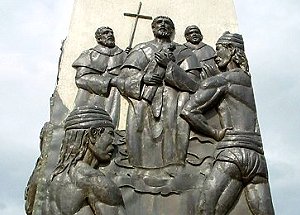 Thus spoke Sen. Ramon "Bong" Revilla, Jr., the guest of honor during the 488th First Mass anniversary here on Tuesday, March 31, in reference to an event in the past, also held here, on an Easter Sunday in the year 1521.
"Looking back in our history and humble beginnings, we have a lot to thank God for showcasing our beauty for others to appreciate, our culture, tradition, history," Sen. Revilla said.
Because of his tight schedule, Revilla's message was accommodated right before the anniversary Mass that began 9:30 in the morning at the Shrine Chapel, instead of being delivered at the anniversary program which would follow later after the Mass.
Sources said the Senator, who arrived by chopper at past 8:00 in the morning, had to leave by 11:00 that morning for another speaking engagement.
After having been introduced by Gov. Damian Mercado, Revilla literally brought the Chapel down with his "thank you Gov. Cantillas" remark, although he quickly followed the levity gesture by saying "napapatawa ko rin si Bishop Cantillas", leader of the Catholic flock in the Diocese of Maasin who was the Main celebrant of the High Mass.
In his message, Revilla underscored that the Filipino's fine hospitality can help a lot in boosting tourism and the economy, a plus factor nowadays in attracting tourists with the dim financial outlook now gripping the world.
He hinted that his presence in the island-town was also his way of learning what needs to be done by way of contributing his share in the development of the place, especially in his capacity as Senate Committee Chair on Public Works and Social Services.
Attending the anniversary Mass included many regional, provincial, and municipal officials, Cong. Roger Mercado, military and police officers, and lay ministers from the many parishes of the Diocese who renewed their liturgical vows during the occasion.
Maasin City allocates P2M to join EVRAA this year
By ERNA GORNE
April 2, 2009
MAASIN CITY, Southern Leyte – The local government of Maasin City in its full support to the annual holding the Eastern Visayas Regional Athletic Association (EVRAA) in Tacloban City allocated P2 Million to ensure full participation from the city.
No less than Mayor Maloney Samaco together with the members of the Sangguniang Panlalawigan (SP) escorted the 400 participating athletes and officials coming from Maasin City to join the annual holding of the regional sports competition in the region.
Mayor Samaco said the holding of the EVRAA in Tacloban City would also serve as among the grand preparations for the holding of the annual Palarong Pambansa which is scheduled to be held on April 26 to May 2, 2009, still in Tacloban City.
Mayor Samaco encouraged the local young athletes to aim winning their events so that they could join the national event, Palarong Pambansa which will follow shortly. Though the delegation did not expect to aim for championship instead to give way to Leyte government contingents to over-all championship in this regional competition.
Samaco disclosed, however, that for those athletes who would bring home gold medal will be awarded cash prize in the amount of P2,000, while those with silver medal awards will get P1,000 and for bronze medal - P500.
He further disclosed that the cash awards will be used for their school needs during the opening of classes by June 2009 such as tuition fees, school uniforms and school supplies, among others.
Mayor Samaco further revealed that his commitment to the youth includes the support for their sports development and affordable education also.
Evardone grants cash assistance for E. Samar athletes, coaches to EVRAA
By Sinirangan News
April 2, 2009
TACLOBAN CITY – Eastern Samar Governor Ben P. Evardone gave out P.7 million financial aid for the province' 600 delegates to the Eastern Visayas Athletic Association (EVRAA) Meet being held at Tacloban City.
The governor handed in P1,200 per athlete while the coaches and other support personnel were given P1,400 each. Eastern Samar's delegation consists of around 200 athletes while the rest are medical personnel, kitchen staff, coaches and officiating officials.
In a statement, Governor Evardone stressed that the provincial government under his administration will continue to remain true to its commitment to support the province's delegation to the yearly regional sports gathering. "I am with you all the way," Evardone said to the athletes and officials.
Neil Alas, Physical Education and Schools Sports Division Coordinator, said that the assistance of the provincial government was timely as the Eastern Samar team had difficulty in sustaining the needs of the athletes even during the training.
Alas disclosed that the training was stopped 4 days ahead of schedule due to financial constraints. A coach from Llorente town lamented that the athletes were asked to go home and continue their training in their respective hometowns as the Eastern Samar Athletic Association no longer have funds especially for meals. Alas said that the facilitators even had to loan for meals of trainees.
The governor meanwhile, assured that the province will shoulder the loaned amounts during the training.
July Abot, a badminton athlete from Balangkayan town thanked the governor for taking care of the needs of the competitors. "This is the first time we were given financial assistance this much," April Azura, a 3-time EVRAA athlete from Balangkayan.
Luz Evardone, personal secretary of the governor who facilitated the cash distribution, maintained that the amount serves only as 'assistance'. "We would like to make it clear that sending athletes to EVRAA is not a responsibility of the province," she said. "We are here to support them," she continued.
Governor Evardone, on the other hand, extended his well-wishes to the athletes. "Make Eastern Samar proud… win golds… win medals," he challenged the athletes.
As of Wednesday, Eastern Samar already hauled 12 gold medals, 6 silver medals and 1 bronze medal. The elementary swimming team already took hold of the over-all championships.
Tribu Buyogan and Karatong Festival represent Leyte in Aliwan Fiesta
By Provincial Media Relations Center
April 1, 2009
TACLOBAN CITY – The famed Buyogan Festival of Abuyog, Leyte was recently given a P1 million financial assistance from the provincial government of Leyte as it vies again in the Aliwan Fiesta in Manila – country's premiere festival competition – this April 25, 2009.
Leyte Governor Carlos Jericho Petilla said the province has to provide support to the Buyogan Festival as it has, for many times now, brought pride and recognition not only to the province of Leyte but for the municipality of Abuyog itself.
The P1 million check was personally received Tuesday by Abuyog Councilor Lenlen Traya.
Gov. Petilla said maintaining a contingent to be fielded in various festival competitions around the country is no joke, considering the preparation – both physically and financially just to be able to compete.
"It is really an opportunity for the town to make themselves known. So we support them any way we can," the governor said.
The Buyogan Festival is the current title holder as champion of the Leyte Pintados-Kasadyaan Festival held last June 27, 2008 during the Tacloban City fiesta celebration.
The same Tribu Buyuganon, with its interpretation of the "bees" and how they were converted to the faith of the Holy Child, is also the grand prize winner in the Sinulog Festival of Cebu last January.
To recall the Buyuganon also captured the third prize in the Sinulog streetdancing category and pocketed at P600,000 by winning in the presentation and streetdancing in the Sinulog Fest..
However, not only Abuyog's Buyogan Festival would compete in the Aliwan Fiesta but also Sinulog Festival's fifth placer and Pintados-Kasadyaan second placer the Karatong Festival of Dulag, Leyte.
The Karatong Festival of Dulag surprised the crowd in Cebu in January and placed fifth over-all in the Free Interpretation Category. But its second spot in the Pintados-Kasadyaan Fest in 2008 earned itself a spot to compete in the Aliwan Fiesta this April.
Dulag's Karatong Festival is also given financial assistance by the provincial government.
Leyte's two contingents would be competing with other premiere festivals from all over the country that tentatively include: Lakbayaw of Tondo, Manila; Pakalog Festival of Santolan, Pasig; Panagbenga Festival, Baguio City; Pamulenawen - Laoag City; Ibon Ebon of Candaba, Pampanga; Disposorio Festival of Hagonoy, Bulacan; Luyang Dilaw of Marilao Bulacan; Boling boling Festival - Catanuan, Quezon; Fiesta de Toros of Nasugbu, Batangas; Lapay Bantigue Festival of Masbate City; Pulang Angui of Polangue Albay; Sinulog Festival of Cebu City; Dinagyang Festival of Iloilo City; Kasag Festival of Banate, Iloilo; Kadayawan Festival - Davao City; Tuna Festival of General Santos City; Halad Festival of Midsayap, Cotabato; Kalilangan Festival of General Santos City; Buklod Festival - Parang, Shariff Kabunsuan; Kalilintad Festival of Mamasapano and Samba de Regatta.
Samba de Regatta is reportedly joining the Aliwan Fiesta 2009 only as a guest performer.
Aliwan Fiesta will be held on April 23-25 with a lot of activities lined up including the Reyna ng Aliwan and the street dancing competition which will be on the 25th of April.
Government embraces returning rebels
By ALICE NICART (PIA Eastern Samar)
April 1, 2009
BORONGAN, Eastern Samar – In this time of Lent when the religious reflect upon the message of forgiving, it is not only interesting but also inspiring to know that some of our misled brothers would come forward to seek government's light and understanding.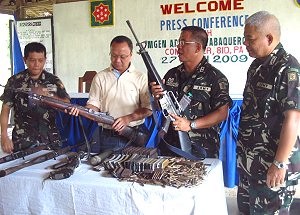 Eastern Samar governor Ben Evardone and 8ID chief MGen. Arthur Tabaquero inspect the surrendered firearms and ammunitions from 5 NPA members of the Omega Platoon who recently surrendered to the elements of the 14th Infantry Battalion during a media presentation at HQ of 14IB in Brgy.Dao, Oras, Eastern Samar on Friday, March 27, 2009.
This was done by former NPA Commander Christopher Amigo, alias Doods/Bulan, who was in his 1st year in the College of Architecture when he said he was deceived by the guerilla movement and four other colleagues namely Salvacion Burac, Lita Burac, Antonio and Aileen Burac with their two young children.
Similar to the famous story about the father who was overjoyed to see his son home, and thus, told his servants to cook the fattest cow and prepare the best robe for his long lost prodigal son, Governor Ben Evardone, 8ID chief MajGen. Arthur Tabaquero, and LtCol. Fernando Hidalgo of the 14th Infantry Battalion recently welcomed them with open arms.
"Welcome to the Province of Eastern Samar where there is better and brighter future," Governor Evardone told the returnees in his short message. "Our national government, President Gloria Macapagal-Arroyo will be happy to hear this news as it has always been her thrust to achieve lasting peace for the country", he added.
Evardone's message echoed through Radyo ng Bayan DYES and he convinced also those who are still reluctant to come down to surrender and bring in their firearms not only because there is a corresponding cash reward for each weapond, but also and more importantly, they will eventually contribute to the development of the province.
"Let us join hands and unite our energy, talents and skills in pushing for the improvement of our province", the governor urged. He distributed envelopes to the returnees which could be used by them in starting up livelihood activities.
MajGen. Tabaquero was likewise elated at the surrender of the five former NPA members.
"Bukas loob namin kayong tinatanggap at tutulungan sa abot ng aming makakaya", Tabaquero told the returnees.
He noted that this latest surrender of the five indicates that the force of the underground movement is now diminishing, because there are also advance feelers for another batch of would-be surrenderees. He also assured that the rebel returnees will be subjected to social-integration process where they will undergo a series of reorientation, teachings and counseling.
The Officer likewise promised a good sum from the Office of the Presidential Assistance on Peace Process (OPAPP) which could be a big help to them in starting up a livelihood endeavor. He said that giving up to the government troops is the best and cheapest means to achieve peace because there are no ammunitions nor lives spent.
As LtCol. Fernando Hidalgo put it, winning the war does not always involve military force but by words and good deeds.
This Lenten time the five former NPA members will not only be reunited with their respective families, but also with the Highest Commander of all Commanders, the Highest Name of all names.
Evardone implements emergency employment program in Eastern Samar, provides funds to Oras and Maydolong towns
By BRYAN M. AZURA
April 1, 2009
ORAS, Eastern Samar – Governor Ben P. Evardone turned over some P290,000 of funds to Mayor Neil Alvarez of this town as the provincial government begins to implement in the province the Comprehensive Emergency Employment Program (CLEEP) of President Gloria Macapagal-Arroyo through the Department of Labor and Employment (DOLE).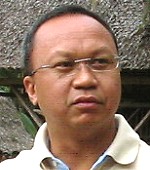 Gov. Ben Evardone
The program, aimed at providing livelihood to some 200 underprivileged residents of Oras, has also been dubbed as Tulong Panghanapbuhay sa Ating Disadvantaged Workers (TUPAD).
"TUPAD will literally make the Orasnons hopes come to reality," Gov. Evardone said in a statement. "The amount may not really that big but used properly, this will bring every beneficiary a long way," he continued.
Atty. Forter Puguon, regional director of DOLE 8, in a conversation with the governor, assured, however, that the amount will double particularly in Oras.
During the turn-over ceremony, Mayor Alvarez expressed praises to the governor for choosing his municipality as the launching pad of the said program. "While we are making efforts to help improve the economic condition of my constituents, but we cannot deny the fact a considerable number of Orasnons still are experiencing the chastity of poverty," Alvarez lamented.
The governor, on his part, reminded the people that he is "working doubly hard to uplift every Eastern Samareño's meager plight." "I always repeat this in many instances that while the province graduated already from the Club 20 or the poorest provinces in the country, we do not stop from looking for means to bring more economic opportunities to Eastern Samar," he said.
Evardone also stressed that the program will surely be of great relief especially now that the whole world is experiencing the so-called economic meltdown. "Our country is not exempted on this global recession," he lamented, "much more our province."
"Companies and business establishments are shutting down," he said citing that even a local store in Guiuan has closed shops because of the poor economic condition. The governor also disclosed that a hotel establishment in Borongan City has cut down their working hours for their workers as guests have drastically been reduced to few.
Accordingly, the provincial chief will also visit the town of Maydolong to also turn-over a check worth P200,000 to Mayor Daniel Baldono. The said amount is also part of the TUPAD under the CLEEP program.
The funds will specifically be used as wages to laborers who will work on a certain project being implemented by the Local Government Unit (LGU). Meantime, the workers will be assigned as maintenance personnel of the provincial roads.
All set for 488th First Mass anniversary
By BONG PEDALINO (PIA Southern Leyte)
March 30, 2009
LIMASAWA, Southern Leyte – The general program and specific activities for this year's 488th commemoration of the First Mass in the Philippines and in Asia on March 31, Tuesday, on this historic island-town have been set.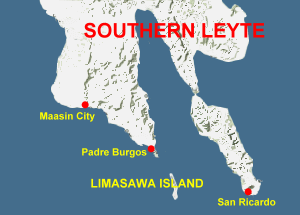 In his letter-invitation to various heads of agencies, Gov. Damian Mercado informed that the honored guest is Sen. Ramon "Bong" Revilla, Jr.
The listing of activities begins with a mass vigil on March 30, spearheaded by the Diocese of Maasin.
Next day, anniversary day proper, a Coast Guard boat would ferry visitors from the port of Maasin up to here, departing at 5:00 in the morning, while at the same time, some pumpboats would also depart from Padre Burgos.
By 8:30 AM, there will be an opening of the agri-aqua and culinary fair, to be followed at around 9:00 with the concelebrated High Mass or the Anniversary Mass led by Most Rev. Bishop Precioso Cantillas of the Diocese of Maasin at barangay Magallanes.
By ten in the morning, the anniversary program will start, featuring speeches by local and provincial leaders, like Limasawa Mayor Melchor Petracorta, Gov. Mercado, Cong. Roger Mercado, and the keynote speech of the guest, Sen. Revilla.
A "Sinugdan presentation" depicting the "kulturang Limasawan" will be performed as part of the program.
After the anniversary luncheon, a 30-minute press conference with Sen. Revilla is scheduled, from 1:00 to 1:30 in the afternoon.
In the evening, a tribal party is slated, to be participated by the six barangays of the island-town.
The celebration will continue for two days after March 31. On April 1, Wednesday, a sailboat race is scheduled to be held 9:00 in the morning, and a 9-man paddling by 1:00 in the afternoon.
On April 2, Thursday, there will be a Marathon at 7:30 a.m. and a Honda Bancarrera by 9:30 in the morning.
4 NPAs, 1 commander surrender
By ALICE NICART (PIA Eastern Samar)
March 30, 2009
BORONGAN CITY, Eastern Samar – Four former members of the New Peoples Army (NPA) with their commander returned to the main stream of society after seven years of underground combat with government.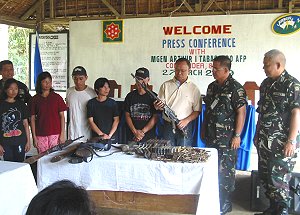 5 NPA surrenderees were presented to the media on March 27 during a press conference at the 14IB Headquarters. The occasion was also attended by Eastern Samar governor Ben Evardone who handed a P10,000 cash assistance each to the 5 surrenderees, as part of the government's Social Integration Program.
Salvacion Burac, 46, alias Salving; Aileen Avila Borac, alias Dilay with husband Antonio, alias Tony; Lita Borac, alias Melvin/Alex; and squad leader, Christopher Amigo, alias Doods/Bulan are now in the safe custody of the 14th Infantry Battalion, 8th Infantry Division of the Philippine Army, Oras, Eastern Samar, after they surrendered with their long firearms and several rounds of ammunitions to LtCol, Jaime Hidalgo and his men at around 6:00 o'clock in the evening on March 20.
In the Press Conference, Salving, who was the former Finance Officer of the Omega Platoon confessed that they were already fed up with the false hopes the guerilla movement was promising them.
"I am happier that after seven years, at last we are now living together as a family. My children stayed with my relatives while I shuttled the hills and the open world. It was my routine, since I also had to see them once in a while. It was a lot of sacrifice living in the mountains because we do not have permanent shelters. When it rains it becomes so miserable. We slept under toldas with hammocks as our beds, and when we hear the approaching enemy, we would hurry to fold up and scramble to the deeper woods", Salving shared her experience.
Asked why it took her husband, Remegio Borac, 33 years in the guerilla movement when, as a barangay official then, she could have convinced him to join her in the civil society.
"As the Commander, it was very hard to convince him, which was why I finally decided to just join him instead,"
It was learned that her husband was earlier captured by the same elements of the Army in the hills of Oras vicinity.
"This was the main reason why I gave up to the soldiers," Salving continued her unloading. "I will follow my husband wherever he goes", she added, to the applause of the cheering audience.
She also confided in the one-on-one interview with this writer, that she had been operated of her left breast about four years ago but considers herself a survivor.
"The doctor warned me to free myself of anxieties, and l also submit still for regular check-up in Manila. Now that we have returned to the government, I believe in the sincerity of its programs, and with our remaining years together as a family, even as we are guarded around, life can be happier here, more hopeful and enjoyable", she concluded.
The five surrenderors were awarded with P10,000 each by Gov. Ben Evardone, another P10,000 each by Cong. Doloy Coquilla and another cash gift from MajGen. Arthur Tabaquero who assured the returnees that they will receive more government assistance to an estimate of P120,000 so they can start life anew. They brought to the camp: 2-M16 rifles, 1-M14, 1-M Garand rifle, 5 clips with 41 rounds of ammunitions, 4 magazines with 45 rounds of ammunitions for Carbine, 1-rifle grenade and pertinent records.
Chiz calls on gov't, communist rebels to resume peace talks without pre-conditions
By Office of Senator Chiz Escudero
March 30, 2009
PASAY CITY – Opposition Senator Chiz Escudero on Friday called on government and the National Democratic Front (NDF) to resume peace talks without preconditions to show their sincerity in ending the longest-running communist insurgency in Asia.
"We should do away with preconditions. Both sides should work for the immediate resumption of the formal talks. The bloodletting must stop, especially now that our countrymen are being hit hard by the economic crisis," he said.
The senator issued the statement on the eve of the 40th founding anniversary of the New People's Army (NPA), the NDF's armed wing, on March 29. Formal talks between the Philippine government and the NDF collapsed in August 2004 with the inclusion of the rebels in the US and EU (European Union) terrorist lists.
"The failure of past administrations to bring about true and meaningful change in our country has fueled this long-running revolutionary movement. But armed struggle is not the answer to our country's problems," Escudero, chairman of the Senate Committee on Justice and Human Rights, said.
He said both sides should work together to break the impasse by implementing confidence-building measures.
The government demands, among other things, an indefinite ceasefire as a precondition to the resumption of formal talks and proposed that the discussions focus on disarmament, demobilization and reintegration (DDR).
The rebels, on the other hand, have outlined a number of "impediments" to the continuation of the peace process. The NDF is demanding that the government move for the delisting of the CPP-NPA as a "foreign terrorist organization" in the list of the United States and the European Union.
It is also asking for the release of NDF consultants Elizabeth Principe, Randolf Echanis, Eduardo Serrano, Eduardo Sarmiento and Randy Malayao. It thas also urged the government to stop the "persecution" of its chief political consultant Jose Ma. Sison in The Netherlands.
The NDF has also deplored alleged extrajudicial killings and enforced disappearances of over 1,000 unarmed legal activists.
The opposition senator said that the recent electoral victories of the Left in Latin America show that the parliamentary arena is a viable alternative to armed struggle.
Escudero said the success of Bayan Muna party-list leader, Rep. Satur Ocampo, and his militant colleagues as well as other left-of-center groups in getting elected to the Lower House show the advances in the country's political environment since 1986.
"Democratic space has widened considerably since 1946 when the elected representatives of the Democratic Alliance were barred from taking their seats in the House. We must work together to expand it further," he said.
Escudero also said the government must seek peace with honor instead of engaging in a military campaign to destroy the rebels by 2010.
He pointed out that billions being spent by government in its counter-insurgency campaign could be instead be allocated for development purposes if talks resume and a ceasefire agreed upon by both parties.
"We all know that a military solution will not end this insurgency. Unless we root out poverty and injustice, the rebellion will continue," Escudero said.
"There can be no genuine development without peace. All we need is the political will and purity of heart to end this conflict among Filipinos once and for all."