Mayaw-Mayaw takes center stage at Kamurayaw Festival in Pinabacdao, Samar
By NINFA B. QUIRANTE (PIA Samar)
May 10, 2008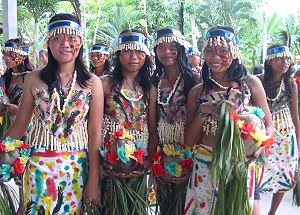 CATBALOGAN CITY, Samar – Graceful and agile dancers of the Mayaw-mayaw dance native to this coastal farming and fishing village stirred the town to activity as they celebrated Kamurayaw Festival on Thursday, May 8, 2008.
In the jampacked covered court of Pinabacdao town, young and very young dancers gyrated to the sound of drums and improvised bamboo tubes for sounds furiously struck by the equally young swains of Pinabacdao.
The dance, said Pinabacdao Mayor Mario Quijano demonstrates how the early Pinabacdaoanons pray to the heavens to drive evil spirits from their farmlands and grant them bountiful harvest.
Interpretations from the barangays include a live chicken being beheaded as dancers are tossed, turned and flipped high up in the air if only to demonstrate the passion they felt for driving evils that may cause a dent in their expected harvest.
One foreigner, said to be a regular watcher for six years now, Clay Barcus from San Francisco, California, USA said he is still mesmerized each time he witnessed the spectacle.
"Although the story line is the same through the years, the stupendous movements and choreography always reveal something different each time," the tourist told the local media when sought for comments.
DSWD Regional 08 Director Leticia Corillo and company who served as judges were visibly pleased with the local talents.
Kamurayaw on the other hand is a peace-building and social inclusion project being implemented in eleven barangays of Pinabacdao, by the Kalahi-CIDSS Project under the Japan Social Development Fund Social Inclusion Project (JSDF-SIP).
The World Bank assisted project aims to capacitate and help conflict-affected residents get more involved in the development activities of their respective communities and local government units.
As the town will be celebrating their fiesta, today, organizers of Kamurayaw deemed it fit to include the Mayaw-Mayaw dancing exhibitions in the activity to draw a big crowd of Pinabacdao patrons and direct their attention to the noble objectives of peace-building and social inclusion project being implemented in eleven barangays of Pinabacdao.
Aside from the spectacular Mayaw-Mayaw dances, organizers also conducted a "siday" recitation contest and songwriting.
Samar youth group to join International AIDS candle-lighting memorial on May 18
By NINFA B. QUIRANTE (PIA Samar)
May 10, 2008
CATBALOGAN CITY, Samar – Kartada Samar (KS), a youth group composed of Sangguniang Kabataan officials enjoined other stakeholders to join the International AIDS candle-lighting memorial on May 18.
In a meeting attended by the so called stakeholders, KS informed the group that the date is the 25th anniversary of the International AIDS Candle light memorial.
KS said that this year's theme is "International AIDS Candlelight Memorial: Never give up, never forget!"
KS is a group of young people advocating Adolescent Sexual Health and HIV/AIDS Prevention through massive information dissemination.
Like the government health department, KS is also concerned that the young remains unprotected and misguided about HIV/AIDS.
Last year before the barangay elections, the previous breed of SK officials then hosted a 15-minute radio program aired at DYMS in Catbalogan for the second district and Radyo Natin FM in Calbayog City for the first district for the same purpose.
The program was also aimed at advocacy for responsible sexual behavior and reducing risk behavior as regards sexuality.
The group gathered at Maqueda Bay Hotel was unanimous in saying that HIV/AIDS is growing silently through the years.
Health authorities though could not give any data as to how extensive is HIV/AIDS affliction in the province. Neither could KS.
But despite the absence of a glowing data that may alarm the youth and the adults as to the reality of HIV/AIDS in our doorstep, still KS will continue drumbeating their advocacy which says: Pwede ka matapnan hit HIV/AIDS, protektahi it imo kalugaringon! (You can be afflicted with HIV/AIDS, protect yourself!).
US Navy to conduct humanitarian medical-dental and engineering mission in Samar
By NINFA B. QUIRANTE (PIA Samar)
May 9, 2008
CATBALOGAN CITY, Samar – The United States Navy (USN) will conduct a humanitarian medical- dental and engineering mission in Samar in May and June 2008.
This was learned from Department of Health (DOH) representative Neliosa Guarda.
Guarda, a nurse by profession said that some US Navy personnel led by Lt. John McCombs met with Calbayog City Mayor Mel Senen Sarmiento early this year to plan the humanitarian mission.
The Samar Dream Team is set to repair the Main Health Center of Barangay Capoocan in Calbayog City, the Municipal Health Office of Sta. Margarita, Samar, construct septic tanks in Greenland Subdivision in Rawis, Calbayog City, construct a water system for Gandara District Hospital in Gandara and repair a Botika ng Barangay in Sta. Margarita, the information revealed.
In addition, the team will conduct a medical-dental mission at the San Isidro Central Elementary School, San Isidro, N. Samar on June 1 and 2 and in Gandara Central Elementary School, Gandara, Samar on June 4-5, 2008.
The same team will move on to Sta. Margarita National High School, Sta. Margarita, Samar on June 7-8; and in Calbayog Herman Gmeiner Elementary School in Calbayog City on June 10-13, 2008.
As the construction of the engineering component will take some time, the USN will be arriving to Calbayog City and its environs early this May.
The medical-dental activities will then run in June and is set to finish on the 14th of June when the whole team will be fetched by the US Navy Ship in Calbayog City , the report said.
Reports added that the MedCap team will be serving some 500 patients a day for the duration of the scheduled MedCap.
NIA bares multi-million peso irrigation projects
By BONG PEDALINO (PIA Southern Leyte)
May 8, 2008
MAASIN CITY, Southern Leyte – The eighteen towns and one city of Southern Leyte province stand to benefit some P82 million in irrigation projects for calendar year 2008 alone, on top of over P600 million total worth of similar water-for-ricefarms projects listed as priority but qualified "for later years."
This much was disclosed by Engr. Jose Babiano, Provincial Irrigation Officer of the National Irrigation Administration (NIA) office here, during the recent Provincial Development Council (PDC) meeting held at RK Kangleon Function House, this city.
The disclosure of the multi-million peso farm irrigation projects before the PDC body was NIA's way of seeking PDC intervention, wherein a resolution was passed endorsing the said projects to the Regional Development Council (RDC), National Economic Development Authority (NEDA), and eventually to President Gloria Macapagal-Arroyo for funding requirements.
Babiano said the NIA head office has made available at least three windows to access financing for irrigation needs, like the Balikatan-Sagip-Balik-Patubig (BSBP) program, P2 billion program, and the P1 billion program.
All these, Babiano said, were meant to rehabilitate damaged communal irrigation systems (CIS), or build new ones, involving thousands of hectares of ricefields nationwide, in a massive effort to intensify rice production and, in the process, gradually stem the tide of the lingering rice price crisis.
A copy of NIA's priority projects for 2008 which was obtained through the provincial planning office showed six CIS due for rehabilitation, consisting an area about to be restored at 82 hectares, with a new CIS covering 20 hectares included to be built, and a combined cost of P12.8 million.
These included the Ilihan CIS in Hinundayan, another at Badiang, Maasin; San Vicente, Malitbog; Hingatungan-Salvacion, Hinunangan; Sudmon-Guimbaloan, Silago; and one at Bolod-bolod, Saint Bernard, a new project.
There was only one project under the BSBP, and this was the rehabilitation of the Catmon, Saint Bernard, communal irrigation, worth P3 million.
For the Agrarian Reform Irrigation Supplementation project (ARISP III), two irrigation projects in the town of Silago, for barangays Hingatungan and Katipunan, will be served, for a combined cost of P65.85 million, where 183 hectares of old irrigated farms will be restored, and 317 hectares of new irrigated areas will be covered.
Meanwhile, a copy for the list of priority projects for later years showed 26 irrigation projects in 14 local government units, covering an area to be restored at 694 hectares plus 1,467 hectares targeted for new irrigation, with a total cost of P648.32 million.
Southern Leyte province has about 9,000 hectares of ricefarms, according to the provincial agriculture office.
Pinabacdao in Samar holds "Kamurayaw" peace festival
By Philippine Information Agency (PIA 8)
May 8, 2008
TACLOBAN CITY, Leyte – A two-day peace festival dubbed as "Kamurayaw" will be conducted at the municipality of Pinabacdao, Samar on May 7 and 8.
The Social Inclusion Project will start with a peace concert and SIP Advocacy Grand Ball hosted by the Pinabacdao Community Advocacy Teams on the evening of May 7, Mr. Neil Moraleta, Social Marketing Officer of the KALAHI-CIDSS informed.
On the second day, May 8, an exhibit of Pinabacdao's best agri-products will be featured. In addition, the traditional Mayaw-Mayaw cultural presentations will also be staged together with the awarding of winners in the Siday and Song writing contests.
Mr. Moraleta informed that "Kamurayaw" is a peace-building and social inclusion project being implemented in eleven barangays of Pinabacdao, by the Kalahi-CIDSS Project under the Japan Social Development Fund - Social Inclusion Project (JSDF-SIP). The World Bank assisted project aims to capacitate and help conflict-affected residents get more involved in the development activities of their respective communities and local government units.
The Japan Social Development Fund - Social Inclusion Project (JSDF-SIP) was launched as a complementary project to ensure the inclusion of indigenous peoples, people in conflict-affected areas and women in mainstream KALAHI-CIDSS activities in the community level.
A total of 37 KALAHI CIDSS municipalities across 11 regions of the country have been selected as JSDF-SIP sites through a Social Exclusion mapping study.
The core strategy of the SIP is to create innovative approaches towards providing much-needed lessons for maximum and genuine people participation, particularly the vulnerable groups. This is to make them productive members of the community towards sustainable community development, a principle which forms the essence of KALAHI-CIDSS and the National Anti Poverty Program of the Arroyo government.
Mr. Moraleta said that a vehicle is available for the media practitioners in Tacloban who are interested in covering the activity. Interested parties may call Mr. Moraleta at the KALAHI CIDSS office at the DSWD Regional Office.
Southern Leyte solon distributes computers through PDAF
By REBECCA CADAVOS (PIA Southern Leyte)
May 7, 2008
PROVINCIAL CAPITOL, Southern Leyte – A total of 80 computer sets were distributed by the Lone District Congressman Roger G. Mercado under his Priority Development Assistance Project (PDAF) Friday at the lobby of the Provincial Capitol here.
The assistance, in line with the Congressman's computerization system development for the province is one of the priority programs of Pres. Gloria Macapagal-Arroyo, the Solon said. The yearly program is around P3 million, it was learned.
During the turn-over ceremony, Cong. Mercado personally distributed the computer sets to the (40) recipients identified from the provincial, municipal and barangay offices throughout the province. The remaining (40) units were allocated to the schools that submitted resolution through their Parents Community and Teachers Association (PCTA), according to the District Office staff.
Each recipient during the turn-over ceremony were just required to sign the acknowledgement receipt prepared by their office for the (11) boxes that composed of (1) Pentium 4 computer set, which include the monitor, printer, automatic voltage regulator (AVR), uninterrupted power supply (UPS), multi-media speaker, computer table, chair among others.
Cong. Mercado during his short talk at the turn-over rites was grateful with the continued support extended for the good of the province and mentioned some of his on-going projects like the construction of a training center for vocational courses, livelihood assistance through the Self Employment Assistance sa Kalunlaran (SWEA-K) memberships distribution for indigents, construction of schools, agricultural developments including farm-to-market roads and infrastructure projects throughout Southern Leyte.
Present during the turn-over ceremony were Vice-Governor Miguel Maamo II, Sangguniang Panlalawigan Member Jason Calva, Maasin City Mayor Maloney Samaco, the recipients and some provincial officials and employees.
Admission of P70-M OWWA losses a cover-up to more fund misuses and mismanagement
Press Release
By Migrante ME
May 5, 2008
An alliance of overseas Filipino Workers' organizations based in the Middle East on Sunday said that the admission of OWWA fund losses by no less than the Labor Secretary is merely a cover-up to more OWWA misuses and fund mismanagement.
"The admission maid by Labor Sec. Marianito Roque that OWWA has incurred losses of about P70 million in pre-departure loans availed by OFWs if found to be true has indeed validates that OWWA has been mismanaging the OWWA fund, a compulsory collection of US$25 per OFWs on a yearly basis which is believed to have reached P10-B held in trust to the government," said John Leonard Monterona, coordinator of Migrante Middle East.
"OWWA fund losses by such admission from Sec. Roque is merely a cover up to the misuses and mismanagement of OWWA fund and thus the official made it as a justification why they have stopped OWWA Welfare programs and services to OFWs and families," Monterona added.
Monterona said that Sec. Roque was only forced to divulge and admit such losses of OWWA fund as the Congress, both Senate and House of Representatives, is on the move to investigate the alleged misuses of OWWA fund.
Monterona said that it has been noted that the pre-departure loans for OFWs have been suspended right after when the OWWA Omnibus Policies have been passed and implemented by OWWA Governing Board headed by then Labor Sec. Patricia Sto. Tomas year 2003.
"Such admission of OWWA losses is not new to us. We have been hearing same old story every time the P10-B OWWA fund misuses and mismanagement is a hot issue: the OWWA Administrator usually admits losses of OWWA fund to cover up huge misuses and mismanagement of the fund," Monterona averred.
The OFW leader recalled the admission made by then OWWA Administrator Virgilio Angelo of the P260-M bogus claims of welfare programs such as loans for OFW medicare and family assistance loans only to justify the transfer of P4-B OWWA Medicare fund to Philippine Health Insurance Corporation (Philhealth) prior to 2002 Presidential election.
"We suspect more hidden misuses and diversion of funds have been done or charged to OWWA fund. Thus, we reiterates our call to the Members of the Senate and House of Representatives especially its respective committees to pass a legislation defining the proper uses of OWWA fund, so as to secure the OFW fund which has been misused by the present administration," Monterona added.
"We challenge Sec. Roque to re-implement all the welfare programs OWWA has been removed due to the implementation of OWWA Omnibus Policies and consider the lowering of OWWA membership fee from US$25 (P1,050 if exchange rate is 1:42) to P500 per OFW," Monterona averred.
Monterona said that since the amount of OWWA fund is now reaching to P10-B now, it is but prudent on the part of OWWA to consider lowering OFW membership fee from considerable amount per returning OFWs and aspiring alike especially in time of soaring prices of food, gasoline and LPG.
"Lowering of OWWA membership fee and removal of other unnecessary government fees charged and collected from OFWs and aspiring alike would surely bring ease to OFWs and their families in time of economic crisis," Monterona ended.
Dependents of Agrarian Reform beneficiaries enjoy scholarship program
By MARIVIC ALCOBER (PIA 8)
May 4, 2008
TACLOBAN CITY, Leyte – The Department of Agrarian Reform (DAR) is once again calling on dependents of agrarian reform beneficiaries to avail of the President Diosdado Macapagal Agrarian Scholarship Program (PDMASP). The program gives college education to children and direct descendants of Comprehensive Agrarian Reform Program or CARP beneficiaries.
For school year 2008-2009, the different Provincial Agrarian Reform Officers has a number of slots open to those who meet the pre-qualification requirements set by the DAR.
According to DAR, applicants will apply at the Municipal Agrarian Reform Office in their respective areas for an initial interview, after which a final interview will be conducted at the DAR Provincial Office on May 13, 2008.
It was also learned that the implementation of PDMASP is in partnership with state universities and colleges and in line with the 10-point agenda of President Gloria Macapagal-Arroyo to provide educational scholarship to the deserving children of poor families.
DAR bared that the PDMASP is deeply committed in developing a pool of highly motivated, technically equipped and well educated dependents of agrarian reform beneficiaries who are law-abiding citizens that will assume the responsibility for managing the lands awarded to them under CARP. Further, DAR aims to produce scholars who will serve as agents of change to assist the government in the development and modernization of agriculture and in improving the quality of life in the rural communities.
On the other hand, it was disclosed that the program offers free tuition and miscellaneous school fees in an amount not exceeding P1,500 per semester to be paid directly to the school where the grantee is enrolled. Likewise, a monthly stipend in the amount of P800.00 will be paid directly to the scholarship grantee for every month that he or she is in actual school attendance in the first and second semester of the school year, plus a P500.00 allowance per semester to pay for the books and other school needs.
Biliran tops rice sufficiency in EV, Northern Samar places lowest
By FRED PADERNOS
May 2, 2008
TACLOBAN CITY, Leyte – Rice traders in the Province of Biliran will find rice a saucy business these days, as the place is on the top in the rice sufficiency share for the whole region. Because of the reported rice shortage, rice is selling like hot cakes which mean more profit to the small and big rice business operators.
The Department of Agriculture rice sufficiency index show that Biliran has 238 percent share of the region's rice supply, followed by Leyte province at 171 percent, and third, Southern Leyte with 102 percent share. Other provinces such as Eastern Samar, Samar, and Northern Samar are positioned in the lowest three share based on the index with only 55.3%, 50.8%, and 37.6% respectively.
Very recently the alleged rice shortage created a panic buying effect among consumers that even prompted the national government conduct raids among giant rice warehouses in the national capital region reportedly due to hoarding which they (hoarders) intends to sell later at a blotted price.
In a related story, Robert Hernandez, National President of the Alyansa Ng Industriyang Bigas (ANIB) disclosed that there is no actually rice crisis- but price crisis. He said, the country has enough supply of rice, only that these are commercial rice that are sold from P33 - P44 compared to the NFA rice at P18.25 per kilo or from P1,400 - P2,000 per sack depending on the variety and quality. What is in shortage now, he said, is the cheap rice such as NFA that low income earners could afford to buy on a daily basis.
PGMA eyes completion of Eastern Nautical Highway projects
By Philippine Information Agency (PIA 8)
May 2, 2008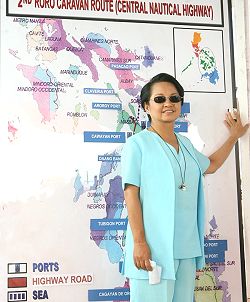 TACLOBAN CITY, Leyte – After the successful launching of the Central Nautical Highway, President Arroyo is now eyeing the fast-tracking of government projects on the Eastern Nautical Highway, the last segment of the Strong Republic Nautical Highway.
"I instruct the DOTC and the DPWH to work now on the Eastern Nautical Highway: Pilar, Sorsogon to Masbate to Naval, Biliran to Leyte Island to Surigao City," the President said during the 2nd SRNH conference on April 30 at the Xavier Estates along Airport Road in Cagayan de Oro City attended by about 300 businessmen and government officials.
To complement the Eastern Nautical Highway, the President ordered the Department of Public Works and Highways to rehabilitate roads in the Pan-Philippine or Maharlika Highway linking Samar to Luzon.
The President specifically instructed the DPWH to fix the old Maharlika Highway and to fast-track the Hinabangan-Catbalogan-Calbayog portion.
The Strong Republic Nautical Highway which was conceived by President Arroyo in 2002, is composed of three major routes: the Western Nautical Highway (WNH), the Central Nautical Highway (CNH) and the Eastern Nautical Highway (ENH).
The SRNH was launched when the Western Nautical Highway was completed in 2003 linking Dapitan, Zamboanga del Norte, Dumaguete, Negros Oriental, Roxas, Mindoro Oriental and Caticlan, Aklan, cutting the travel time between Dapitan to Batangas port by 12 hours and on to any point of Luzon by land.
The President said the SRNH was conceived in 2002 when she presented to the Cabinet a work program to reduce transport costs from the food basket of Mindanao to the large consuming population of Luzon, by decreasing handling and wharfage costs.
The President thanked in particular former Development Bank of the Philippines (DBP) senior vice president Marietto Enecio who retired March this year. The President said, pulled from the DBP filing cabinet, an obscure master plan of a Sustainable Logistics Development Plan initiated by their SVP Marietto Enecio made up of 48 Road and Roll-on-Roll-off routes.
The RO-RO operations have changed the way industries do business citing as an example the Nestle plant here which kept its prices steady despite the worldwide surge in the price of milk, the President said.
Furthermore, the President said the SRNH also contributed to the generation of jobs and upsurge in tourism traffic nationwide including in Dapitan which recorded a 200 percent increase last year.
Exhorting the people to "roll our sleeves and join hands," the President said that the ultimate ultimate beneficiaries of RO-RO are the people. RO-RO is a fulfillment of the vision based on a strong and growing economy.
Leyte presents double header to the famed annual Aliwan Festival
By Provincial Media Relations Center (PMRC Leyte)
April 30, 2008
TACLOBAN CITY, Leyte – Leyte Governor Carlos Jericho Petilla is hopeful the province can bag any significant place in the soon to be held Aliwan Festival at the Quirino Grandstand in Manila as Leyte province presents a double-header via the Buyogan Festival and Alikaraw Festival of Abuyog and Hilongos respectively.
"It is the first time ever that the province would be sending two contingents. And they are not just mere contingents as these two festivals are already seasoned dancers and performers who have joined many other and big cultural presentations in other parts of the country," Gov. Petilla said in an interview recently.
To recall, Buyogan Festival was the grand prize winner in the Leyte Pintados-Kasadyaan Festival in June 2007 while Alikaraw was its runner-up.
Hilongos' Alikaraw is likewise fresh from a third place win at the Sinulog Festival in Cebu City last January and is out to defend its position too, if not overtake its third position which it earned in last year's Aliwan Festival.
"I myself is feeling the pressure. The province is giving these two festivals full support because not only would they be representing themselves but they would be bringing the province of Leyte as they dance their best in Manila," Gov. Petilla said.
The Alikaraw festival of Hilongos showcases its equally fervent religious devotion manifested by tribesmen who also learned to co-exist with their environment, while the town of Abuyog bring life to the mystical bees of the magical fairy Opayda in the Buyogan festival.
Leyte's double-header would be facing top festival contingents as this year's Aliwan festival showcases 24 festivals from as far as Angadanan, Isabela in the north to Lamitan Basilan in the South.
This year's Aliwan contingents also include Panagbenga of Baguio City, Lang-ay Festival of Bontoc, Mountain Province, Pamulinawen Festival of Laoag City, Gakit Festival of Angadanan, Isabela, Desposorio Festival of Bulacan, PintaFlores Festival of San Carlos City, Negros Occidental, Sa-ad Festival and the acclaimed Dinagyang Festival of Iloilo, Sinulog of Cebu as interpreted by Aliwan Festival 2007 defending champion Lumad Basakanon, Halad Festival of Midsayap, Cotabato, Bakhawan Festival of Kabasalan, Zamboanga Sibugay, Shariff Kabunsuan Festival of Cotabato City, Meguyaya Festival of Upi, Shariff Kabunsuan, Kang' Gelal of Sultan Kudarat, Buklod Festival of Parang, Maguindanao, Kalilintad Festival of Mamasapano, Maguindanao and Lami-Lamihan of Lamitan, Basilan.
The grand prize winner of the 6th Aliwan Fiesta streetdance competition will receive a whooping 1 Million Pesos and the bragging rights as the Philippines' best festival.
Second Place winner will get five hundred thousand pesos and third place winner will pocket two hundred fifty thousand pesos. Fourth to tenth place winners will each get fifty thousand pesos each.
The Aliwan Fiesta, organized by the media outfit, Manila Broadcasting Company (MBC) and the Cultural Center of the Philippines (CCP), would be held on May 1-3, with the grand culminating parade traversing Roxas Boulevard from Quirino Grandstand to the Aliw Theater at the CCP Complex.