DPWH ensures proper roadworks safety management in Leyte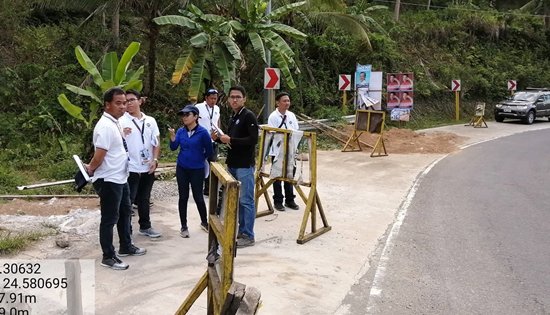 By DPWH 2nd LED
May 28, 2019
CARIGARA, Leyte – To ensure that the standardized system of signs and traffic management in observed in all maintenance and construction roadwork sites, the Department of Public Works and Highways (DPWH) conducted its regular roadwork safety assessment in Leyte second district.
According to Gerald Pacanan, DPWH Leyte 2 district head, the office strictly requires the contractors and the maintenance team to provide adequate signage and traffic control devices in all areas where they have ongoing works.
"The safety of the travelling public is our utmost concern. So we always remind our project engineers to closely monitor the construction sites if safety management is properly complied," he said.
Bureau of Quality and Safety engineers from the central office, Czar Manuel Rosuello, Ehlma Lacuaren, and Reynald Rodriguez led the inspection.
During assessment, various documents are evaluated including the approved roadwork safety and traffic management plan, contractor's traffic operational program, and materials test results for road signs, temporary markings and other traffic control devices.
Among the projects inspected were the widening of Hibucawan bridge in Jaro town, Talisay bridge in Dulag, Lemon and Masalago bridges both in Capoocan, Carigara bridge in Carigara and road restoration projects of damaged portland concrete cement pavement in Burauen, Leyte.
"Rest assured that all the findings of the Road Safety Assessment Team (RSAT) are noted for immediate actions," Pacanan said.
RSAT was created through department order no. 99 series of 2016 following reports on road accidents due to failure of some contractors to install proper signage and safety barricades to warn and inform motorists of the ongoing works.
Moreover, worn-out signage made of tarpaulins and wrong detour signage attributed to the number of road accidents ranging from minor to severe fatalities.
For 2019, the district is task to implement 87 projects worth P1.57 billion.