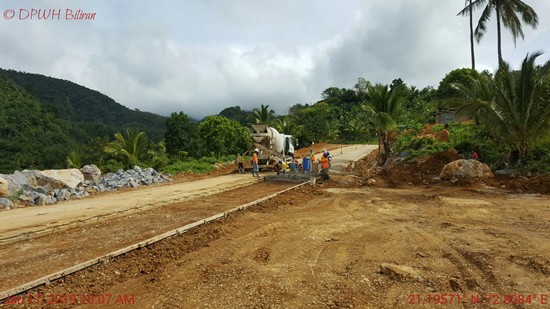 Construction of access road going to Ulan-Ulan falls in Sampao, Almeria, Biliran is on-going with 88% accomplishment as of December 31, 2018 with a project cost of P 43,163,800.00. The completion of the project under 2018 fund which starts from the proper road of Brgy. Sampao going to Ulan-ulan falls will reduce travel time from 30-40 minutes hike to just 10-15 minutes through vehicle ride. With the accessibility of the tourist site, it will encourage more local and foreign tourists to visit the place.
DPWH-Biliran DEO accomplished 84.62% of 2018 infrastructure projects
Press Release
January 28, 2019
NAVAL, Biliran – The Department of Public Works and Highways (DPWH) Biliran District Engineering Office (DEO) ends the year with 84.62% accomplishment of its 2018 infrastructure projects.
According to David P. Adongay Jr., District Engineer, Biliran DEO surpassed the 80.87% planned target accomplishment by 3.75% as of December 31, 2018. Out of the 60 total projects, 44 are completed and 16 are on-going.
Adongay said that the main reason for the slight delay are the implementation of big ticket projects amounting to P50M and above.
"Medyo na dedelayed ang aming projects because of the late approval of authority to bid and implement of these projects from the DPWH Central Office pero yung' mga projects naming na below P50M ay almost completed na," Adongay said.
Adongay said that the target completion date for all 2018 projects is on June, 2019.
"Hopefully we can complete this by March 2019," Adongay added.
Under 2018 Regular Infrastructure Program, Biliran DEO has completed 18 flood control projects, four rehabilitation of bridges, four slope protections, three access roads leading to tourist destinations, three access roads leading to trades and industries and economic zones, two asphalt overlays and one drainage project.
Meanwhile, under 2018 Local Infrastructure Program, Biliran DEO has already completed four multipurpose buildings, one flood control project, one Farm-Market Road (FMR) project, one seawall project, one baywalk/breakwater project and one road concreting project.