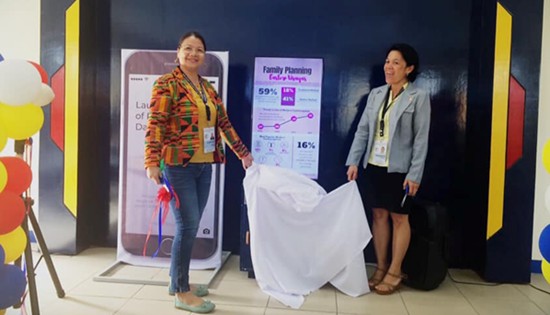 PSA-RSSO 8 Regional Director Wilma A. Perante (R) and Chief Statistical Specialist of the Statistical Operations and Coordination Division Ms. Mae R. Almonte (L) unveils the Data Dashboard.
PSA-EV launches its data dashboard
By PSA-8
February 1, 2019
TACLOBAN CITY – The Philippine Statistics Authority -Regional Statistical Service Office VIII (PSA-RSSO 8) launched its Data Dashboard yesterday, 31 January 2019 at the Tacloban City Civil Registry Service (CRS) Outlet. This innovation aims to promote, enhance and instill awareness and appreciation of statistics, and at the same time encourage the public to help improve the quality of statistics in the region.
The Data Dashboard is an information management tool which displays the latest statistical data of the region through infographics. Aside from being the trend, data visualization has the unique ability to capture attention, convey information, and encourage data retention despite their complex nature.
Tacloban City CRS Outlet clients will now learn the latest statistics of the region while they wait – the agency's step of bringing statistics closer to the public.
The Tacloban City CRS Outlet is located at Congressman Mate Avenue, Barangay Abucay, Tacloban City and is open from Monday to Friday, from 8:00 AM to 5:00 PM. Cut-off time for payment is at 4:00 PM.