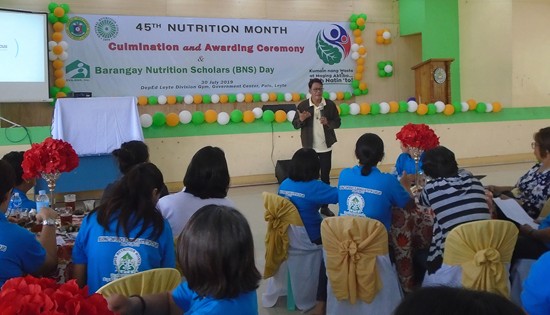 RNPC Dr. Catalino P. Dotollo Jr. delivers an inspirational message to the frontline workers of nutrition during a Barangay Nutrition Scholar (BNS) Day on July 30, 2019.
BNS Day caps 2019 Nutrition Month celebration
By JACK C. GADAINGAN
August 19, 2019
GOVERNMENT CENTER, Palo, Leyte – About 200 Barangay Nutrition Scholars (BNSs) from around Eastern Visayas' six provinces gathered here at the Department of Education (DepEd) Leyte Division Gymnasium to mark their being front-liners in the battle against malnutrition in Region 8 on July 30, 2019.
The half-day activity capped the Nutrition Month celebration of July carrying the theme: "Kumain ng Wasto at Maging Aktibo…Push Nation 'to!" And as the theme directed the serious discussions of the gathering was mixed with more fun activities – all involving physical activity.
Ullasini J. Pangan, Nutrition Officer II of National Nutrition Council Region VIII (NNC-8), tackled a brief discussion on the Nutrition Month Key Messages, wherein she emphasized for everyone to have ONE hour or more of physical activity every day, to reduce screen time (use of gadgets, TV and computers) to TWO hours or less each day, and to eat the THREE food groups every day for variety;
Niño Archie S. Labordo, NNC-8 Nutrition Officer III, the Outstanding Barangay Nutrition Scholar Journey where he revealed that this year Region 8 has a contender to the national level for the Outstanding BNS, as he urged the congregation to strive to become as well; and
Dr. Catalino P. Dotollo Jr., NNC-8 Regional Nutrition Program coordinator, the inspirational message – during which he congratulated each one for a successful event and for their efforts in uplifting the regional nutrition situation.
Lydia O. Nuñez, Eastern Visayas Association of Barangay Nutrition Scholars (EVA-BNS) president, welcomed the BNSs and thanked them for their attendance and continued support of the BNSs Body as well in the fight against malnutrition in the region; Patrocenia De Cadiz, EVA-BNS treasurer provided the closing message.
The fun games of the BNS Day – highly entailing physical activities were divided into Solo Game, Group Game, and 3N1 Dance Contest: the Solo Game were Sipa, Limbo Rock, Hula-Hoop Defying Gravity, Piko, Tsato and Sangkayaw; the Group Game were Patintero, Sack Race, Dodgeball and Tug of War; and the 3N1 Dance Contest were Cha-cha, Boogie and Tango.