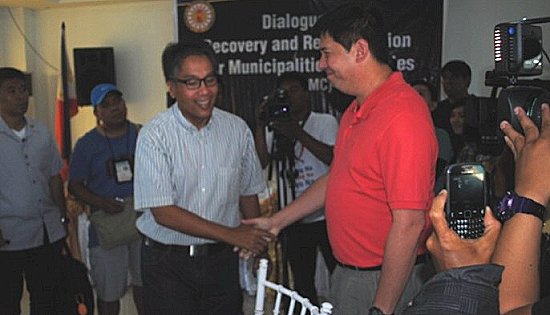 DILG Secretary Mar Roxas greets Tacloban City Mayor Alfred Romualdez after the check turnover held at Tiera de Milagrosa, Palo, Leyte on April 10, 2014. Tacloban City received P230 M for repair of key LGU buildings under the government's Reconstruction Assistance on Yolanda (RAY).
Barangays to receive aid for damaged public buildings - DILG
By MYLES JOSEPH E. COLASITO
April 30, 2014
TACLOBAN CITY – Following the release of national government assistance recently to provinces, cities and municipalities hit hard by Super typhoon Yolanda, the Department of the Interior and Local Government (DILG) is now turning its attention to helping barangays regain their ability to deliver basic services.
DILG-8 Regional Director Pedro A. Noval Jr. said that as announced by DILG Secretary Mar Roxas during the turnover of checks to local government units (LGUs) last April 10 and 11, barangays will also receive assistance for the repair of damaged barangay halls, day care centers, and civic centers (e.g. gymnasium, auditorium).
Dir. Noval called on city and municipal mayors to help their barangays to prepare and submit the supporting documents to the DILG Regional Office in Tacloban City by May 7 so that they can benefit from the national government aid under the Reconstruction Assistance on Yolanda (RAY).
Aid for provincial, city and municipal governments
He also disclosed that of the 61 affected local government units in Eastern Visayas, only the municipality of Albuera, Leyte has yet to claim its check for P7.75M, due to the reported failure of its Sangguniang Bayan to issue a resolution authorizing its Mayor to enter into a Memorandum of Agreement (MOA) with DILG.
The amount released by DILG directly to the affected municipalities, cities and provinces in Eastern Visayas this April totaled more than 900 million pesos.
The first batch of checks were personally handed over by Secretary Mar Roxas to the provincial government of Leyte, the cities of Tacloban, Ormoc and Baybay, and 35 towns affected in Leyte. Other badly hit LGUs in Eastern Visayas received the RAY funds through Dir. Noval who was instructed by Sec. Roxas to distribute the checks so that LGUs could already start their much-needed projects.
The mayors or local treasurers of six municipalities and the provincial government in Biliran, and of two towns in Samar claimed their checks at the DILG Regional Office on April 24. The next day, Dir. Noval visited two (2) more towns in Samar and 11 towns in Eastern Samar to hand over the checks to their municipal mayors.
Pictorials, notarization needed
Barangays, to be able to avail of national government aid for repair, should submit to DILG-8 Regional Office, pictorials (taken from all angles) of the affected buildings and programs of work prepared by the City/Municipal Engineer and approved by the Punong Barangay. These shall likewise be validated by the C/MPDC and attested by the City/Municipal Mayor and the Municipal DILG officer. All documents submitted must be subscribed and sworn to by a notary public.
According to Dir. Noval, this will help DILG hasten project evaluation and fund release since the agency cannot feasibly do onsite validation of each damaged building in the estimated 2,000 barangays affected by Yolanda in the region since it only has three (3) engineers at its regional office and a few at the field.
Call for accountability and transparency
Dir. Noval echoed Sec. Roxas' plea for LGUs to be prudent in the use of the money, and as much as possible, tap local labor and materials to help stir up its economy. DILG is asking non-government organizations (NGOs), media and the public to help the agency monitor LGU spending of RAY funds. The department expects all repair and rehabilitation projects by LGUs to be completed by the end of the year.
Of the P1.79 Billion (P1,791,400,000) allocated for rehabilitation of LGU buildings under RAY, Tacloban City received the biggest chunk at P230,687,979.22 for the repair of the city hall, public market, and civic center. For the provinces, Leyte LGUs received the biggest funding with allocation amounting to P801,804,911.17, or about 45 percent of the total rehabilitation fund. Allocation for other provinces in Region 8 include P19,917,634.41 for Biliran; P100,219,564.57 for Eastern Samar; and P16,528,192.25 for Samar.