Memories of war and an historic peace
By DANILO REYES, Asian Human Rights Commission
April 14, 2014
(Note: this article was first published in the April 6, 2014 issue of the Sunday Examiner)
Eleven years ago, I was in a small store with a friend in Pikit, North Cotabato, in central Mindanao. We were exhausted after an all day field work of interviewing people about how and why they were evacuated due to fighting. We had seen people shot dead, taken to military camps, and disappeared, rebels blocking main highways, and so on.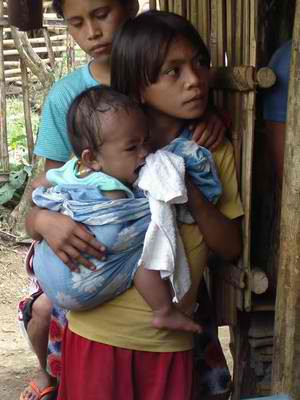 Indigenous villagers in the hills of Mindanao.
As we ate and drank beer our table shook repeatedly due to the heavy impact from artillery rounds from a 105 howitzer, inside a military camp next to us. They were firing at a marshland and riverbanks where the Moro Islamic Liberation Front (MILF), the biggest rebel group in Mindanao, was camped.
As the firing continued my friend and I were too exhausted to pay much attention to it. We continued drinking. Days later, nongovernmental organisations, peace advocates, including myself and journalists, went inside what used to be the lair of Hashim Salamat, the founder of the MILF, by boat to the riverbank. It was deserted; structures destroyed.
Known as the 'Buliok offensive,' the scene I had just described was one of the many memories, I myself had witnessed, from late 90s to early 2000s, of the government offensives against the Muslim rebels which spanned 40 years of the armed conflict in Mindanao.
At that time, however, I thought there was no end in sight. After decades of conflict, it never occurred to me that, after eleven years from that day, I would live and witness myself the political settlement of a deep social and political division in my homeland; the island of Mindanao.
The armed conflict and insurgencies in Mindanao had been there, even before I was born. All my life I grew up hearing stories how people lost their loved ones. You learn that surviving takes the place of living.
Surviving means any person, like myself, would grow up with military and police checkpoints in every corner of a road, if not every kilometre, and believe that it was just part of the daily routing. It was normal for a family to keep a 'bail out bag', that is a bag, or bags containing clothes, documents and necessary items handy in case they run from an escalation of fighting. It was normal that when we went on a bus, to the markets, malls, and public places, the authorities would be checking that no bombs had been planted, and so on.
In fact, in my years as a former journalist based in Mindanao I have covered many stories of the protracted fighting, bomb blasts, arrests of individuals – whether guilty or not – accused of bombing, soldiers and the rebels showing off their fire power, and how it was the people, not the insurgents or the military, that suffered.
I know that, while journalist obtain some sort of 'glory of by-line', by writing exclusive stories, and getting published in the newspapers, but as a person I thought at the time, and still believed today, that it has to, and needs to change. I felt that although there were some sort of glory, to obtain glory from the misery and suffering of others, the Mindanaoans like me, was not worth it. It was one of the many reasons why I quit journalism for NGO work.
Thus, others may refer to the signing of the Comprehensive Agreement on the Bangsamoro (CAB), by the government and the MILF on March 27, 2014, as "just a piece of paper," to me it was more than that. While there is truth in it, that the agreement would have meaning only when its objective is realized; however, the very symbol and gesture of conciliation itself was very powerful.
The agreement cultivates tolerance, acceptance and the concept of how to learn how to live in harmony with others who are different from us.
Of course, what will come out of this agreement remains to be seen, but for now, the Filipino people, notably the people in Mindanao, had shown that there are political solutions, even to very deep social and political differences when people make the effort to understand each other.