Daram mayor receives checks for Agrikulturang Pantawid Pamilyang Pilipino
By PIA Samar
December 16, 2011
CATBALOGAN CITY – Daram (Samar) Mayor Dr Lucia Astorga received checks from the Department of Agriculture (DA) Secretary Proceso Alcala to finance a Daram project under the "Agrikulturang Pantawid Pamilyang Pilipino".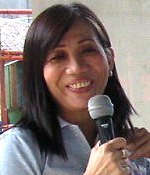 Mayor Lu Astorga
Mayor Lucia Astorga traveled all the way to Las Navas, Northern Samar to attend the launch of the "Agrikulturang Pantawid Pamilyang Pilipino" which was attended by Alcala and DSWD Secretary Dinky Soliman.
In a text message, Astorga said that P220,000 was intended for the Cabugao and Casab-ahan farmer-families while another P170,000 was for the Valles and Cabiton-an Association.
"This amount can help my constituents," Astorga said.
The project guarantees land development and employment opportunities for the sustainable livelihood of Pantawid Pamilya beneficiaries directly or indirectly dependent on agriculture.
The launching was highlighted by the signing of a Memorandum of Agreement (MOA) signed by DSWD Secretary Dinky Soliman and DA Secretary Proceso J. Alcala.
Under the MOA, both agencies identified the sites and beneficiaries of the project and consolidate farming operations for the Pantawid Pamilya beneficiaries.
With Region VIII as the pilot site, the project also seeks to demonstrate innovative farming systems technology, showcase agricultural modernization efforts and adopt the project's developed technologies and its farmer-beneficiaries.
After six months of implementation in Region VIII, the project will be rolled out in other regions to ensure its sustainability.
"The Agrikulturang Pantawid Pamilyang Pilipino project also aims to prepare and encourage the younger generations, such as the children of the beneficiaries to go into agricultural farming through trainings and social preparations. The goal is to propagate the project to provide sustainable livelihood for the beneficiaries and their children," Secretary Soliman said.