US Embassy supports safe coverage of journalists for the Philippines' 1st Automated Elections
By MYRA M. TAMBOR
March 29, 2010
CATBALOGAN CITY – US Embassy Manila Press Attaché Rebecca B. Thompson welcomed the participation of top journalists of Visayas and Mindanao Regions in a two day program held at Marco Polo Hotel in Cebu City. "This is in support of the strengthening democratic institution and press freedom in the Philippines", according to the Press Attaché.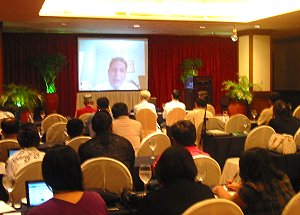 Seminar participants making an online video conference with Jamie Dettmer (on screen), Communications Counsel of Qatar Foundation International, who is in Annapolis, Maryland, USA.
The seminar which brought selected journalists together last March 25 and 26, addressed the issues and challenges in covering the Philippines' first Automated National and Local Elections. The media along side with the NGO leaders, and the Commission on Elections discussed several issues on the coverage of the elections.
The Embassy expressed their concern on the coverage of the elections in terms of the safety of the journalists especially those covering areas of the country that have experienced recent violence and unrest.
Eileen Mangubat, publisher of Cebu Daily News said that many of the journalists in the country have not been able to see the PCOS machine that will be used in the coming elections neither was able to tried a mock elections using the said machine and a new designed ballot. Comelec does not conduct a briefing or some sort of a kind exclusively for media practitioners who will be, among others, front liners come May 10. Mangubat presented the "then and now" scenarios of the elections. She advised the media to take precautionary measures because "no story is worth a life of a journalist", according to her.
It will be recalled that the country have been tagged as one of the most dangerous country for journalist considering the high incident of media killings, the recent was the Ampatuan Massacre.
MindaNews headed by Carolyn Arguillas, editor, cited some incidents that happened in Autonomous Region of Muslim Mindanao when it first implemented automated elections in 2008. "Automated elections does not guarantee peaceful and honest election", she said. "In ARMM for the 2008 elections, young voters, meaning those that are not qualified to vote yet because of age limits can be seen casting their votes", she added. Vote buying were rampant, lose fire arms at hand, and "hakot system" among others, according to Arguillas.
Sighs and deep breaths were the obvious response of the media participants as they gather strength from each other knowing how difficult it is to work in a country especially at the provinces to pursue story that leads to a possible anomalous actions from the different political groups and later on could cost a life of a journalist.
It is a sad note according to Ms. Thompson but nevertheless with this kind of seminar we will be able to equipped Filipino journalists with added information and actions for a safe coverage especially those that are coming from the remote provinces of the country. "Its good to see that journalists and its partners in non-government organizations as well as the Comelec and others, were able to exchange views about the role of media in an electoral process, the environment of this year's elections, relevant laws governing the automated polls, voters education, polls and surveys and experiences of other countries with automated elections, I know this will be able to help them in a lot of ways as they perform their duties", Thompson said.
In an interview, the press attaché personally expressed gratitude to the Eastern Visayas media who were able to attend the seminar. Samar media participants were Samar News.com publisher Engr. Ray Gaspay and Freelance Journalist Myra Tambor, with a lone Leyte broadcast journalist Louie Quebec of DYVL. Ms. Thompson was in Samar early last year to attend to a Balikatan Medical Mission held in Calbayog City.