Candidates seeking security urged to seek permit from Joint Regional Security Control Desk
By NINFA B. QUIRANTE
January 6, 2010
CATBALOGAN CITY – The Philippine National Police (PNP) Samar Director Pancho Adelberto Hubilla announced in a press conference attended by the Samar media that candidates seeking security personnel from the PNP or the Armed Forces of the Philippines (AFP) should seek permission from the Joint Regional Security Control Desk (JRSCD).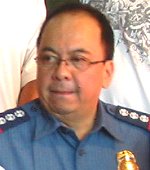 PNP Samar director Hubilla
The PNP said that the JRSCD is headed by the COMELEC Regional Director and that the PNP and AFP are members.
Comelec Provincial Supervisor, Atty Corazon Montallana, who was also a panellist in Monday's presscon confirmed Hubilla's announcements and added some more information as to the preparation for the incoming elections.
Montallana added that starting January 10, said to be the start of the election period, until June 9, 2010 total gun ban will also be imposed.
She also cited that despite exemptions for PNP personnel and other security providing agencies the same people should also seek prior permission in writing.
Hubilla likewise offered that PNP and AFP personnel carrying firearms must be in uniform, while those that do not wear uniform like PDEA or NBI must display their IDs conspicuously.
There are at least 30 government agencies that are authorized to bear firearms but they too have to submit the list of their personnel authorized to bear firearms.
Reacting to the question as to who may seek security from among the candidates, Hubilla informed that only mayoralty candidates and up.
He qualified though that some candidates requesting security could be given once they have assessed the situation surrounding the threat and are convinced of the veracity of the claim.
During the election period, all PNP chiefs will be under the command of the Comelec.
Campaign period for local positions start on March 26, 2010, COMELEC said. (PIA-Samar)