Southern Leyte PPOC moves to have police, army secure Agas-Agas Bridge
By BONG PEDALINO (PIA Southern Leyte)
September 25, 2009
MAASIN CITY, Southern Leyte – The Provincial Peace and Order Council (PPOC) in this province has passed a resolution requesting for a permanent police and military detachment to man the province's newest tourist attraction, Agas-Agas bridge in Sogod, along with its facilities and perimeters.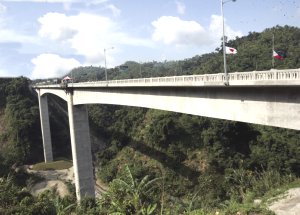 In a meeting held Wednesday at the Governor's Office, the PPOC body, on mass motion, approved to request the regional Philippine National Police (PNP) office, through SSupt. Pepito Pacada, the new PNP Provincial Director, that some of its units be stationed within the vicinity of the said bridge.
Likewise, the same tenor of the resolution will be sent to the 802nd Brigade, 8th Infantry Division of the Philippine Army (PA), through Col. Allan Martin, the Deputy Brigade Commander.
Both Pacada and Martin were present during Wednesday's PPOC meeting, and both committed to forward the PPOC request in the form of a resolution to their respective higher authorities for the expected appropriate action.
Gov. Damian Mercado, PPOC Chair, stressed the importance of having checkpoints on standby in the area, saying that the presence of uniformed personnel can act as a deterrent to individuals or groups that may have other motives.
He, however, pointed out that the province remained peaceful because of strong cooperation by everybody, but establishing an outpost in Agas-Agas can certainly help to preserve peace and order in a pro-active manner.
Since opening to vehicular traffic after President Gloria Macapagal-Arroyo inaugurated Agas-Agas bridge – said to be the country's highest span measuring 85 meters from the ground – last month, reports said many passengers going to Mindanao or Luzon passing in the area have spent time appreciating its awesome sight.
Enthusiasts of extreme sports have reportedly frequented the place.
The PPOC concern for a round-the-clock watch on the bridge was prompted by speculative worries some unlawful elements may sabotage the structure, especially in the run-up to the synchronized presidential and local elections next year.
Agas-Agas bridge, aside from its panoramic view, served as a strategic, safe passage linking Mindanao and Luzon, and vice versa.
It was also the permanent solution to the recurring landslides in the area which endanger the lives of passing passengers and unsuspecting motorists, particularly during rainy season.