Pop vocalist wows Samar beer aficionados
By NINFA B. QUIRANTE (PIA Samar)
September 22, 2009
CATBALOGAN, Samar – Ely Buendia the popular vocalist of then Eraserhead, now with the band Pupil wowed the thousands of beer aficionados at the Samar Provincial Gym in a free concert on September 19, 2009.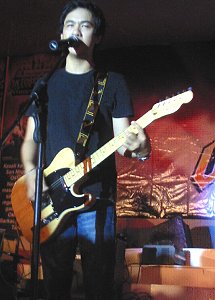 SMB Oktoberfest kick-off concert in Catbalogan, Samar with Ely Buendia
The free concert which started San Miguel Beer's Oktoberfest also gave away t-shirts, mugs of beer, and other freebies.
Booths for the San Miguel Shoot-out Challenge, Red Horse Beer Rock's Greatest Hits, San Mig Light Speed Stackers and Gold Eagle Beer Videoke-han were made available.
The "beerkada" were also given the chance to play in the booths.
Local bands also took turns in entertaining the crowd mostly composed of young males but the house was rocked down with the appearance on stage of pop band icon Buendia.
Despite the odd hours of the concert, beer aficionados stayed on until Pupil and Buendia left the concert venue.
According to Voltaire Dela Cruz, Business Affairs and Communications in charge, Catbalogan was one among 29 other areas in the whole country that served as starting point in the Oktoberfest.
"This year's Oktoberfest will be a celebration of everything that brings delight to Filipino. This can only mean more San Miguel Beer parties across the nation and more surprises to be shared and enjoyed with a variety of SMB brands to choose from," says Charmaine Bautista, San Miguel group band manager.
In response to the demand of the consumers, the company will also offer the limited edition San Miguel Oktoberfest Beer which was first introduced in last year's Oktoberfest. The special pale lager is known for its full flavor, malty notes, sweet taste, smooth finish and lower alcohol content.
San Miguel Beer patrons may also win from other Oktoberfest activities. San Miguel Beer will be conducting house to house raids, bar tours and crown collection promo nationwide where consumers can also win cool premium collectible items.
Catbalogan, said SMB Executive Raffy Flores is an area where SMB brands enjoy a 'great' following. (with report from V. dela Cruz)