Project BEN in 3 Eastern Samar towns obtain praises from village chiefs
By BRYAN M. AZURA
September 5, 2009
MERCEDES, Eastern Samar – The Community Outreach Development Program (CODP), a recently launched program under the ongoing Barangay Empowerment Network (Project BEN), has received lauds and praises from barangay officials and residents of Lawaan, Mercedes and Balangiga towns during the projects' visits to these three towns.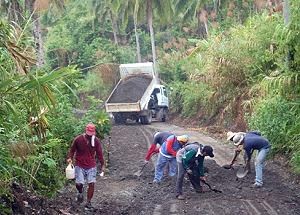 Provincial roads in various parts of Eastern Samar province undergoes rehabilitation such as this provincial roads in Brgy. Guinmaayohan in Balangiga.
CODP, a joint venture between the provincial government, national government agencies and the Local Government Units (LGUs), includes distribution of Philhealth cards, rice packs, toothpastes, toothbrushes and sports equipment. These commodities are personally being delivered and handed to barangay officials and residents by Governor Ben P. Evardone.
Also highlighting the barangay visits of the governor is the turn-over of the P20,000 provincial assistance to every barangay in Eastern Samar.
Punong Barangay Maria Escalo of Brgy. Guinmaayohan, Balangiga, expressed thanks to the governor for not only giving her barangay and constituents basic services but by improving the provincial road to their barangay. Recently, the barangay, 12 kilometers from the national highway, was inaccessible due to bad road condition but was acted upon immediately by the governor after an ocular visit in the area.
Froilan Macapugas, village chief of Bulosao, Lawaan, noted that the visit of the governor to their barangay is very historic as it is the first time a governor made such kind of visit bringing with services intended not just for few but for every family in his barangay.
Norberto Macapugas, Punong Barangay of Brgy. San Jose, Mercedes town, said that his barangay is appreciative for the personal visit of the governor. "Not only that our barangay was visited for the first time by a governor but he brought with him goods for every one of us," Macapugas said.
Meanwhile, most barangays who received their respective financial assistance will use the amount for sanitary and water projects. Mayor Viscuso De Lira said that he is glad his barangay officials have seen the needs of their constituency.
Governor Evardone said that the choice of projects of the barangay chiefs is a sign that barangay officials are already seeing the importance of seeing after the needs of their people.
Previously, the governor also visited the towns of Quinapondan, Salcedo and San Policarpo. He is set to visit all towns of the province before the year ends as part of Project BEN. Mayor Nida Gabornes of Lawaan said that Project BEN is an obvious gesture of the governor to truly reach out to his people.