DENR-8 has a new Regional Executive Director
By PURIFICACION S. DALOOS
November 12, 2009
TACLOBAN CITY – The Department of Environment and Natural Resources (DENR), Region has a new Regional Executive Director (RED).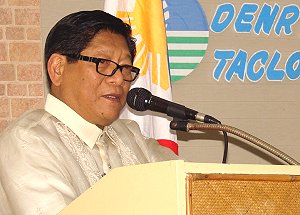 Regional Executive Director Primitivo C. Galinato, Jr.
Forester Primitivo C. Galinato, Jr. assumed his post as the new RED of DENR, Region 8. RED Galinato swapped post with RED Regidor M. De Leon who was reassigned as RED for the DENR Cordillera Administrative Region in Northern Luzon with Regional Office in Baguio City.
In simple turn over rites held at the Leyte Park Hotel on November 10, 2009, RED Galinato asked the support of all DENR employees in the Region for the fulfilment of the mandate of the DENR like what the employees did during the administration of RED De Leon. "Let me borrow your strengths and powers so that together we can accomplish the targets expected from us", RED Galinato exhorted the DENR employees.
As he vowed to lead the DENR 8, the best he can, RED Galinato also set the direction of his leadership. Generally, he said, "All of us should work for a purpose. People or investment and development of human resources must be given importance to effectively carry out the plans and programs of the Department. Also, competence and credibility of the DENR human resources are needed to serve best the targeted clientele and communities. Good governance must be observed for the whole DENR family to fulfil the DENR's mandate on environmental protection and natural resources conservation".
DENR Secretary Jose L. Atienza issued DENR Special Order No. 2009-814 dated October 19, 2009 to effect the swapping of the two DENR officials as part of the DENR's continuing organizational development.