3LPHED Congress in Eastern Samar held
By BRYAN MONTES AZURA
November 5, 2009
BORONGAN, Eastern Samar – Provincial and local officials from various municipalities gathered to discuss critical issues on environment and maternal health as the Local Legislators' League on Population, Health and Development (3LPHED) Congress takes off Wednesday as one of the highlights of the 44th Founding Anniversary Celebration of the province of Eastern Samar.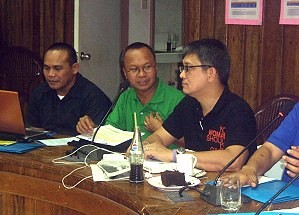 Eastern Samar governor Ben P. Evardone discusses some important issues concerning maternal health and environmental situation of his province with PLCPD Executive Director, Mr. Ramon San Pascual (right). Also in photo is PLAN Philippines Country Programme Director, Mr. Baltazar Tribunalo, Jr. (left), who also served as one of the speakers of the recently concluded congress.
Governor Ben P. Evardone said Executive Committee, during the planning period of the foundation celebration activities made an inclusion of the forum on environment particularly on climate change and maternal health as these are critical issues that need to be addressed especially now that the province is geared toward progress.
"When we talk about climate change, we also talk about development, health and population," the provincial chief said in his message to the participants of the congress.
The congress, attended by people from Philippine Legislators' Committee on Population (PLCPD) and PLAN Philippines, was also attended by Sanguniang Panlalawigan members, Municipal Mayors, Vice Mayors and Councilors.
Ramon San Pascual, Executive Director of PLCPD and an advocate of maternal health, said that the province should give attention to this issue as most maternal and even infant deaths occur on poor families. "Those who have no means are the least attended in terms of health services," San Pascual revealed.
According to San Pascual, of the 3 million pregnancies, 1.4 million are unwanted or unintended while 473,000 end up in abortion. Statistics also reveal that 11 mothers die every day due to pregnancy. Gov. Evardone reiterated that pregnancy is not sickness and therefore no mother should die giving birth.
Meanwhile, Baltazar Tribunalo of Plan Philippines, conversant on climate change, challenged the participants to ensure environment preservation. He elaborated that the globe's environment situation is degrading fast. "LGUs should have a foresight on environmental effects before plunging onto development programs," he said. He stressed that the government should always include in its plans a disaster risk reduction analysis.
Tribunalo said that the series of disasters that hit the country recently are just implications of a worsening environment condition of the planet.
PLCPD challenged the local chief executives to rapidly mobilize resources and address financial barriers especially among the poorest to improve maternal health condition in the province. "We have substantially lowered maternal deaths but infant mortality is still high in the province," Ruel Andag, UNFPA Provincial Programme Coordinator.
It also recommended for LGUs to scale up quality health services, address urgent need for skilled health workers, tackle root causes of maternal mortality and morbidity and strengthen monitoring and evaluation.
Governor Evardone, in response, said that despite the meager resources the provincial government is making steps to address the immediate needs of the provincial health workers. Recently, the governor ordered the release of cash allowances to more than 3,000 barangay health workers pegged at P1,200 each.
The province is also fastracking health services upgrading including hospital development projects out of the P500 million-grant from European Commission, Department of Health (DOH) and other national government agencies.
Local legislators meanwhile are asked to enact legislations that support women to make their own family planning options and healthcare decisions for themselves.
SP Member Jovi Opinion, in an interview, said that the provincial board has already passed on its first reading an ordinance on safe motherhood and neonatal care authored by SP Member Editha Sepulvida. "We are looking forward to passing the said ordinance on its second and third reading soon," Opinion said.
SP Member Enerio Sabulao, 3LPHED national president, revealed that the environmental code of Eastern Samar has already been approved by the Sangunian.