Samar Governor Mila Tan returns to post
By NINFA B. QUIRANTE (PIA Samar)
February 10, 2009
CATBALOGAN CITY, Samar – Samar Governor Milagrosa Tan, after serving her 90-day suspension is back at the helm of the province of Samar officially on Tuesday, February 10, 2009.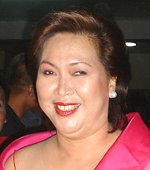 The Department of Interior and Local Government (DILG) Regional Director William Paler came over to check if the governor has assumed office.
On Monday, the whole province watched as acting Governor Redaja then voluntarily vacated his post two days earlier than the law required.
Technically, according to a top DILG official, Redaja's term should end Tuesday yet, but Redaja reportedly said the two more days seem insignificant.
Samarnons occupying near the capitol grounds were jolted when a motorcade bearing two ambulances with Governor Tan's name suddenly emerged tagged by traffic police. As they all know that Tan was returning, they assumed the motorcade was to signal her return, yet PIA found out, the motorcade was for the Philippine Nurses Association forum.
A barangay kagawad who does not want to be identified said that Gov. Tan should explain the talks circulating about her unliquidated cash advances amounting to millions.
Another bystander said he is happy because the governor will be distributing rice again on her birthday on the 25th of this month.
Tan was served a suspension order for ninety days in November 10, 2008. Redaja, the reigning Vice Governor then was sworn-in as acting governor and the first Sangguniang Panlalawigan member, Nancy Rosales as Vice Governor.
On Tuesday, with the term expiration, Governor Tan started her official duties, although not necessarily at the Capitol.
Media liaison, Malyn Caya cautioned the media that the governor does not like to be published, all she wanted, Caya said is to work.
And work she will do, the governor is set to meet all mayors, capitol employees and a host of medical missions to be implemented.
Employees at the capitol also started the news that Governor Tan will be hauling big stars starting February 14, 2009 with the valentine concert of ABS-CBN's hottest love team Kim Chu and Gerald Anderson.
Movie stars like Vice Ganda, Ethel Booba, Pinoy Hunks and Pinay Babes will hold a spectacular show on February 24, 2009, aside from the usual grandiose raffle draw characteristic of a Governor Tan event, Samarnons will be treated to a medical-dental mission, supplemental feeding, rice-giving and other treats that endears her to Samarnons.