Calbayog RTC judge shot dead by lone gunman
By GINA SUELLO-SORILO
January 15, 2008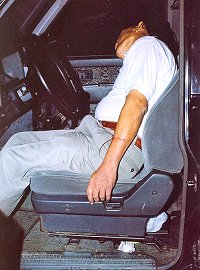 CALBAYOG CITY, Samar – A 69-year-old judge of the Regional Trial Court Branch 32 here was shot dead Monday evening by an unidentified gunman inside his vehicle parked in front of Nijaga Park, Barangay Central this city.
Presiding Judge Roberto A. Navidad, a native of Gen. MacArthur, Eastern Samar was hit once on the lower left eye which cause his instant death, Calbayog City Police Chief Supt. Isaias Tonog said.
Tonog told this writer that based on their investigation, the victim parked his Nissan Patrol vehicle with plate No. TPL-911 at the corner of Gomez Street and Rosales Blvd. and went to Mercury Drug approximately 40 meters away from his vehicle to buy medicines and was shot when he returned to his vehicle when he was about to start the engine.
"An nakabutang sa resibo san iya ginpalit sa Mercury Drug 7:05. Pakapalit niya diretso naglakat mabalik sa iya sakyanan. Waray gud mabati an dako nga putok kay sulod sa iya sakyanan an pagpusila," Tonog added.
He added that according to witnesses the suspect who approached and shot the victim fled on foot towards Barangay Balud this city and was described as 5'4" in height, clad in black jacket and also wearing a ball cap.
Police recovered one empty shell of a .45 pistol at the crime scene.
A manhunt operation is still being conducted to track down the suspect and to establish the motive. But Calbayog City Mayor Mel Senen Sarmiento said in a radio interview over DYOG that the shooting could be work-related.
Boyette B. Doydora, process server of RTC Branch 32 said that his driver resigned.
"Ako liwat nagdadrive, for almost ten years driving natapod sa akon pagmaneho kay mahirot ak pag drive. Nakadto ak sa Catbalogan siton nga adlaw," Doydora added.
Officer in Charge Clerk of Court Editha Cayetano of Branch 32 here said that the judge is going to retire on June 6 of this year and had served as presiding judge of RTC Branch 32 since February 11, 1987. Calbayog City then has only RTC Branch 31.
"He was designated twice by the Supreme Court as executive judge. Nahimo nga pilot court an Branh 32 ngan dinhe he implemented a speedy trial. Aside from his regular work assignment he undertook special assignments. He was assigned in Catbalogan RTC Branches 28 and 29; Tarangnan RTC; had been temporarily assigned in one of the branches in RTC Tacloban; has been a fiscal for six years before his appointment as judge in Borongan; and had served as municipal mayor of Gen. MacArthur for two terms when he was still a practitioner," Cayetano explained.