Evardone convenes PDCC, mayors
By ALICE NICART (PIA Eastern Samar)
February 20, 2008
BORONGAN CITY, Eastern Samar – In an effort to quickly address the extent of damage brought about by the heavy rainfall in the province, Eastern Samar Governor Ben Evardone called for an urgent meeting of the Provincial Disaster Coordinating Council (PDCC) yesterday.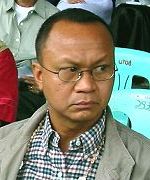 Governor Ben Evardone
Early on, confirmed reports of the province being isolated was already established after the bridge in the major highway of McArthur town collapsed as a result of heavy flooding in the area. Also the northern route, passing through Taft-Wright was submerged in deep waters notwithstanding the rockslides along Taft-Wright boundary.
In order to mitigate the ill-effect of the flood, Evardone sought the ideas and suggestions of the PDCC members, alongside the relief operations which are on going in every municipality.
Firstly, in attendance to the meeting was a team from the Philippine Airforce that came to clear the runway of Borongan airport in preparation for the landing of the C-130 which will be bringing in more relief goods from the National Disaster Coordinating Council (NDCC).
Secondly, Mayor Ewit Villacarillo suggested that the assistance of the military must be sought so that an aerial survey can be done for the government to determine exactly the most appropriate intervention which must be done soon, while Mrs. Eleanor Alido, DTI Provincial Director mentioned of their mandate to gasoline station operators not to sell their products in big volumes and that, some good volumes must be reserved as well for LGU relief and evacuation operations.
But the National Food Authority (NFA) expressed anxiety over the difficult transportation. NFA officer, Placido Salazar said there are hundreds of NFA rice which are ready for transport to the province but the damaged highways hamper the shipment. With this, Governor Evardone planned to seek the services of the Philippine Navy to bring over the much needed rice to the province. He also advised NFA to distribute the rice proportionately to the municipalities particularly those which were seriously affected by the recent calamity.
Meanwhile today, the team of Governor Evardone is heading towards the northern towns and barangays in order to distribute relief goods to the families in still flooded areas.
Because of the flood, the rice granary of Dolores is now a brownish ocean with already useless vegetation as Villacarillo put it, while small farmers worry over their loans which they promised to pay this coming harvest season. The week-long of successive heavy rains rendered an estimated P100M damage in infrastructure, P30M in agriculture and P12M in high-valued crops and vegetables.
Evardone reported that Her Excellency President Gloria Macapagal-Arroyo and NDCC Chair Gilbert Teodoro are coming soon to see for themselves the extent of damage of the heavy rainfall.